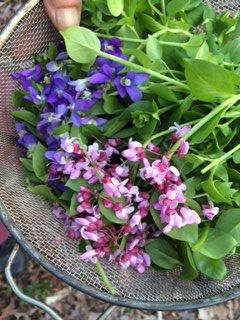 AAhhh–it is that time of year again–spring is bustin' out all over and we gardeners are rejoicing with the first harvests of earth's offerings. Here are some photos of what I'm picking and what's for dinner; get inspired, get out there and forage, or at least graze! There are also some photos of spring ephemerals that you might see in your woods or garden, which are blooming this time of year although they are not edible (duly noted) or are used medicinally.
Just remember if you are new to foraging or eating wild foods–please be certain that you have properly identified what you are about to eat. Get your guidebooks and an experienced forager friend to take you out–or go on a wild weeds walk. (There is a hike coming up at the Ozark Folk Center on May 6, 2016, which I will be on with a number of other herbalists https://ozark2015.aristotle.net/calendar-of-events/details.aspx?id=130267).
A few of my most favorite wild weeds are chickweed, dandelion, wild violets, wild onions, cresses and sorrel. Flowers from the red buds and plum trees are in bloom right now with forsythia and the trio makes for a glorious combination of colorful pink, white and yellow blooms. While redbuds and plum blossoms are delightful in salads, forsythia is not edible.
Most of my foraged plants go into the salad bowl or the flowers and leaves are cooked only briefly. The wild herbs are great with eggs from scrambled and omelets to deviled eggs or egg salad. I pound or process the leaves into salsa verde (green sauce) which is a good accompaniment to just about any vegetable, pasta, chicken or fish. I use the greens to make aioli, vinaigrettes, sauces and soup. Here are a few links for previous blogs featuring wild greens recipes.
/item/5828/egg-and-cheese-puff-with-greens
/item/13576/recipes-for-a-healthy-lunch-from-the-medicinal-herb-seminar
/item/12102/video-recipe-green-goodness-soup
Happy spring–just the beginning of the harvest season!