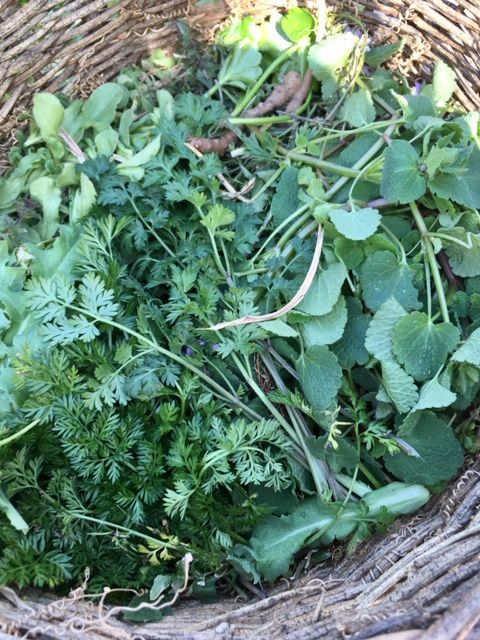 Just finished teaching a folk school class on Wild Weeds and Seasonal Greens at the Ozark Folk Center in Mountain View, Arkansas. Friend and herbal cohort, Tina Marie Wilcox, and I taught this class together. We foraged for weeds and combined them with some seasonal herbs and greens to make tasty edibles: Spring Greens Soup, Salsa Verde with Vegetable Crudites and Salad of Wild Weeds, Seasonal Herbs and Greens.
It is of utmost importance to properly identify wild weeds before consuming them–go out with an experienced instructor or forager and use more than one guidebook for identification. After viewing a powerpoint of some wild edibles, the class set out with our baskets and pruners for harvesting, in and around the Heritage Herb Garden.
Of course, dead nettle and henbit are easy to spot with their purple blooms and we all recognize dandelions. Most of the chickweed (Stellaria media) is already budded here or covered with their tiny, white starlike blooms. We harvested some heart-shaped violet leaves though small–no blooms yet. Plantain is already up and producing healthy green leaves. From the herb garden we gathered the pale green leaves of mache or corn salad, and bright green leaves of parsley, chervil and sorrel which is already showing. The redbuds are budded up and we picked some buds, though they aren't as flavorful as the lemony tart flowers when they open.
We rooted out some evening primrose (Oenthera biennis) and wild onions and then we went over to the area under a huge vitex that had wild potato vines (sometimes called air potatoes) growing all over it last autumn. This vine, Dioscorea batatas, makes aerial tubers that fall from the vines when the leaves do. So we dug around under the vitex with a digging fork and gathered a basket full of the little rootlets/tubers to add to our soup instead of potatoes. 
Then we headed to the outdoor area behind the herb studio, where we sorted through all of our baskets and made piles of each individual herb on a table. Harvesting and sorting are fun… the washing of all of the herbs and greens is probably the most tedious and time-consuming part of preparing the botanicals for the kitchen. A salad spinner makes this task easier; I wouldn't be without one in my kitchen as I use it daily. We also had a large amount of locally grown spinach, dandelion greens, mustard, kale and collard greens.
Then we carried our bounty to the classroom, where we stemmed some of the big leafy greens, and chopped and prepped the herbs and greens for our recipes. We prepared a green soup, beginning with a base of onions, garlic, wild potato tubers, a grated carrot, and then added stock, shredded, thick leafy greens and finally the more tender weeds and greens. We pounded a salsa verde in our big mortar and pestle, using mostly wild weeds and herbs along with breadcrumbs and lots of garlic, olive oil, salt and pepper. And finally we made a lovely weed and herb salad–we saved all of the mache for this and some spinach and spread the purple flowers of dead nettle and henbit on top with some dandelion flower petals. We dressed it with my favorite, simple, Little Black Dressing (known in our family as LBD).
Our last recipe of the day, we created a chickweed and calendula salve, made from just-dried chickweed and calendula petals organically grown in the herb gardens. for each student to take home. We find it is wonderful for our skin, chapped lips or hands and bug bites. A jolly good day was had by all–the perfect way to kick off spring!
Look for recipes in next blog. Thanks to Jan Turner and Sandy Puckett for sharing photos. Happy Spring!