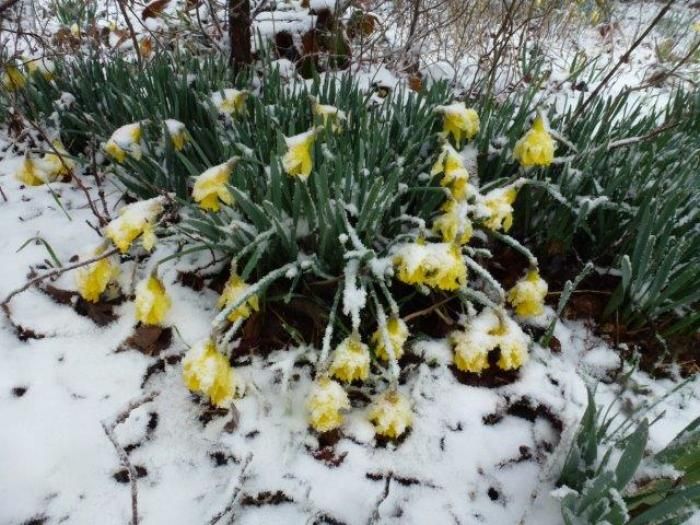 In the spring, when the soil is still wet and cold and the earth is awakening, we gardeners are anxiously awaiting the stirring signs of life. First to pop in the garden are some of the stalwart perennial herbs. A few savory harbingers of spring to look for are chives, fennel, parsley, salad burnet and sorrel. These perennials (parsley is a biennial) are easy to grow and require similar growing conditions. Don't forget to grab a handful of chickweed or baby dandelion greens if you have them as they are full of vitamins and minerals that we have been missing. Not only are they pleasing to our eyes, but they refresh and awaken our palates.
Get to know them and celebrate spring by using them in the kitchen. Pick the small, new leaves, rinse and dry them in a salad spinner. Add them to salads, sandwiches, dips or spreads, as garnish to vegetables, pasta or grain dishes, or stirred into soup or eggs. Just a handful of fresh herbal green flavor is just the tonic our bodies need after this long cold winter.
Here's a simple favorite recipe for Soft-Scrambled Eggs with Spring Greens
There is an art to scrambling eggs, even if you are simply using eggs and salt and pepper.  I take pleasure in the ceremony of putting them together:  cracking the eggs into the bowl; adding just a bit of water, milk, or cream; seasoning with salt and pepper and the day's favorite chopped herbs; beating lightly with a fork; heating the pan over medium-low heat; adding the butter and watching it sizzle across the pan; tipping the eggs in just as the butter finishes melting; and stirring gently; cooking them to soft-scrambled perfection. All settings and accompaniments should be ready on the table, plates should be warmed, and toast or biscuits should be heated and ready to go onto the plate as soon as the eggs are plated.
The ratio that I generally follow, though I never measure, and it does vary is: 1 extra-large egg to 1 generous teaspoon of water, milk or cream; to about 1 heaping teaspoon fresh minced herb; cooked in about 1 generous teaspoon unsalted butter, or occasionally 1 teaspoon extra-virgin olive oil. So if I am making a 3-egg scramble, I use a generous tablespoon of liquid, a heaping tablespoon or two of chopped fresh herbs, and a tablespoon of butter. Stir the herbs in when you beat the eggs, sprinkle them in at the end of cooking, or use them as a garnish.
Adding the liquid is not absolutely necessary, however, it does result in moister, softer scrambled eggs and half-and-half or cream give the most creamy end result. Do not cook the scrambled eggs over high heat-medium-low is the best; gently turn and stir the eggs as they set-do not over-handle them; do not overcook the eggs-remove them when they are just barely done since they will keep on cooking briefly-they should be soft and tender and moist, not rubbery.
Any of the spring herbs, in combination or alone, are wonderful in scrambled eggs or an omelet.