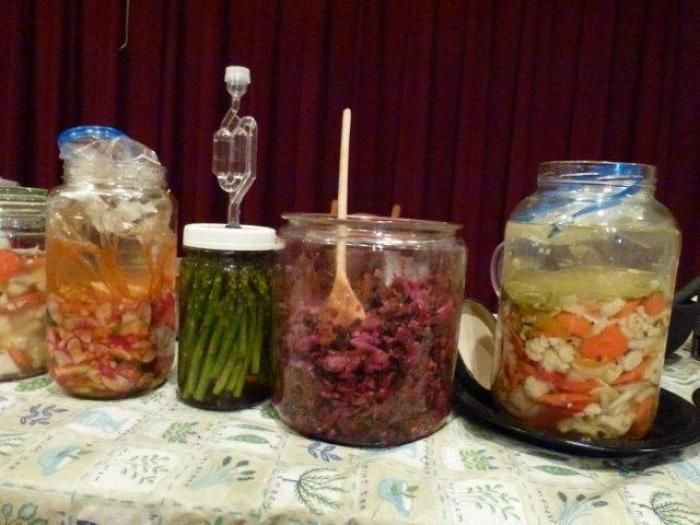 Home again, however finishing up a few details from recent road trip. Attendees from the Medicinal Herb Workshop requested the Smoky Kale Sauerkraut recipe so I'm posting it below. We celebrated wild edibles and fermented foods with a lovely lunch prepared by the Skillet Restaurant.
Wild and Cultured Herbal Lunch Menu:
Design-Your-Own Miso Soup with Tofu and Selections of Wild Edible Garnishes
Open-Faced Reuben Sandwiches and Veggie Reubens on Homemade Sourdough Rye Breadwith Fresh-Made Sauerkraut and Susan's Secret Sandwich Sauce
Fermented Vegetable Pickle
Fruit Flummery with Homemade Yogurt
For the miso soup garnish we had cubed tofu, nori seaweed tips, sliced scallions, chickweed tips with flowers, sorrel and dandelion cut into chiffonade, and redbud flowers. Some folks loaded their bowls with garnish, while others just floated a few. Then everyone got to assemble their own reubens with Swiss cheese, secret sauce, kraut and optional corned beef on Barb's awesome homemade sourdough rye which she grilled lightly. See /item/60529/veggie-reuben for the reuben recipe with secret sauce. The vegetable pickle was made with cauliflower, carrots, red onion, red and yellow bell peppers, jalapenos, dulse and pickling spice with a salt brine. The flummery was made with plums and dates with lemon-scented geranium leaves (Pelargonium 'Mabel Grey' is one of my most favorite pellies and very fragrant–reminiscent of lemon verbena) and served with plain yogurt. Everyone enjoyed the lunch.
I gave the program "The Magic of Fermentation: Why and How to Do It" just before lunch so everyone was geared up to taste the fermentations. Previous to the event I had made some recipes in advance for tasting. I had been thinking about using kale in a cabbage kraut and was worried it would get slimy or mushy. However I decided to try it since I had some gorgeous dark-green kale with purple veins, and it was very thick-leaved. I shredded it just as I do the cabbage and I love using leeks in kraut, so added those. I'd also read about adding smoked sea salt to flavor sauerkraut in Fermented Vegetables by Kirsten K. Shockey and Christopher Shockey, which I thought might be an interesting flavor with the kale kraut. I didn't have any on hand so I used smoked paprika and applewood-smoked dulse and it was a winner! Surprisingly, the kale was not soft and mushy; it was chewy and had more texture than the cabbage.
Part of the fun of creating fermented vegetables, krauts and kimchees is experimenting with what is in season and flavors that you enjoy together. So far everything that I have fermented has been very tasty. The one exception was a batch that was oversalted–and once you do that–you'll never do it again. (You can save an oversalted kraut by rinsing it in water and draining.) I add half the amount of salt that I think I'll need and taste it and then add a little more. The general rule of thumb is 2 tablespoons of salt to 1 medium-sized cabbage. If I am using seaweed, then I reduce the salt a bit since seaweed contains natural salts. I use sea salt, usually Celtic sea salt or Himalyan pink salt since they are full of minerals and trace elements. I do not use iodized table salt, kosher salt or pickling salt because most of them are bleached or chemically treated. For a recent blog on sauerkraut, see /item/12938/not-your-grandmas-sauerkraut
Smoky Kale and Cabbage Kraut
Be sure to leave a few of the outer leaves of the cabbage whole to place on top of the kraut once it is packed before you put in the zip-close bag of water. This facilitates the holding down of the vegetables.
Makes about 2 quarts
10 cups shredded cabbage
10 cups shredded kale
2 large leeks cut into thin ribbons
1 tablespoon applewood-smoked dulse or other seaweed of choice, minced
4 cloves thinly slivered garlic
1 teaspoon smoked paprika
2 tablespoons Celtic salt
Slice, shred and/or chop your cabbage and kale fairly fine. Cut leeks into thin ribbons. You can use a kraut slicer if you have one, though it's not necessary. Toss the cabbage, kale and leeks in a big bowl, sprinkle with half of the salt. Mix well, then pound with a potato masher, large pestle or knead with your hands to start the process, allowing the cabbage and kale to give off juice. Taste for salt and add a bit more as needed. Add the dulse, garlic and smoked paprika. When the kraut is juicy, put it into a very clean gallon jar. If the kraut is not giving off enough juice, allow it to sit for awhile and repeat the kneading process. It won't look like much juice, however when you pack it, it will rise above the kraut.
Pack the cabbage and kale into the jar and press very firmly to get rid of all air bubbles and to pack the shredded vegetables so tightly that the juice rises above it. Once the jar is firmly packed with all of the vegetables, cover the packed vegetables with a few whole leaves of cabbage and press down firmly.
Put a gallon zip-close bag in the top of the jar and add cold water. Press down inside the bag to firmly seal the bag around the edges of the jar and to remove all air bubbles. Fill the bag with about a quart of water (if there is room enough) and seal the bag. Leave on the back of the counter, or someplace cool, dry and out of direct sun for one week and up to two weeks. Add water to the zip-close bag if needed. After about one week, carefully remove the bag of water, and taste your kraut. If you want it to ferment more, just put the bag back in (you may want to rinse it off and refill it), refit the bag pressing down to seal it around the edges of the jar, top off the water and seal, and let it go another week. This kraut was good to go for me in just 1 week.
Put the kraut into smaller jars and store it in the fridge. Eat the kraut fresh; it is best eaten in the first few months, however it will keep in the fridge for up to a year.
The last photo here is of the handsome and wonderful seed display in the Herb Shop at the OFC created by Vicki Gorrell and her husband Larry did the woodworking. The garden gals at the Ozark Folk Center work hard year round keeping the plants in the arbor and the gardens looking good; and when there is seed or flowerheads to gather, they do that too. Then in their spare time they winnow the seeds and dry the flowers in a dehydrator and pack them into jars, which they sell by the 1/4 teaspoonful and put into little paper envelopes. The seeds are from organically grown local plants, tried and true–there is an amazing selection–and they are a good deal. They also have some dried herbs for sale too, both culinary and medicinal. Way to go garden galpals!