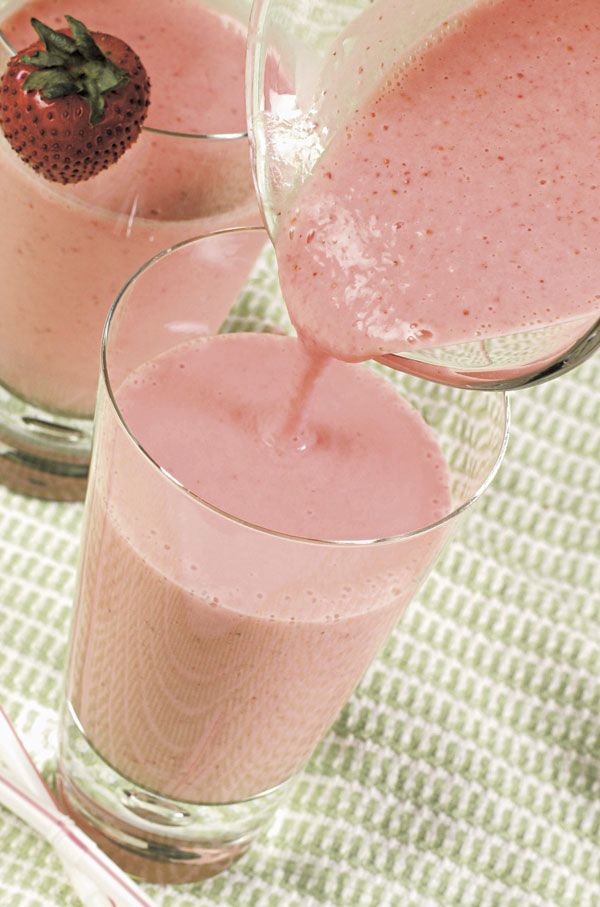 I drank my first fresh fruit smoothie in southern California (where else?) in the late 1970s. I had just moved to the area and was amazed at the wealth of tropi­cal fruits growing in people's back yards.
I began making smoothies at home, inspired by whatever fruits were available from my own garden or from the gardens and orchards of benevolent neighbors.
And here I sit, 20 years later, still enjoying smoothies both at home and on the road at the many juice bars that now service this growing trend. The smoothie is my favorite form of fast food, offering me a supply of vitamins, minerals, and fiber, and a nutrient boost from additions of extras like lecithin or colloidal minerals.
The great thing about smoothies is that they are healthy fast food. Recently, while out of town, I was delighted to discover a juice bar within walking distance of my hotel. I was able to kick-start my day with a healthful breakfast in a cup, while getting exercise walking to and from the juice bar, all at a reasonable price. Now that's what I consider a real fast food bargain.
Buying smoothies at a local juice bar is a great way to go, but the best smoothies are made with produce right out of the garden at home. The idea of going out to the garden and picking some carrots and tomatoes to blend for a quick, brightly colored, sweet tasting, healthful breakfast, lunch, or OK, I admit, even dinner, gets my attention. Homemade smoothies are an excellent way to use up extra apples, tomatoes, berries, peaches, and plums that may otherwise be foisted upon the neighbors or consigned to the compost pile.
An easy way to five a day
The USDA recommends five to nine servings each day of fresh fruits and vegetables, yet studies show that relatively few Americans consume even the minimum number of servings on a regular basis. Consider this: Just one smoothie containing some apple or orange juice, a small banana, some strawberries, raspberries, and perhaps a handful of pineapple chunks, would take you almost all the way to your daily requirement.
Most fresh or frozen fruits contain generous amounts of vitamins and minerals, dietary fiber, and free-radical-fighting anti­oxidants. Vitamin A is usually found in high concentrations in fruits and vegetables colored deep red, orange, or yellow, and our primary source of vitamin C is fresh fruits. Bananas and many other fruits are also loaded with potassium.
And if that's not enough, it's easy to add nutrition extras to boost your smoothie, as they do at most juice bars. Nutrient boosts such as ground nuts and seeds, bee pollen, soy-based protein powder, and colloidal minerals can be purchased at health food stores.
The one piece of equipment you need for making smoothies in your own kitchen is an electric blender with a broad-based container. The broad base will enable you to blend pieces of fruit without their getting stuck on or under the blades of the blender.
Good smoothies begin with some kind of liquid. The liquid ingredients allow the blades of the blender to work freely. The best and most nutritious among them include orange, pineapple, cranberry, and apple juices, as well as cow's milk and soymilk. Canned juices will work, as will frozen juices, but for truly spectacular results, both in terms of flavor and nutritional content, I recommend using freshly pressed juices whenever possible. I have a dwarf 'Beverly Hills' apple tree espaliered against the side of my house that furnishes superbly tart, flavorful juice. It is but a matter of minutes from tree, to electric juicer, to blender.
| | |
| --- | --- |
| | |
|   | Frozen fruit is a great thickener. For ease in handling, cut fruit into small pieces, space them out on a cookie sheet, and freeze. When the individual pieces are frozen solid, toss them into a plastic freezer bag. |
Thickeners add dimension
fter I've decided on a liquid base, I choose a thickener. Bananas are perhaps the most obvious choice (the greener the banana, the thicker the smoothie will be), but using small pieces of frozen fruit adds a thick, almost creamy dimension to smoothies, too. You can either freeze the fruit from your back yard or the market or, as a last resort, buy bags of frozen fruit and keep them on hand in the freezer for when the urge strikes.
To freeze fresh fruit, I cut it into pieces about 1-1⁄2  inches in size then lay the individual pieces out on a cookie sheet, making sure they are not touching. Then I place them in the freezer. When the individual pieces of fruit are frozen solid, I remove them from the cookie sheet and toss them into a plastic freezer bag to store them for use when I need them. (If you toss pieces of fresh fruit into a plastic freezer bag without freezing them individually first, the pieces will stick together in one unmanageable hunk.) In addition to the use of frozen fruit, yogurt, ice cream, and sorbet also work as thickeners.
Fruit… the reason for it all
Next I raid the garden or the farmers' market and choose fruit for my smoothie. Fruit contributes the acidic high notes, colors, and textures that elevate the smoothie from the mundane to the sublime. I choose fruits that are at the peak of freshness, or ever-so-slightly underripe.
Finally, for an added dimension of texture, dietary fiber, protein, or flavor, I often add extras like sunflower seeds, sesame seeds, walnuts, hazelnuts, or even peanuts to my smoothies. You could add psyllium seed husks (from which Metamucil is made) or flax seed for additional fiber and thickening. Herbal extracts like ginkgo and echinacea can be added, as can seasonings like fresh ginger root.
Mix and match your own smoothie
Use your imagination. Choose items from each of the columns below to make your own unique smoothie.
Base

Fruit juice
Vegetable juice
Milk
Soy milk
Herbal tea
Yogurt
Fruit nectars
Fruit

Plums
Peaches
Melon
Pineapple
Banana
Berries
Mango
Thickeners

Frozen fruit
Bananas
Yogurt
Ice cream
Sherbet
Sorbet
Frozen yogurt
Extras Seeds or nuts
Honey or molasses
Protein powder
Brewer's yeast
Bee pollen
by Lynn Alley
February 2001
from issue #31