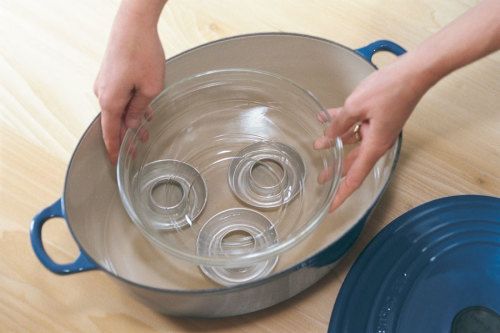 by Judy Monroe
February 1997
from issue #7
I once thought Asian food was wonton soup and fried rice. Then in 1971, I met Thu and Diem-Nhu. From these two Vietnamese women I learned the art of steam cooking, used extensively in Asia because few homes have ovens. Steam cooking is not about tossing broccoli into a metal basket. I make whole meals by this low-fat cooking method—spicy chicken and vegetables, salmon on a bed of leeks, lemony shrimp with zucchini and snow peas.
The process is simple. I put the ingredients in a solid, heatproof dish, set the dish inside a large pot over boiling water, cover the pot, and let the penetrating steam go to work. As the food cooks, it forms its own flavorful sauce. Steaming keeps foods moist and preserves natural flavors. It's a great way to prepare foods that are easily overcooked or liable to fall apart with vigorous handling, like fish.
Although an Asian technique, steam cooking is adaptable to many flavors. I like to steam an assortment of colorful vegetables, and then serve them topped with salsa. For a Mediterranean twist, I'll dress steamed seafood and vegetables with lemon, olive oil, parsley, and pepper.

No special equipment needed
One of the beauties of steam cooking is that you probably already have everything necessary in your kitchen cupboards. You'll need a wide, deep pot with a tight-fitting lid such as a Dutch oven or a roasting pan. A few canning jar rings, a trivet, or an empty can with both ends removed can serve as a rack. The cooking dish can be just about anything solid and heatproof. Depending on how juicy the ingredients are (home-grown tomatoes, for example, can give off lots of liquid), you may need something as deep as a soufflé dish or only as shallow as a dinner plate. To allow steam to circulate freely, there should be an inch of room all around between the dish and the sides of the pot.
Of course, if you have a stovetop steamer, use it. I have two. My favorite consists of a solid stainless steel pot, a perforated tray that sits over the pot, and a deep lid. I also have a larger aluminum steamer I bought at a local Asian store.
| | | |
| --- | --- | --- |
| | | |
| You probably already have everything you need to rig up a steamer: a large, lidded pot; something to serve as a rack; and a heatproof bowl. | | The author's favorite stovetop steamer has a perforated plate that sits atop the pot, allowing easy access to the cooking dish. |
I don't like to use electric steamers. They take longer to cook food compared to stovetop models, and they don't hold enough water for longer-cooking foods. Because they're small, you can steam dinner for only two. I avoid bamboo steamers, too. They also take longer to cook food because they don't retain steam as well as a metal pot. And bamboo absorbs strong cooking odors. Finally, if you use a wok as the steamer pot, you'll need to reseason it afterwards, or it will rust because the steam will disintegrate the wok's finish.
The cooking is simple
Once I've got my equipment together, I pour an inch or two of water into the pot, add the perforated tray or rack insert, cover, and bring the water to a boil. Then I prepare the ingredients.

Dense vegetables and meats go in first. Typically I add the ingredients in two or three batches. When preparing the ingredients, it's important to cut them to sizes that will cook in about the same amount of time. Cabbage, carrots, celery, leeks, onions, turnips, or potatoes, and meat and poultry, all cut into 1-in. squares or 1⁄4-in. slices, take 15 to 30 minutes to cook. Sometimes I leave small new potatoes whole.
I also add seasonings at the beginning to give them time to permeate the food. My favorites include ginger, garlic, chopped green onion, and prepared sauces like soy, oyster, or fish sauce. Cooking food on a bed of minced or shredded carrots and onions, or sprigs of fresh herbs, also adds lots of flavor.
I usually coat meat or seafood with cornstarch and water to retain moisture. One teaspoon of cornstarch per pound of meat is plenty. The cornstarch also helps thicken the juices slightly.
Then add shorter-cooking vegetables and fish. This includes 1-in. to 2-in. pieces of asparagus, bok choy, broccoli, cauliflower, Chinese cabbage, green beans, greens, and summer squash. Fish fillets and steaks and shellfish cook in the same amount of time as these vegetables, 10 to 12 minutes. Precooked rice or noodles also go in at this point. I add very tender vegetables like spinach or pea pods and minced fresh herbs near the end. These items need only a couple of minutes.
Steaming times may differ somewhat. There are numerous variables: the type and size of ingredients, the freshness of the vegetables, how much food you're cooking, the heat source, and how close the dish is to the simmering water. Steaming whole meals takes 20 to 40 minutes.
As you cook, keep an eye on the amount of water in the pot. Water evaporates faster from some steamers than from others, depending on how tightly the lid fits and how often you peek inside. An inch of water simmers away in about 30 minutes. Don't let all the water boil away, or your pan could burn, which will ruin not only the vessel but probably your dinner, too. If the water level looks low, add a cup or two of boiling water to the pot.
A thin, tasty sauce, full of vitamins, forms during steaming. I usually serve the dish with this natural sauce as is. Sometimes, though, I drain the juices into a small saucepan, stir in some cornstarch mixed with cold water, and boil it for a minute or two until it's slightly thickened.How much juice you get depends on your ingredients. You may not get any if you remove the lid often because you'll release too much moisture. On the other hand, if you let the condensation from the lid drip into your sauce, it will be diluted.
Practice safe steaming
When removing the steamer lid, tilt it away from you so the cloud of steam doesn't hit you in the face. At the same time, try not to let the condensation under the lid fall onto the food or it will dilute the natural sauce.
| | | |
| --- | --- | --- |
| | | |
| A cornstarch coating keeps meat or shellfish moist. It also thickens the juices slightly. | | To avoid burns, open the lid away from your body. |
I usually wear heavy cook's mitts to move the dish in and out of the steamer. But if the dish is sitting down in a deep pot, it can be hard to get a safe grip with mitts. In that case, you might want to make a sling from a kitchen towel. Place the towel under the dish and, holding onto the towel ends, lower the dish into the pot. Drape the towel ends over the edges of the pot, put the lid on as tightly as you can, and then wrap the towel up over the lid. A thin towel works best so the lid can still close snugly. When removing the dish of cooked food in a sling, keep it level.
| | | |
| --- | --- | --- |
| | | |
| If you rig up a sling, you won't burn a thing. | | Wrap the towel ends over the top of the pot. |