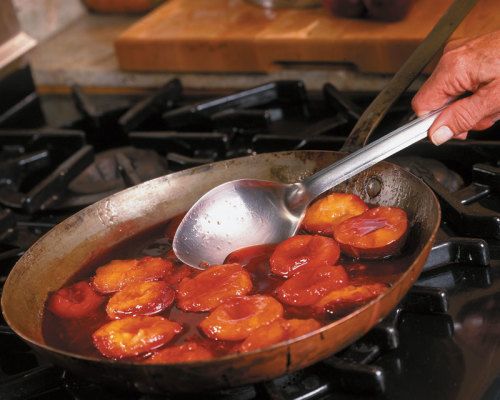 by Edon Waycott
June 1999
from issue #21
Few methods of preparing fruit are as fast, simple, and potentially varied in flavorings as poaching. Perhaps you associate poaching only with eggs or fish, but cooking anything in a simmering liquid is defined as poaching, and fruit is a natural choice for immersion in a warm bath. Neither chemistry lessons nor baking skills are needed to make a beautiful and tasty presentation.
If you can simmer water for 15 minutes, you can have poached fruit. And while luscious fresh fruit is being infused with flavor, enticing aromas will permeate your kitchen. Though poaching certainly is easier than pie, there's a right way to go about it.
How to get started
Choose fruit that is, by nature, firm and not loaded with seeds. Apples, apricots, pears, nectarines, peaches, plums, figs, and cherries are good choices. Melons, bananas, and most berries are less desirable because they quickly break down in warm liquids. However, strawberries, blueberries, and large boysenberries can be added at the end of the poaching time and chilled in the flavored syrup with less damage to their fragile flesh.
Peaches and pears hold up well. With poaching, a slightly underripe peeled peach becomes softer and more sensuous. The technique is especially effective with white-fleshed peaches, since their taste and color are so subtle. Poached spiced peaches will keep for several weeks in the refrigerator immersed in their own poaching liquid, so there's no need to seal them in a canning jar unless you want to store them longer. For this recipe, choose freestone peaches, with flesh that separates easily from the pit. They're easier to work with than the cling variety.
Liquid can be spooned over the fruit for the full poached effect when complete immersion is not possible.
For easy peach peeling, cut an X in the blossom end of the fruit, blanch it for 2 minutes, then plunge it into ice water. Whe cool enough to handle, gently remove the skin, starting at the X.
Whole pears retain their especially beautiful shape after poaching and will sit erect atop a custard tart or on a plate, napped in creamy sabayon. 'Bosc' pears are ideal for poaching whole, since they tend to be firmer than 'Bartlett' or 'Anjou'. Leaving the stems attached to their long tapered necks makes these late-winter beauties a dramatic sight when chilled and dipped into bittersweet chocolate.
Use the wide range of available fruit. Vary the fruit with the season to entice even the most confirmed sleepy-heads to the breakfast table. Since their season is so very short, I try to use cherries in as many ways as possible. Even pitted, cherries hold their shape and texture well, so they're a good choice for poaching.
My intense fondness for fresh figs inspires me to poach them whole, then slice them in half and feature them as the star component in a salad that also includes arugula, prosciutto, and goat cheese. A mild vinaigrette using some of the poaching liquid combined with balsamic vinegar and olive oil makes the perfect dressing.
Poached plum, apricot, or peach slices make a fine topping for a chilled cheesecake. A simple glaze for brushing on the fruit can be made by melting 1⁄2 cup of apricot jam into a cup of the poaching liquid and reducing it until it's thick.
Dried fruit begs to be reconstituted in a poaching medium and can then be combined with fresh summer fruit. Dried cherries, cranberries, apricots, or raisins provide a good, chewy, concentrated bite when plumped by poaching.
Heavily spiced and sweetened with maple syrup, poached breakfast fruit compotes are warm, homey, and versatile. Simmered together the night before, these familiar combinations are then reheated and served atop hot oatmeal, ladled over buttermilk pancakes, or simply topped with a spoonful of yogurt.
Add flavor from your own garden
Fresh herbs and spices can be dropped into poaching liquid in virtually limitless combinations to give dishes a highly personalized infusion.
Poaching liquids can be simple syrups made of two parts water to one part sugar or a combination of sugar and honey, red or white wine, champagne, coffee, tea, or fruit juices. Just make sure there's enough liquid to cover the fruit. Herbs, lemon zest, vanilla bean, fresh ginger, and cinnamon sticks add nicely to the flavor. There is no limit to accents—use whatever appeals to your sense of taste.
When I walk out into my herb garden, I gather whatever smells particularly good—mint, lemon verbena, cinnamon basil, rose geranium. After dropping a few leaves or highly scented flowers into the poaching liquid, I allow a few minutes for the flavors to meld before adding the fruit, tasting to see if it is to my liking.
Adding a flavored brandy or sherry, or caramelizing the sugar first are other ways to add complexity. The real flavor infusion occurs as the fruit cools in the liquid, absorbing the essence of the ingredients. To make a delicious, syrupy sauce, remove the tenderized fruit and cook the poaching liquid down to concentrate the flavor.
So you see how poaching works— couldn't be easier.
Peach Melba: A Classic Poached Dessert
Auguste Escoffier, heralded as the "king of chefs and the chef of kings," created what was to become a legendary dessert while working at the Carlton Hotel in London. When the great Australian diva, Nellie Melba, planned to dine at the hotel restaurant after her performance in Wagner's Lohengrin, Escoffier wanted to surprise her by inventing a dish to show his great admiration for her talent. He chose to commemorate the majestic swan that appears in the first act of the opera. He presented her with a silver bowl of poached peaches on a bed of vanilla ice cream, covered with a lace of spun sugar and nestled between the wings of a beautiful swan sculpted from a large block of ice.
The effect was stunning and Madame Melba was delighted. It was years later that the great chef embellished the dessert with a purée of raspberries. Escoffier was appalled at the liberty with which some chefs interpreted his original, replacing the raspberry purée with strawberry jam or currant jelly, or suggesting decorating the peach with whipped cream. "The results obtained," he defended, "have absolutely nothing to do with the original recipe and could hardly satisfy the palate of a real connoisseur."
In 1935, The New York Times wrote in Escoffier's obituary that his peach Melba was the inspiration for the American ice cream sundae.