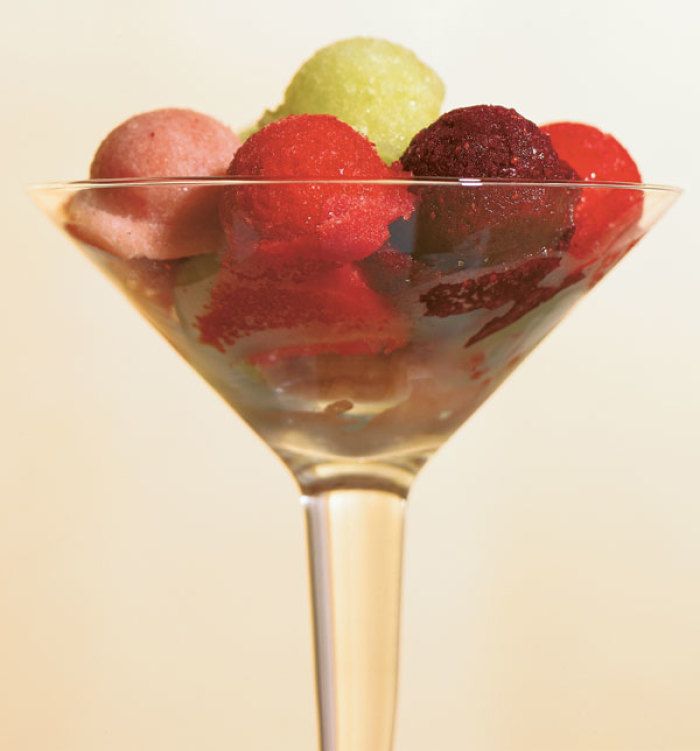 At the tender age of 14 in the year 1533, Catherine de Médicis traveled to Paris from her home in Florence to marry Henri, duc d'Orléans, also 14, and heir to the throne of France. With her, Catherine brought a small army of cooks and introduced her new country to broccoli, artichokes, savoy cabbage, and haricot beans. During the grand wedding celebration, one Florentine chef made a different flavored ice each day, giving the French their first taste of these delicious desserts.
Italians have long known the simple pleasures of flavor and refreshment in one. Proof lies in their love of granitas, one of the most delectable of all Italian ices. The French obviously recognized a good thing when they tasted it, too. By 1576, there were more than 250 master ice makers in Paris.
Valued for intense flavor and icy texture, granitas combine ripe, fresh fruits with the renewing quality of a cool treat. They are simply a mixture of puréed fruit and sugar syrup, sometimes infused with herbs, that is frozen. Fruit juice or alcoholic beverages like wine, champagne, and liqueurs are often added for flavor. The density of the sugar syrup, along with the amount of water in the fruit, determines the final texture of the granita. The name granita refers to the granular texture of these ices. Granitas are not churned during freezing, so you don't need a fancy ice cream maker to prepare them. You end up with a hard mass of fruit and syrup that is scraped after it's frozen solid. The result is an intensely flavorful dessert similar in texture to a snow cone or finely crushed ice.
Since granitas are so easy to make, you may find yourself following the season with a different one every week. In early summer, strawberries and plump raspberries abound, followed by blueberries, then the juicy melons of mid-summer, ending with the late-season harvest of pears and apples. Frozen fruits can also be used if they are individually quick frozen, rather than frozen in a sugar syrup. Fibrous fruits like rhubarb, apples, and pears should be cooked until tender and then puréed.
There's an important relationship between the water content in the fruit and the sugar syrup in a granita. Fruits with a high water content, like melons and pineapple, need sugar syrups of a higher density; that is, more sugar than water in the syrup. Conversely, fruits with a low water and high starch content—bananas and mangoes, for example—need syrups made with more water and less sugar. Too much water and the mix will be too icy and granular; too little, and it will be soft and difficult to scrape. For example, the Honeydew Mint Granita uses 1 cup sugar to 3⁄4 cup water, while the Mixed Berry Granita uses 1 cup sugar to 1-3⁄4 cups of water.
Enhance granitas' flavor with herbs, wine, and liqueurs. Add fresh herbs to the sugar syrup when you make it, and let them steep in the syrup as it cools. The herbs may be chopped or left whole. Either way, once the syrup has cooled, strain it to remove the herbs, or fish them out with a spoon. You'll be amazed at the delicate flavor the herbs impart. The mint in the Honeydew Mint Granita adds a wonderful freshness, and the sage in the Pear Burgundy Granita enhances the autumnal flavor of the fruit.
Wine, champagne, and liqueurs can also be added to boost flavor. Chambord, a raspberry liqueur, is added to the Mixed Berry Granita, and it deepens and richens the berry flavor. Add the liqueur to your syrup after it has cooled, or when you purée the rest of the ingredients. You should not attempt to replace all the liquid in a granita with wine or champagne because it will inhibit the freezing process. If you prefer not to use alcohol, simply substitute water or fruit juice, as in the recipe for Strawberry Champagne Granita.
Putting granitas together is a snap. Make the sugar syrup ahead so it has time to cool. Then combine all the ingredients and place them in a large, shallow, rectangular dish. The idea is to form a fairly thin layer of the mixture that can later be scraped. Place plastic wrap directly on the granita to prevent ice crystals from forming on the surface. If your dish has a cover, put that on, too, then freeze. Tupperware or similar plastic containers are ideal.
Although most granitas can be left for a day to freeze, it's best to check them during freezing to make sure the mixture isn't separating. If it is, stir it every hour or so until the mixture begins to set, which should take three to four hours.

Scrape, don't scoop, to serve. Remember, it's the granitas' grainy, icy texture that makes them special. They are not easily scooped out into a bowl like ice cream. Rather, hold the container squarely in front of you and scrape toward your body with a large metal spoon or ice cream scoop. Most granitas are best if they sit at room temperature for 10 to 20 minutes before scraping.
Then sit back and enjoy. You probably won't have to worry about leftovers because these refreshing desserts are packed with flavor. And by all means, encourage seconds because they're also low in calories and fat. If you do have some extra, granitas can be kept for up to two weeks in the freezer before losing flavor.
Ice annals
While the Italians may have perfected the art of making ices, and the French were mostly responsible for delivering them to the masses, it is the Chinese who deserve credit for figuring out the basic process. As early as 900 BC, ice was brought down from the mountains of China and stored in caves and underground pits to preserve melons and other valued fruits. Then the Chinese discovered that mixing ice with salt hastens freezing, and fruit-flavored iced confections were born. The Chinese taught their methods to the Persians and the Arabs, and it's said that Marco Polo observed the freezing process in China and brought the idea home to Italy.
By the 1800s ice was big business in the United States. Tons of hard, cold blocks were cut from America's lakes and shipped to far-off lands. The ice commanded a high price in the Far East. Walden Pond in Concord, Massachusetts, was the source of more than a thousand tons of ice a day in the winter of 1854. Henry David Thoreau wrote in his journal, "Thus it appears that the sweltering inhabitants of Charleston and New Orleans, of Madras and Bombay and Calcutta, drink at my well."
Ice annals
While the Italians may have perfected the art of making ices, and the French were mostly responsible for delivering them to the masses, it is the Chinese who deserve credit for figuring out the basic process. As early as 900 BC, ice was brought down from the mountains of China and stored in caves and underground pits to preserve melons and other valued fruits. Then the Chinese discovered that mixing ice with salt hastens freezing, and fruit-flavored iced confections were born. The Chinese taught their methods to the Persians and the Arabs, and it's said that Marco Polo observed the freezing process in China and brought the idea home to Italy.

By the 1800s ice was big business in the United States. Tons of hard, cold blocks were cut from America's lakes and shipped to far-off lands. The ice commanded a high price in the Far East. Walden Pond in Concord, Massachusetts, was the source of more than a thousand tons of ice a day in the winter of 1854. Henry David Thoreau wrote in his journal, "Thus it appears that the sweltering inhabitants of Charleston and New Orleans, of Madras and Bombay and Calcutta, drink at my well."
by Meredith Ford
August 1998
from issue #16