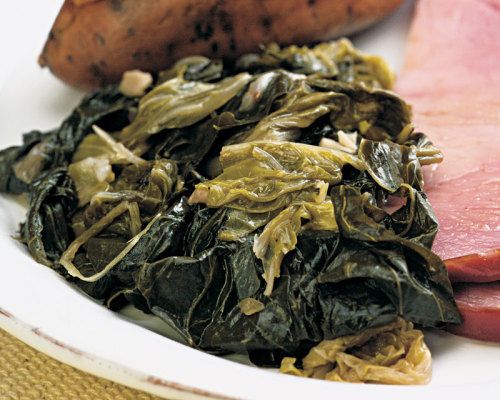 Ingredients:
6 oz. side meat (or fatty bacon), cut into 1/4-inch dice
2 onions (about 10 oz.), cut into 1/4-inch dice
4 garlic cloves, minced
1/2 tsp. crushed red pepper flakes, or 2 small diced chiles
7 lb. collard greens, cleaned, stems and ribs removed
About 3 cups chicken stock or water
Salt and black pepper
Cider vinegar
8 servings
Indulge me a moment while I climb onto my soapbox. Southern-style cooked greens should be braised slowly until tender, always cooked with a piece of pork and some hot peppers, and finished with or served with vinegar. Cornbread is only nominally optional. With all due respect to the butter or olive oil school of thought that permits crunchy-textured greens, this is the way we were raised. This recipe can be made with a mixture of young turnip greens and curly mustard greens; just cook them a little less. Collards picked after the first heavy frost are righteous, but demand a powerful exhaust fan and a tolerance for that cabbagy aroma.
In a heavy-bottomed, 4-quart pot, cook the side meat over medium heat until rendered and golden brown. Add the onions and cook until translucent but not colored. Stir in the garlic and red pepper flakes and cook for 1 minute.
Working in batches, add large handfuls of collards to the pot, stirring to wilt. When all the greens have wilted, add the chicken stock or water to come to the level of the greens. Bring to a boil, then reduce to simmer. Cook 40 to 90 minutes (20 to 40 minutes for mustard or turnip greens), adding more stock or water if necessary. The age of the greens determines the cooking time. When done, the greens should be tender but still somewhat resilient.
Season with salt, pepper, and a liberal lacing of cider vinegar. Serve immediately, or cool, then refrigerate. Rewarm over low heat.
Note: This recipe is from Not Afraid of Flavor: Recipes From Magnolia Grill, by Ben and Karen Barker; 2000; University of North Carolina Press. Used by permission of the publisher.
Recipe by Ben Barker
February 2001
from issue #31