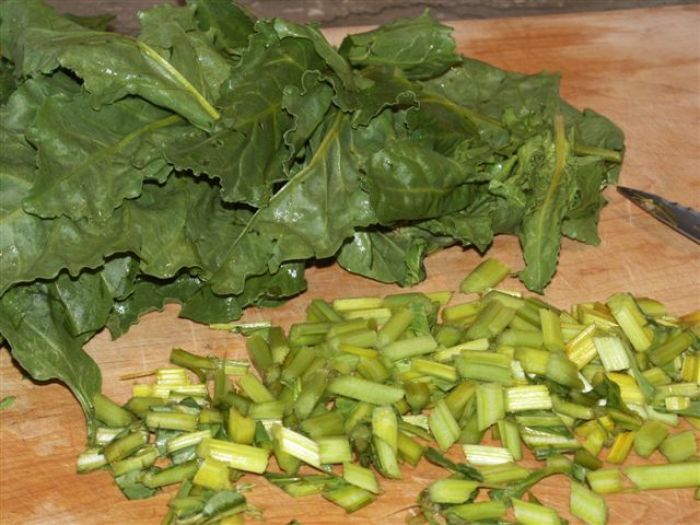 Ingredients:
About 3 pounds greens (a nice combination is equal amounts of chard or spinach, collards, and kale
About 4 tablespoons olive oil
8 cloves garlic
Salt and freshly ground black pepper
Ground red chile pepper flakes, optional
Use any of your favorite greens in this dish—spinach, chard, kale, beet, collards, dandelion—even a bit of arugula. These are good served as a vegetable accompaniment to roast meats or fowl, and I really like to serve them with sweet potatoes or winter squash, and black-eyed peas. They make a great topping for pizza and pasta. When I toss them with pasta or use them on top of pizza, I add my own home-dried red chile pepper flakes.
Serves 8 to 10 as a side; or toss with a pound of cooked pasta
Wash and pick over the greens and remove tough stems; rough-chop the leaves. Put the leaves with the water that clings to them into a large non-reactive pot with a tight-fitting lid.
Wilt the greens over medium high heat, stirring once or twice, add just a bit more water if necessary. This should take about 5 minutes—the leaves should be just wilted.
In a large sauté pan, gently heat the olive oil over medium low heat. Crush the garlic through a press or finely mince it and add it to the pan. Gently sauté the garlic for 2 or 3 minutes; do not allow it to brown.
Drain the greens and add them to the sauté pan. Cover and cook over medium heat for 6 to 8 minutes, stirring occasionally.
Season with salt and pepper and chile flakes and toss well. Taste for sea¬soning and serve hot. If you prefer, omit the chile flakes and pass the hot pepper vinegar or Tabasco with the greens if desired.