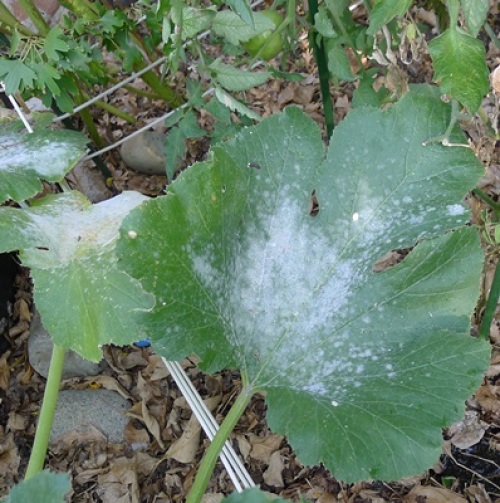 Powdery mildew shows up on leaves as a white coating that looks like someone sprinkled baby powder on the leaves of vegetable plants. While the mildew doesn't usually kill plants, it can affect production, may affect taste and it's hard to get rid of once it settles in a garden.
This fungal disease looks bad, but it can be easy to prevent infection before it has a chance to spread.
Vegetable plants especially susceptible to powdery mildew include beans, peas, squash, pumpkins, melons and cucumbers.
The white spots form on leaf surfaces when the powdery mildew spores germinate. This often happens when the leaves are dry, when plants are in shade, and when there is little air circulating between plants.
The round spots start to form on leaves and then spread quickly, especially when weather is dry and humid. The infected leaves can yellow, then turn brown and drop off plants. Fruits like squash and cucumbers can get sunscald because there isn't any foliage to protect them. If flower buds get infected, they won't open and will dry on the plant or fall off.
Neem oil can be used to prevent powdery mildew, if the disease has been a problem in the garden during previous seasons. Neem is an effective control, if applied at the first symptoms, such as small white spots forming on leaves. This natural fungicide acts by killing the powdery mildew spores on leaves. Follow label instructions for mixing neem into a spray.
To prevent powdery mildew from getting started in the garden, take these steps:
Choose varieties of plants that are bred to be powdery mildew resistant or tolerant.
Plant in full sun to prevent spores from germinating on leaves.
Give plants plenty of room to grow by spacing them widely to allow for air to circulate.
Grow beans, cucumbers and vining squash plants on trellises to keep them off the ground.
Follow recommendations for using nitrogen-rich fertilizers to prevent excessive growth. New foliage is especially susceptible to powdery mildew.
In dry weather, raise the humidity in the garden by spraying leaves with water during the day.
If powdery mildew appears, remove infected leaves and throw them away or add to a well-heated compost pile. Then try spraying plants with one of these solutions to slow down the infection:
Mix 1 part milk to 3-5 parts water and spray on stems and leaves.
Spray leaves with 1 tablespoon baking soda and ½ teaspoon liquid soap (not detergent) mixed with water.
Use compost tea to spray on plants.
Be sure to rake up and dispose of any infected leaves to reduce the spread of powdery mildew next season.