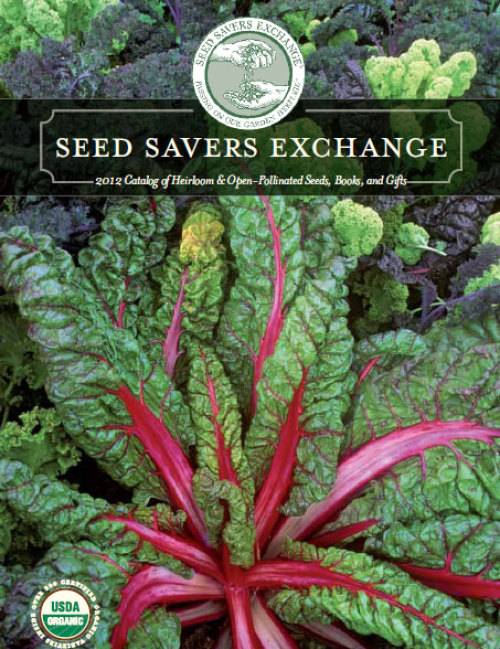 As silly as it may sound, there is always a jubilant celebration when the Seed Savers Exchange catalog is delivered to the Fine Gardening offices. Any passerby might think that the staff has won the lottery. But there is good reason to celebrate the arrival of what I consider to be the best seed catalog out there. Not only is it beautiful (with hundreds of colorful photographs), but it offers a slew of heirloom varieties that can't be found ANYWHERE else.
Seed Savers Exchange
3094 North Winn Rd.
Decorah, IA 52101
563-382-5990
www.seedsavers.org
Seed Savers Exchange is a non-profit, member supported organization that saves and shares seeds passed down through many generations. Members have distributed an estimated 1 million samples of rare garden seeds since the founding of SSE in 1975. Those seeds now are widely used by seed companies, small farmers, and home gardeners. SSE was co-founded by Diane Ott Whealy, who was inspired to start the group when her terminally ill grandfather gave her seeds of two garden plants, 'Grandpa Ott's' morning glory and 'German Pink' tomato, that his parents brought from Bavaria when they immigrated to Iowa in the 1870s.
I'll admit that I have a soft spot for this organization after attending their annual conference last year. I toured the enormous farm, explored the seed vault, and got to know the people responsible for saving the seed and distributing it to gardeners around the globe. I've always had great germination (nearly 100% for every variety) with the seeds I have purchased and I find their prices to be very reasonable (a discount is offered to those who join the membership).
Three varieties I've got my eye on this year

'Hillbilly Potato Leaf' tomato: Described as, "An absolutely gorgeous slicing tomato." Prolific, bi-color, 1-pound fruits are supposedly very sweet and juicy. And who can resist a name like that?
'Paris Market' carrot: Early red-orange, rounded carrots are described as very sweet. But here's the best selling point; "Does well in shallow or stony soil—can also be grown in containers." Could a carrot lover like me with crappy New England soil have found a solution?
'Petite Yellow' watermelon: I had finally resigned myself to the fact that I live in the Northeast, and therefore will never be able to harvest a ripe watermelon. But this icebox variety boasts 6- to 10-pound sweet fruits which are harvestable in 65-80 days (super-short in watermelon terms).