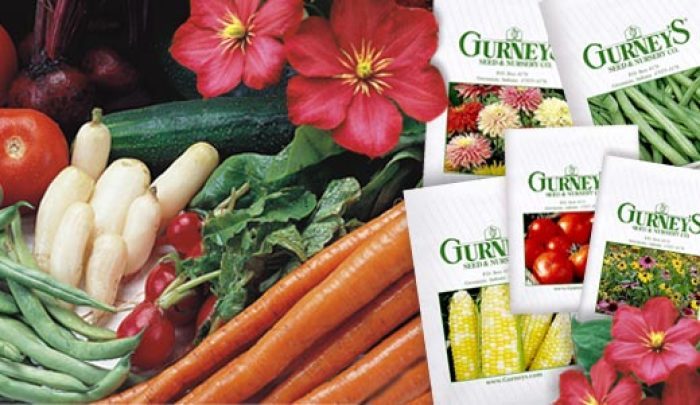 Gurney's Seed & Nursery was founded in 1866 by Civil War veteran Charles W. Gurney in Monticello, Iowa, but the company has long been associated with Yankton, South Dakota, where it moved in 1897 and remained until 2000. It was family owned until 1942. Ownership passed through several companies, most recently Scarlet Tanager Holdings, LLC, which also owns Breck's Bulbs, Henry Field's, Michigan Bulb Company, New Holland Bulbs, Spring Hill Nursery, Stark Brothers, Garden Solutions.
If you get catalogs from any of these companies, you'll detect a family resemblance in the layout and approach. You'll also find "offers". Items are priced by offer, and you check another column for the size/number of things being offered. This setup is a bit odd, but you get used to it.
Gurney's Seed & Nursery Co.
PO Box 4178
Greendale, IN 47025-4178
513-354-1491
www.gurneys.com
So what about the Gurney's catalog? It's a large publication in a homey format, with big photos that are easy on the eyes. For some reason, it makes me think of a farm garden in the heartland, with big, juicy produce to put on the supper table and plenty to can and freeze. The descriptions are heavy on benefits: flavor, cold hardiness, productivity. Look elsewhere for botanical names, history, and tidbits; the Gurney's style whets your appetite in a very basic way.
You'll find a generous selection of beans and peas, corn, and tomatoes, along with seed for other commonly grown vegetables. Gurney's also sells flowers, grasses, ground covers, shrubs, roses, flowering trees, fruit and nut trees, berry bushes, shrubs, evergreens.
Unusual items? Check out Gurney's dwarf fruit trees, including pomegranate, banana, key lime, Meyer lemon, and grapefruit. Or maybe you'd like to consider your very own coffee plant. Or a goji berry bush.