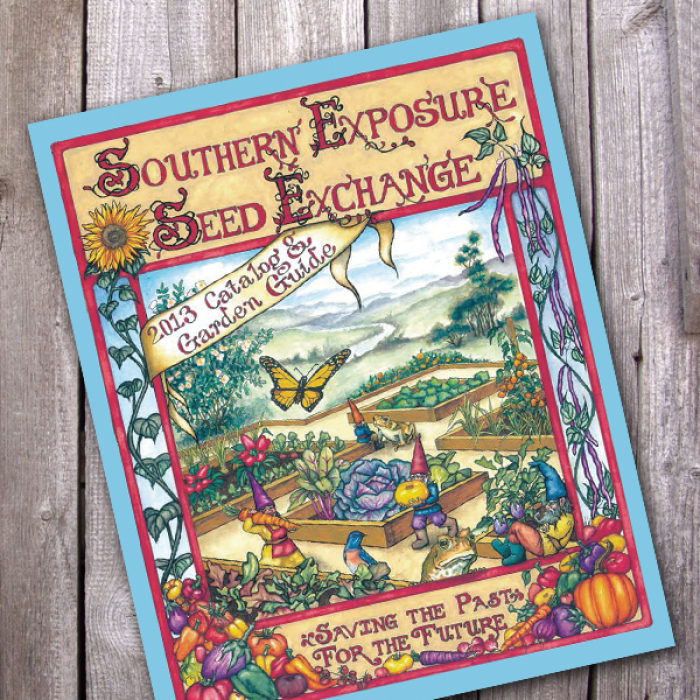 OK, I admit it. In my many years of vegetable (and now herb) gardening, I have yet to really explore growing heirloom and open-pollinated varieties. I now realize that this is truly a gardening goldmine yet to be tapped. Practically all of the transplants I put in my Victory Garden are now from seeds I started. As a result, when I received my Southern Exposure Seed Exchange catalog, I was truly inspired to try something new.
Southern Exposure Seed Exchange is located in the rolling hills of central Virginia, between Richmond and Charlottesville, not far from Thomas Jefferson's Monticello. From their website, "Southern Exposure Seed Exchange offers more than 700 varieties of vegetable, flower, herb, grain and cover crop seeds. We emphasize varieties that perform well in the Mid-Atlantic and Southeast, although gardeners and farmers from all over the country grow our seeds. We offer many unusual, Southern heirlooms… However, we serve gardeners throughout the United States and Canada."
Southern Exposure Seed Exchange's catalog is a real pleasure to look through. Over 70 pages of vegetable, herb, flower, grain, and cover crop seed listings make up the majority of the catalog. Following this are a few pages with the company's gardening and seed saving supply, book and DVD offerings.
I immediately noticed the use of both photos and illustrations to accent the seed listings. This combination made for a unique presentation throughout the catalog. The illustrations are done in an almost "color pencil" style (one of my favorite illustration styles, BTW). I also appreciated the use of an uncoated "newsprint-esque" paper stock that the catalog is printed in.
Starting out each plant listing is a paragraph on the culture, harvest, pest, disease, storage, seed saver, and packet information. Following this is, of course, the many variety listings. The listings are well written, with bold type highlighting the variety name, number, and price… very helpful. Also used are icons for the heirloom, ecologically grown, and certified organic selections; as well as selections well suited for the Southeast. Another very helpful touch was the plant(s) listed at the bottom folio/footer of each page, which made going to a specific plant quicker.
The Southern Exposure Seed Exchange catalog is a great source for open-pollinated, heirloom, and traditional varieties, and is a "must-have" for your seed catalog collection.
To request a copy or to order their seeds and products, visit https://www.southernexposure.com.