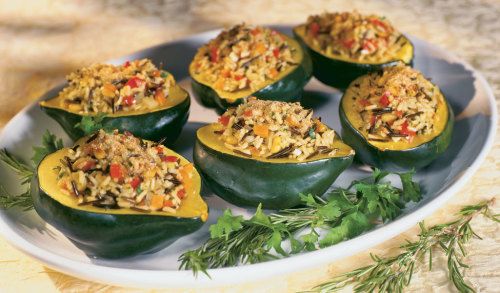 Ingredients:
1/4 cup pine nuts
3 small acorn or other winter squash
1/2 cup uncooked wild rice
2 tsp. olive oil
1 medium onion, chopped fine
4 large cloves garlic, minced
1/4 cup finely chopped carrot
1/4 cup finely chopped turnip
1/4 cup finely chopped parsnip
1 medium red bell pepper, chopped fine
1/4 tsp. dried rosemary
1/2 tsp. dried thyme
Freshly ground pepper
1 cup uncooked brown rice
1/2 tsp. salt
2-1/4 cups vegetable stock or water
1/4 cup minced parsley
1 large egg, lightly beaten
3 tsp. fine bread crumbs
6 servings
Toast the pine nuts in a small sauté pan over medium heat, stirring often.
Halve the squash lengthwise and scoop out the seeds. Place the cut sides down on a lightly greased pan and bake at 350°F for 45 min. to 1 hour, until the squash are easily pierced with a fork.
Place the wild rice in a small pan with water to cover and bring it to a boil. Immediately remove the pan from the heat and drain the rice.
Heat the oil in a skillet with a tight-fitting lid over medium heat. Add the onion and sauté about 2 min., until it's translucent. Add the garlic and carrot, and continue to sauté for several minutes, gradually adding the turnip, parsnip, and bell pepper. Add the rosemary, thyme, black pepper, and the brown rice. Sauté another few minutes, stirring often, until the rice is lightly toasted. Then stir in the wild rice and salt.
Add the stock or water and bring it just to a boil. Stir the mixture, then cover the pan tightly and reduce the heat to very low. Cook for 40 min., then remove from the heat but leave the cover in place for at least 10 min. Uncover and cool somewhat.
Stir in the parsley and pine nuts, and season with salt and pepper to taste. Then thoroughly mix in the egg.
Preheat the oven to 400°F. Lightly grease a large baking dish or casserole.
Using the back of a spoon, smooth the squash flesh to give the cavities an even depth. Stuff the squash with the rice mixture, pressing to compact it, and then rounding it well over the top. Arrange the squash in the greased baking dish and sprinkle bread crumbs over the filling. Cover tightly with a lid or with aluminum foil and bake for about 30 min. Uncover and bake 5 to 10 min. longer, until the crumbs are crisp.
Susan Cheney
December 1996
from issue #6