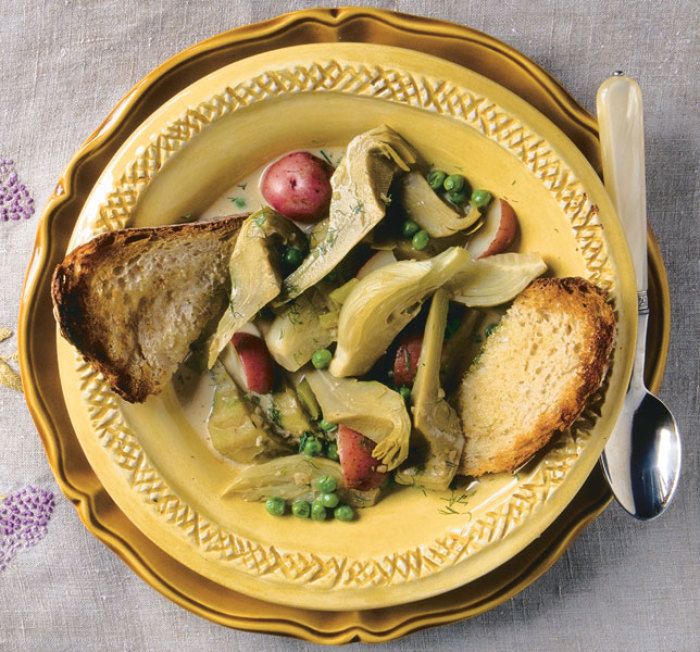 Ingredients:
4 large artichokes
Juice of 1 large lemon or 4 tbsp. vinegar
2 tbsp. butter
1/4 cup diced shallots
2 leeks, the white part plus 1 in. of the green, sliced into 1/4-in. rounds
1/2 cup Riesling wine
2 fennel bulbs, cut into 1-in. wedges, joined at the root end
2-1/2 to 3 cups water, or vegetable or chicken stock
1 tsp. salt
Freshly ground pepper
12 oz. new red potatoes, scrubbed and cut into quarters
1/2 to 3/4 cup crème fraîche
1 tsp. Dijon mustard
1 cup peas or shelled and peeled fava beans
3 tbsp. chopped fennel greens or parsley
4 generous servings
As the season progresses, take advantage of fava beans, baby carrots, asparagus, spring turnips, or the first zucchini. For a fall stew, add diced celery root along with the artichokes.
Cut off the upper two-thirds of each artichoke. Snap off and discard the tough outer leaves. With a paring knife, trim the base and stem to reveal the pale, tender interior. Finally, cut each artichoke into sixths and cut out the choke. As you finish each piece, drop it into a bowl of water that's been acidulated with the lemon juice or vinegar. Set aside.
Melt the butter in a wide soup pot over medium-high heat. Add the shallots and leeks and cook for 3 to 4 min., stirring frequently, without browning. Add the wine, raise the heat and simmer 2 min. Drain the artichokes, discarding the soaking water, and add them to the pan, along with the fennel and the water or stock. Season with salt and pepper, then press a piece of crumpled parchment or wax paper directly over the vegetables so they stay bathed in steam. Bring the liquid to a boil, then cover the pan, lower the heat, and simmer until the artichokes are tender, about 25 min. Meanwhile, in another pan steam or boil the potatoes until tender, 10 to 12 min.
When the vegetables are tender, remove them with a slotted spoon to a dish. Whisk the crème fraîche and mustard into the broth and boil briskly to make a thin sauce, about 10 min. Add the peas and cook until tender, then return the vegetables and potatoes to the broth. Add the chopped fennel greens and serve.
Recipe by Deborah Madison
April 1997
from issue #8