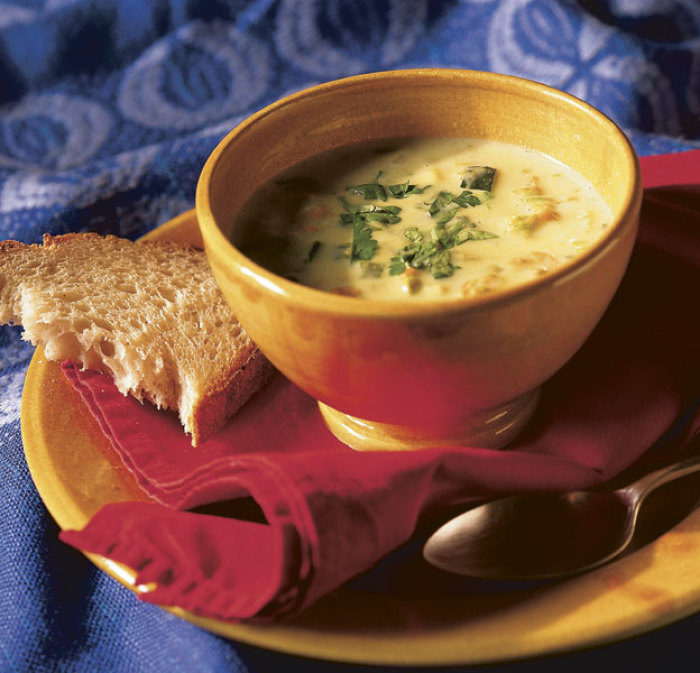 Ingredients:
1-1/2 Tbs. butter
1 large white onion, chopped into
1/4-in. dice
3 cups good chicken broth
1 small boiling potato, peeled and roughly chopped
25 large, fresh squash blossoms (3-in. to 4-in. male blossoms)
2 poblano chiles
1 cup milk
1 medium zucchini, cut into 1?4-in. pieces
Kernels from 1 large ear of corn
1/2 cup heavy cream or crème fraÎche
1-1/2 tsp. salt
*Epazote or parsley for garnish
6 servings
In a medium (4-qt.) soup pot, melt the butter over medium heat. Add the onion and cook, stirring frequently, until lightly brown, about 5 min. Scoop out half of the onion and set aside. Add the broth and potato, partially cover, and simmer over medium-low heat for 20 min.
While the broth is simmering, prepare the squash blossoms. Peel off the sepals that come out from the base of the blossoms. Break off the stems. Remove the stamen in the center of each flower and discard. Cut the blossoms crosswise into 1⁄4-in. strips, including the bulbous base.
Add half the blossoms to the broth and simmer 3 min. In a food processor or in batches in a blender, purée the mixture and return it to the pot.
Roast the chiles directly over a gas flame, or on a medium-hot gas grill, or 4 in. below a very hot broiler. Turn occasionally until blistered and blackened on all sides, 4 to 6 min. for the flame or grill, about 10 min. for the broiler. Cover with a kitchen towel and let stand about 5 min. Peel off the charred skin, cut out the seed pod, then quickly rinse to remove straggling bits of skin and seeds. Cut into 1⁄4-in. dice.
Add the chiles to the soup along with the milk and reserved onion; bring to a simmer and cook for 10 min. Add the zucchini and corn, simmer a couple of minutes, then add the remaining squash blossoms. Simmer a couple of minutes longer (the strips of blossom will soften into deep-golden "streamers"). Remove from heat, stir in the cream, taste, and season with salt. Serve in warm bowls garnished with epazote or parsley.
*Epazote (Chenopodium ambrosioides) is a prolific annual that hardly needs encouragement in the garden. It has an assertive pungency well suited for pairing with beans. Epazote is considered—especially in parts of the world where bean consumption is low—to be an antiflatulent. North of the border, epazote is found less in food but often sprouting as a "weed" in the garden. Epazote lends authenticity to Mexican dishes. If it's not growing in your garden, look for it in Mexican markets. And don't worry if it's slightly wilted; it'll still do its job.
Recipe by Rick Bayless
April 1998
from issue #14