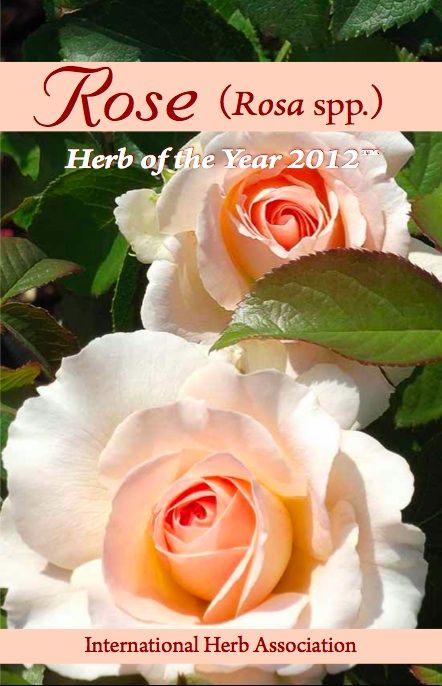 This is my last blog and book review for 2011. We have completed another annual cycle and are about to celebrate a new year. For about the past six months, as editor of the herb of the year books for the International Herb Association, I have been gathering articles, artwork, illustrations, quotes, poetry, and taking photographs of all things pertaining to roses. For the past three months, my life has been all-consumed with layout and editing of Rose, Herb of the Year 2012. It was printed two weeks ago and is hot off the presses–and it is chock-a-block full of all sorts of interesting articles on the lovely, fragrant Rosa.
Here is the back cover description: "Everything is coming up roses" in this collection featuring the world's most beloved bloom. This plant has been revered since antiquity, lauded in literature, its virtues used in numerous ways: to anoint and perfume, soothe and heal, and even seduce. Brimming with facts on every facet of this flower from fragrance and flavor, botany and cultivation, lore and history to favorites, fun facts, poetry, crafts, medicinal information, not to mention recipes for the kitchen, bath and boudoir, and the apothecary!
Professionals, as well as novice gardeners contributed their choices for Favorite Roses. If you are new to growing roses, or would like suggestions for a particular color or type of rose bush, then this is the place to look! Botany and Cultivation of Rosa is well documented with entries from Dr. Arthur Tucker and Thomas DeBaggio's The Encyclopedia of Herbs on "Rosa"; the Antique Rose Emporium's "Antique Rose Care Guide"; Holly Shimizu's article on "Growing Roses Sustainably", courtesy of the United States Botanic Gardens; not to mention information on growing roses in cold climates from Canadian contributors.
There are numerous stories, tales, recollections, as well as history and lore from around the world–from how the Native Americans used roses–to the passion Empress Josephine of France had for collecting roses. There is an excerpt from Kathleen Gips' Flora's Dictionary, The Victorian Language of Herbs and Flowers, which includes the meaning of roses by color and classification.
Ahh, and then there are the recipes! There are discussions of how roses are used in cuisines around the globe, from petals and hips to rose water and syrups. Mouthwatering and fragrant recipes vary widely from main courses and vegetables to beverages and desserts. There are also recipes and formulas for making rose water, syrup, vinegar, glycerite, cordials, soap, and more. Besides the wonderful perfume of this flower used in the bath, boudoir and aromatherapy, rose plays an important role in the apothecary and medicine. Rose essential oil is a valuable, important and age-old industry as highlighted in Dorene Petersen's "Essential Oil of Rose". Crafts include rose beads, waxing roses, and the preparation of both moist and dry potpourris.
Illustrations and photographs from over a dozen artists are included in the book in black and white, and also in the eight-page color insert. Celebrate Rose, Herb of the Year 2012! Here's to a happy, healthy and herbal 2012; may your new year be rosy and bright!
Books can be purchased at www.iherb.org.