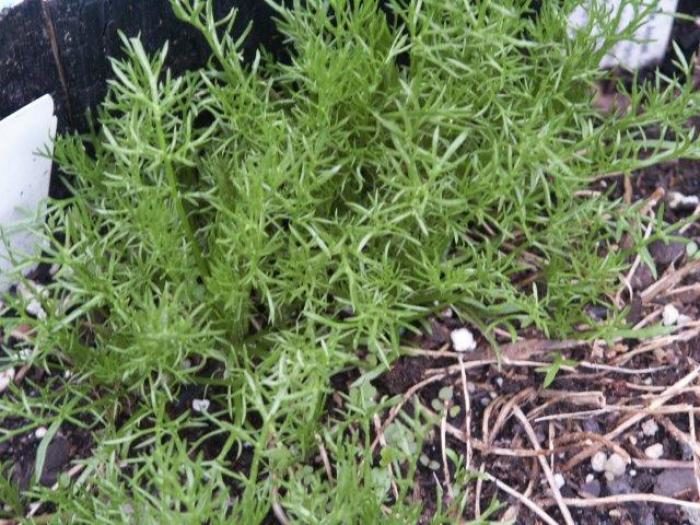 Every year the International Herb Association selects a new herb to feature–this year is Artemisia! Learn more about this wonderful genus of herbs beloved by gardeners for centuries, used by cooks and in the apothecary. This blog is a sneak preview of the upcoming book Artemisia: Herb of the Year 2014, which will be released by the IHA in the next month.
Right now with the freezing temps and no gardening outside, I am delighting in reading about all of the different species and cultivars and making orders from seed and plant catalogs, so that I can immerse myself in the artemisias in the upcoming gardening season.
There are so many aspects to the artemisias, we need to concentrate on their virtues one at a time. Although many artemisias are used in the garden as accent plants, showing off their toothed-and-textured, grey-green foliage, there are a few, which are used as culinary herbs. And so this blog features an artemisia that excels in the kitchen, Tarragon. 
Tarragon: The Celebrated Culinary Artemisia
In celebrating Artemisia, Herb of the Year for 2014™, we find a genus of herbs which are used mainly as ornamentals and medicinally, though there are some used as culinary herbs. The starring culinary artemisia is French tarragon, Artemisia dracunculus 'Sativa', which more than makes up for the lack of the other artemisias in the kitchen. Tarragon's strongest devotees in Europe have been cooks rather than doctors or herbalists. The French are famed for their use of tarragon in cooking, however it has been used for centuries throughout Europe and Russia. Tarragon is considered one of the royal herbs, in the kitchen, in fact as well as legend.
From times of old
subtle yet bold
in sauces fine with meat or fish,
tarragon defines the dish.
Little dragon throughout history
The Latins named this herb "dracunculus" because its serpentine root structure suggested little dragons. We think the flare of fieriness that warms the palate sparks more brilliant draconic images. Tarragon's multi-faceted flavor heralds rich historical associations: glowing tapestries and paintings of dragons, their scales gleaming as greenly as the plant in the garden.
The "little dragon" was the favorite herb of Charlemagne and was cultivated in the gardens of the Tudors. Tarragon is one of the royal herbs, in fact as well as legend. Through the centuries it has become more used and respected for its regal presence in the kitchen. In its early history Pliny thought tarragon prevented fatigue. This notion continued through the Middle Ages, when the faithful put it in their shoes before setting out on pilgrimages. Arab doctors used its pleasant flavor and numbing properties to mitigate the effects of swallowing bitter medicines. Evelyn wrote of tarragon as "good for the heart, lungs, and liver."   
Tarragon in the kitchen
The French work with tarragon in the most majestic way, although it also finds favor with the Siennese and with some peoples of Southern Russia, where it probably originated. The rich anise-like, peppery flavor of tarragon and its complex aroma of very freshly cut hay, mint, and licorice enhance a great variety of foods. Classic in sauces from béarnaise to tartar, and excellent with fish, eggs, and chicken, tarragon also adds much to grilled meats. A light sprinkling goes well with many simply prepared vegetables, notably peas, spinach, cauliflower, and potatoes.
Tarragon tastes best on its own or with the classic fines herbes: parsley, chervil, and chives. The strong aromatics-rosemary, sage, and thyme-do not harmonize well with it. The fresh herb is subtler than the dried and may be used accordingly. Heat brings out the flavor of tarragon, so cooked dishes usually need less. In the late spring and early summer, tarragon is often sold in produce markets and at greengrocers.
Cultivation
For cultivation, French tarragon, A. dracunculus 'Sativa', is the culinary herb of choice, and should be obtained from an herb supplier. It must be started from a cutting or by root division. Mexican tarragon, Tagetes lucida, is a member of the marigold family, with a coarser but similar flavor to true tarragon in the raw leaves. It is stronger in vinegar and milder in cooked dishes. Still, it is a perennial in warm climates, and is of use when tarragon is dormant, or where winters are too warm for French tarragon to thrive. Commercial seed usually is that of Russian tarragon, a close Artemesia relative; however, it lacks the essential oils necessary for culinary use. It looks more like tarragon than the Tagetes substitute, but has almost no flavor.
It is best to buy rooted cuttings or small plants in the spring and plant them eighteen inches apart, as tarragon has a shallow lateral root system. Tarragon likes a well-drained rich soil a bit on the sandy side, and a sunny spot free from the shadow of other plants. Fertilization twice a month is necessary, especially the first few months after it has been transplanted. You will have to protect the plants if you set them out while there is still a chance of frost. Mature French tarragon will grow from two to two and one-half feet tall; like rosemary and sage, it will become a handsome bushy plant. Frequent cutting of the plant, especially in summer, and a mulch of sand lessen disease problems, but all yellow or brown leaves should be removed from the plant as soon as they are observed to retard the spread of fungus.
To insure the most flavorful tarragon, the roots should be divided in two to three years, after the plants are well established. When a plant shows new growth in the spring, before the stems are three inches tall, dig it up. Carefully separate it into pieces that have part of last year's stem and roots on each portion. The divisions should be treated as plants and will thrive with water and fertilization.
Tarragon dies back each winter even in temperate climates; in cold climates it should be well protected with mulch. Mature tarragon can be potted and grown indoors, but it needs artificial light for fifteen hours a day to maintain vegetative growth. Place it in a wide pot with good drainage and do not overwater it. During short winter days tarragon does not grow and is easily killed from too much water.
The poem and some of the text is excerpted from Herbs in the Kitchen by Carolyn Dille and Susan Belsinger, Interweave Press, 2000. Try these tasty Lima Beans with Tarragon.