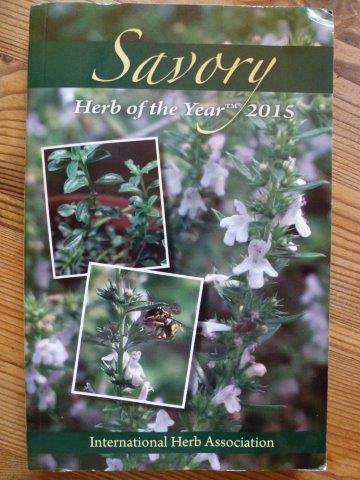 The International Herb Association's latest book Savory, Herb of the Year 2015 is hot off the presses. The new book, edited by Karen O'Brien, is a compilation of over 150 pages with articles, black and white photos and illustrations, and a 4-page color insert by more than a dozen contributors. You can order the book online from www.iherb.org.
So right now, it is time to be planting savory plants or sowing summer savory seed right now! Here, below, is the skinny on cultivating both summer and winter savory.
Satureja hortensis
Summer Savory
Native Habitat: Southeast Europe
Plant Type: Annual
S. montana
Savory, winter savory
Native Habitat: Southern Europe
Plant Type: Semi-evergreen perennial, Zone 4
These members of the mint family have erect stems and narrow leaves about an inch long. The annual, summer savory, grows about 18 inches tall and is covered in tiny, pale pink blooms. The green to gray-green leaves are slightly fuzzy and sometimes with cold weather they can get a purple cast in autumn. The hardy perennial, winter savory, reaches about 12 to 15-inches in height and can become somewhat shrubby in habit. Flowers can be white to pale lavender-blue and may have darker purple spots. The leaves are thicker and darker green than those of summer savory; although the fragrance and flavor of both savories is peppery, the winter is more peppery than the summer.
How to Grow: You can start either plant from seed, however since perennials take longer to mature, it's probably best to buy a plant or two of winter savory, or start some from cuttings. Space winter savory plants at least a foot apart and allow about 8 to 10-inches in between summer savory seedlings. I have great success growing summer savory in my Maryland, zone 7 garden, when I sow seed directly in the garden earth in May. I keep it cut back and it lasts throughout the summer.
For those in the deep south, or where summers are very hot and humid, summer savory may be the more difficult to grow, since it droops if water-deprived and bolts (goes to seed) quickly in hot climates. Harvest it regularly in spring, since it may not be around to usher out the summer. Do the same for its perennial cousin; regular pruning will keep it bushy and productive. You can start new plants from cuttings or divisions and probably should, since the plant tends to be short lived. Both prefer full sun and well-drained soil, neutral to slightly acid soil.
Culinary Uses: Savory combines the flavors of thyme and oregano, and is often paired with beans of all kinds, and pulses like lentils, peas, or favas. Pasta, grain and bean salads are much improved by the addition of savory, as are vegetables like green beans, cabbage, carrots, cauliflower, soups, sauces, vinaigrettes and egg and cheese dishes. Dried, it can be added to stuffing or breading for chicken, fish, or pork. It makes an excellent herb vinegar, which this cook would not be without for three bean salad, green beans vinaigrette and cabbage en escabeche. Keep in mind the stronger flavor of winter savory (some find it almost piney), and use less of it, or save it for stronger flavored meats such as game, crabmeat, or bluefish. It is a key ingredient in the famous Herbes de Provence blend.
Get to know and celebrate this tasty herb. Here are some upcoming savory events.
May 7 to 9
The first weekend of May, the Herb Society of America will be holding their annual conference in Williamsburg, which has a superb line-up of events and programs. https://www.herbsociety.org/events/conference-15.html  As a speaker, I will have a vendor table and will have the IHA Savory Herb of the Year 2015 book for sale on Thursday.
May 16
Saving and Savoring: Celebrating Endangered Species and Herbs at the U.S. Botanic Garden from 10 am to 3 pm. I will be doing two, free demo/lectures–one on "Savory, Herb of the Year 2015" and the other on "At-Risk Herbs". There will be lots of hands-on demos during the day. https://www.usbg.gov/events/2015/02/13/saving-and-savoring-festival
Here are a few links to other articles on savory as well as some recipes:
/item/8143/savory-for-winter-dishes
/item/15993/savory-recipe-homemade-salsa-with-black-beans-and-corn
/item/12652/summer-savory-in-the-kitchen-garden