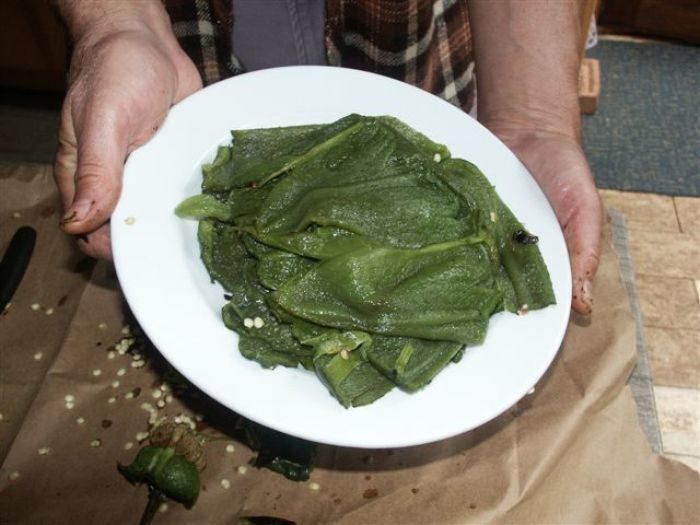 Ingredients:
1 cup packed cilantro leaves
2/3 cup packed basil leaves
1/3 cup packed Italian parsley leaves
1/3 cup sliced almonds, lightly toasted
1/3 cup hulled pumpkin seeds, lightly toasted
3 or 4 large garlic cloves
2 large poblano chiles, roasted, peeled, and seeded
2 large Anaheim or New Mexico chiles, roasted, peeled, and seeded
3/4 cup freshly grated Parmesan
About 1/3 cup extra-virgin olive oil
About 1/4 cup water
This is a recipe using roasted chiles in a delicious South-of-the-Border green herb sauce (excerpted from The Chile Pepper Book by Carolyn Dille and Susan Belsinger).
This sauce has similarities to both pipián verde from Mexico and pesto from Italy, with a Southwestern touch. It is delicious on pasta, potatoes, squash, fresh sliced tomatoes, or with grilled chicken and fish, on sandwiches and wraps.
Makes about 2 cups
Roast the chiles and peel them while wearing rubber gloves. In a food processor combine the cilantro, basil, parsley, almonds, pumpkin seeds, garlic, chiles, and parmesan.
Start the processor, and pour the oil in a steady stream, as the ingredients are processed. Add the water to thin the sauce. Taste for seasoning and add a little more parmesan or olive oil to obtain the right balance of flavor. Toss with hot pasta, garnish with herb leaves and serve immediately.
Learn how to roast fresh chili peppers.
Susan Belsinger is an aficionado of the capsicum (otherwise known as a chile head) and has cultivated dozens of different varieties for over the 25 years. Although she loves the fruitiness and wicked heat of the habanero, she couldn't live without the serrano and the poblano chiles. Two books that she co-authored with Carolyn Dille, The Chile Pepper Book and Classic Southwest Cooking, as well as the Brooklyn Botanic Garden 21st Century Gardening Series Chile Peppers, to which she contributed, are available on her Web site at www.susanbelsinger.com.