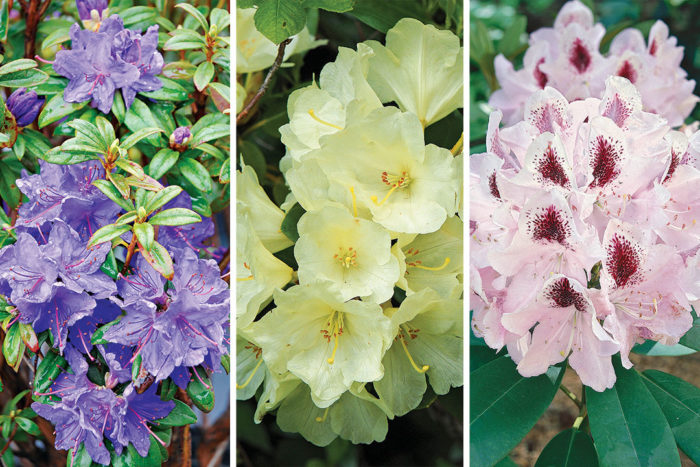 While distinctive foliage can hold the whole season—providing texture, color, and persistence in the garden—it is impossible to deny the power of plants such as rhododendrons when in full bloom. The glory of spring is heralded by these garden stalwarts. Individual flowers may be bell shaped or strongly reflexed, borne singly or packed together en masse in trusses of different shapes. I think many people have been turned off to rhodies, as some garish lavender and pink selections are seen much more often than some with more atypical colors. While these loud colors probably represent the bulk of species and hybrids, there is much diversity that is left underutilized.
'Henry's Red' tolerates cold weather and has blooms that sizzle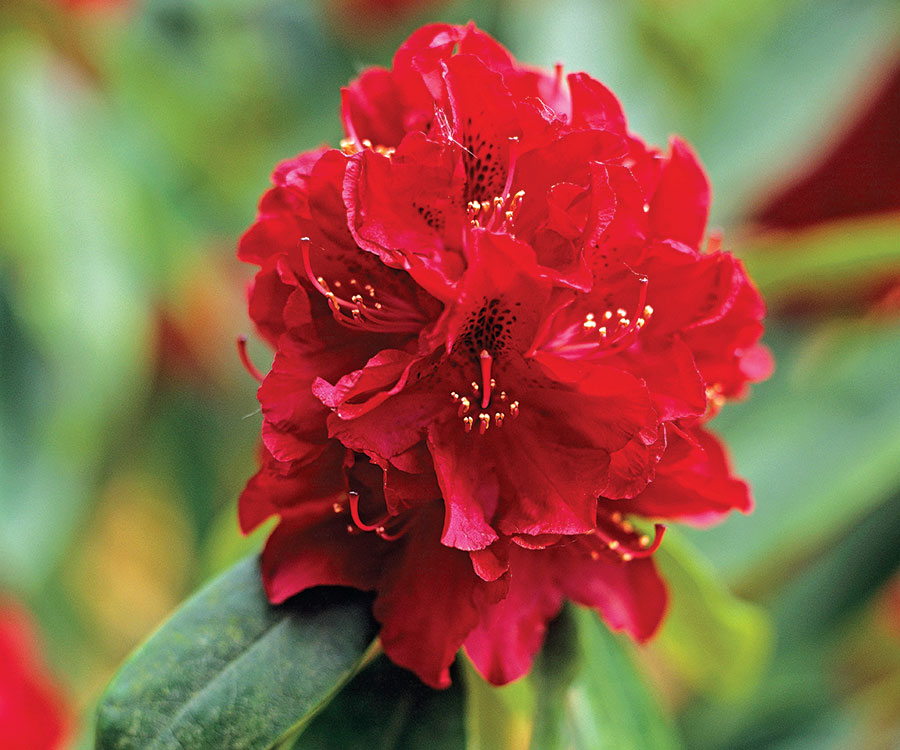 Many fine rhododendron hybrids well suited to cooler gardens were developed by Peter J. Mezitt of Weston Nurseries in Massachusetts. Ever hear of PJM rhodies? This is that guy! Breeding in a true Zone 5, Mezitt used the rugged, Eastern North American native catawba rhododendron (R. catawbiense, Zones 4–8) to create many hardy hybrids, and 'Henry's Red' (R. 'Henry's Red', Zones 4–8) is one of my absolute favorites. While this cultivar does not develop a dense, compact form, I'll take its somewhat open and leggy form (3 to 5 feet tall and 4 to 7 feet wide) for the magnificent red blooms it produces in late spring. 'Henry's Red' boasts flowers of the deepest scarlet that I have ever seen. The flower color of this selection is so rich that it can almost be lost in the background of a shady garden unless illuminated by some dappled sun. It doesn't scream across the garden, but beckons subtly to passersby to take a closer look. A fuller habit can be achieved with selective pruning just after flowering ends and by providing good morning sun (which it prefers) to help keep its habit more squat and less lanky.
'Lemon Dream' offers a unique bloom color on a dainty frame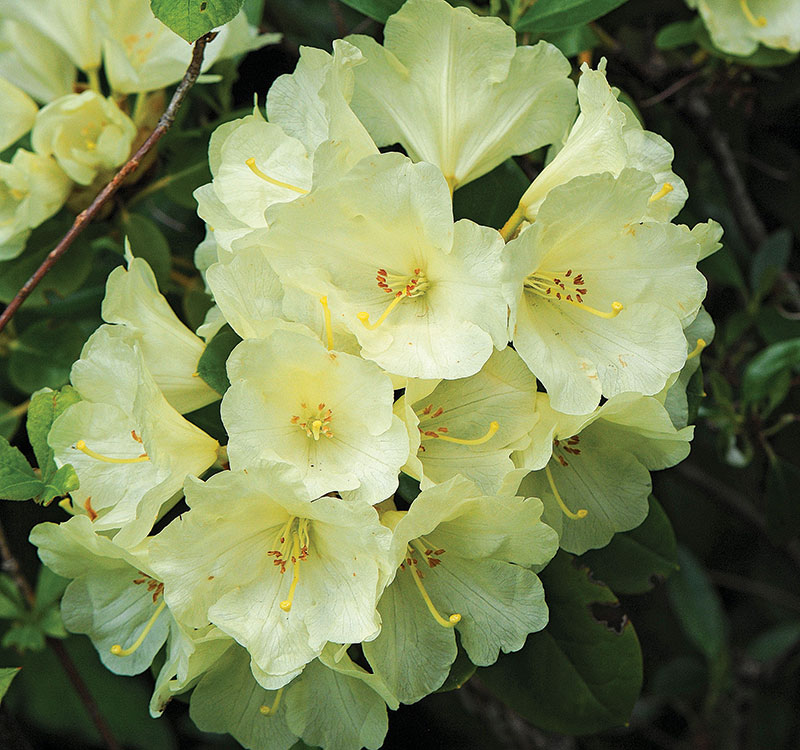 I am a sucker for petite rhodies. While towering specimens cannot be denied their lauds as they flower in force in late spring and dwarf their homesteads with eruptions of lavender blooms, such plants are not as easily worked into gardens. 'Lemon Dream' (R. 'Lemon Dream', Zones 5–8) has many unique and interesting traits that make it valuable and worthy of broader landscape use, especially at a size of only 2 to 3 feet tall and wide. Its flower trusses are not astounding in terms of flower number, but they are outstanding in form and color. As buds approach burst, they exude surprisingly varied tones of yellow, and the flowers open to a delicate butter color. Very few evergreen rhodies in this color will persist in gardens north of Zone 7, but 'Lemon Dream' does. Its dainty, bell-shaped blooms can sport single or double forms, and they have an undulating frill.
The foliage of this selection is distinctive in that the leaves are very round, offering nice contrast in a grouping with other rhodies. It is a small, compact plant even at maturity, making it perfect for gardens of any size. As it is derived from Yak lineage (R. degronianum subsp. yakushimanum), this hybrid demonstrates dense foliage cover and decent winter hardiness.
'Cherry Cheesecake' has the most multifaceted blooms of the bunch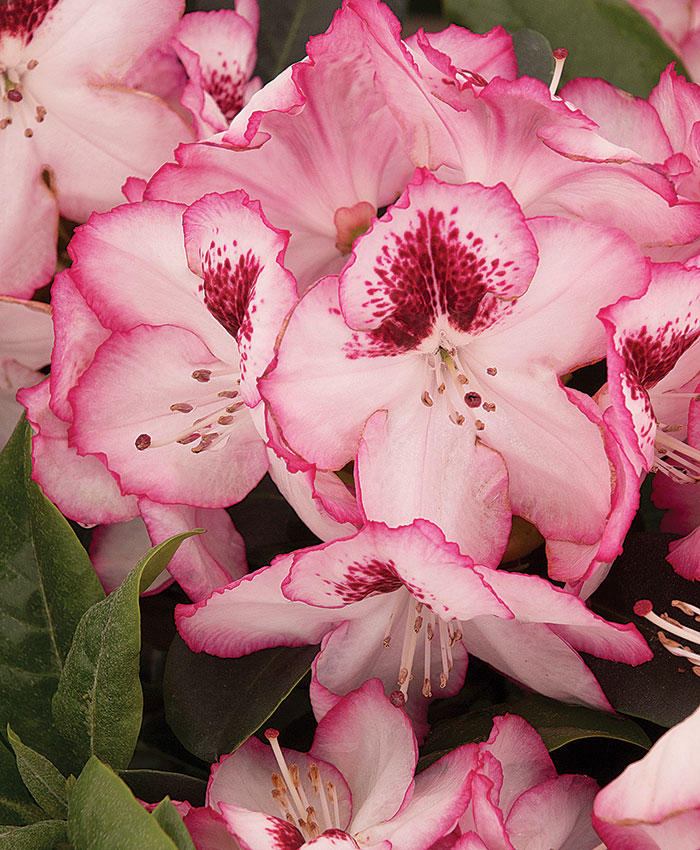 As directed by coevolution with pollinators, many rhododendrons show directional spotting on the superior (upper) petal into the throat of their blossoms. Plant breeders have employed these nectar highways, select ing those with bigger, bolder markings to develop hybrids. A bold, contrasting blotch is almost a standard in many hybrid rhodies, and it is a lovely trait. Hybrids such as the decadent 'Cherry Cheesecake' (R. 'Cherry Cheesecake', Zones 5–8) have incredible blotches and add another layer of frosting. Beyond the bold, cherry-red spot that sweetens the snowy white petals, a distinctive pink picotee frosts the edges of the entire flower. This framing provides a picture-in-picture effect and is extremely showy.
It's hard to deny that these scrumptious blooms are anything less than the main course in the spring garden. This midsize hybrid (4 to 5 feet tall and wide) resents hot sites; it showed some foliage drop when I placed it in one. I have since tried it in another place, with bright shade and more evenly moist soils, and have been seeing a better, fuller habit with healthy foliage.
'Cornell Pink' Korean rhododendron is so floriferous, it's almost garish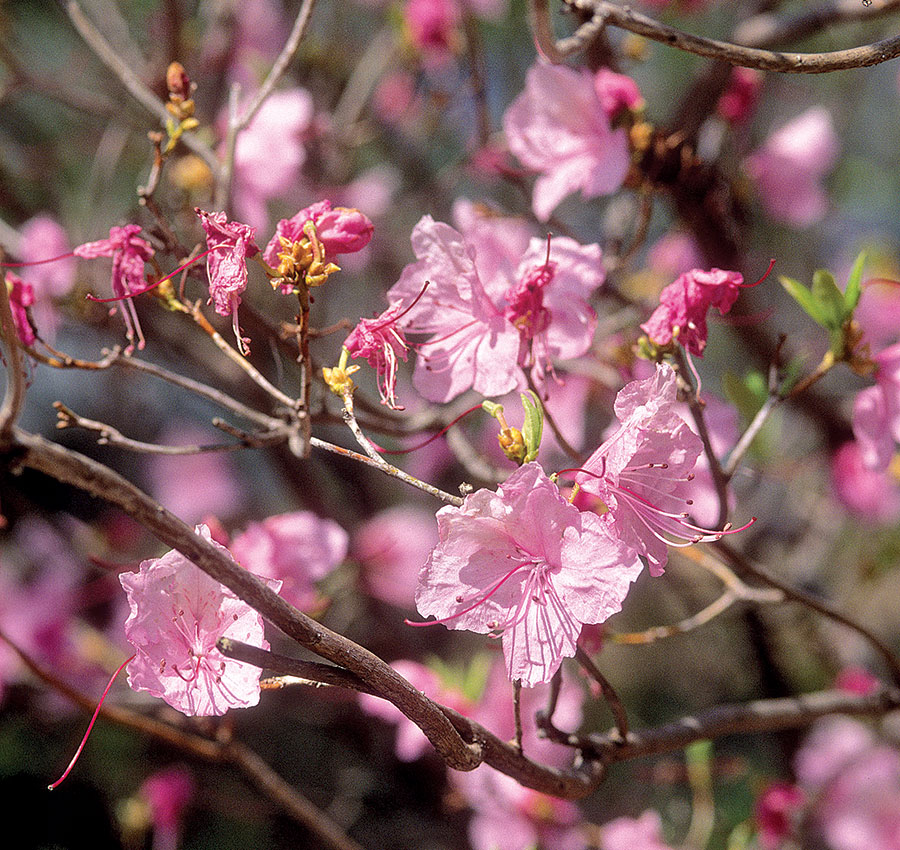 There are nowhere near enough selections of Korean rhododendron. The most widely available cultivar, 'Cornell Pink' (R. mucronulatum 'Cornell Pink', Zones 4–8), is a reliable performer but not as popular in the landscape as I would have expected based on its outstanding utility. It's winter hardy in just about all of the continental United States, and it turns all heads when it flaunts frilly flowered trusses of shocking, bright pink in the spring sun. The earliest-blooming rhodie that I grow, this one simply shines as flowers are presented on naked, smooth, gray stems.
'Cornell Pink' is not shy in fall and gets rid of its leaves like a pair of high heels on Friday night after work, settling into more restful attire for the off-season. Its open, 4-to-5-foot-tall and 3-to-4-foot-wide habit can take pruning without missing a step, and it doesn't mind a fair amount of sun. Sadly, the foliage is demure and diminutive, so it doesn't make much of a rhodie screen, but if that's what you want, go buy a yew instead.
'Calsap' is arguably the king of flowering rhodies
In any discussion of rhododendrons prized for their floral value, it would be impossible for me not to mention 'Calsap' (R. 'Calsap', Zones 4–8). If I could pick only one rhodie to grow for stunning bloom, this might well be that plant. I first saw it at Broken Arrow Nursery in Connecticut many years ago, and I immediately and completely fell in love. In late spring its pale lavender buds open to display nearly snow white petals, emblazoned with a lusty wine blotch. Not only is it drop-dead gorgeous, but it's a tough bugger too—reliably holding its buds into Zone 5 (sometimes 4b)—and can be counted on for heavy blooming year after year. This Herculean flower power—paired with the clean, clear, and beautifully contrasting blooms—makes 'Calsap' impossible not to gawk at. This rugged and vigorous cultivar can get big fast, developing an open habit of 5 to 6 feet tall and 4 feet wide if left unmanaged. I have found that some judicious pruning soon after bloom wanes can keep this beauty more compact, and it helps prevent winter damage from heavy snow loads. I'd do darn near anything to see this fine choice cultivar covered with flowers in spring.
'Blue Baron' is a royal treasure if you can find it a happy spot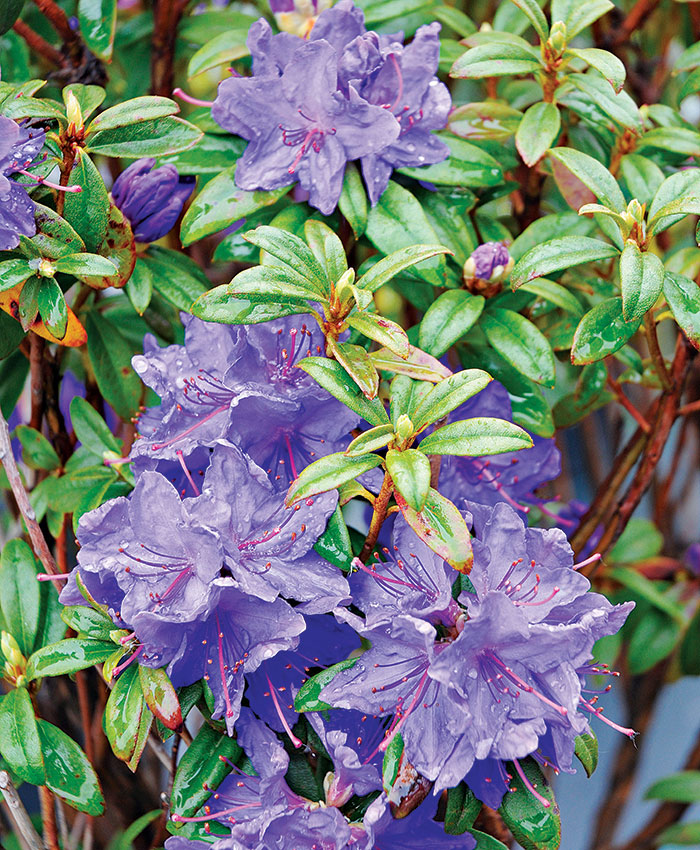 There are many hybrids emerging from breeders trying to capture blue color in rhodie flowers. Many of these have small, violet flowers and small leaves, and are on the tender end of the rhodie spectrum, performing best in Zones 7 and warmer. But some can be used effectively in more northern climates with protection. Let me tell you, it is worth rolling out the red carpet for some of these. 'Blue Baron' (R. 'Blue Baron', Zones 6–8) is a 3-to-4-foot-tall-and-wide hybrid with which I have a special love/hate relationship. I adore its tight form and small stature, its teeny leaves, and its amazing blue-violet flowers. Although it is not the most adaptable selection out there, the extra effort required from growers is well worth it.
'Blue Baron' needs some winter protection and is most happy in bright shade. A little direct morning sun has not been an issue. It despises being overwatered, as it's more prone to rot than many other rhodies. Adding some grit or sand to the soil below does help. These additional steps are OK by me in order to get blooms of such a glorious color, which are perhaps better described as iridescent "blurple" (blue-purple) but are nonetheless fantastic.
---
Daniel Robarts is a horticulturist and plant propagator/breeder at Coastal Maine Botanical Gardens in Boothbay.
Sources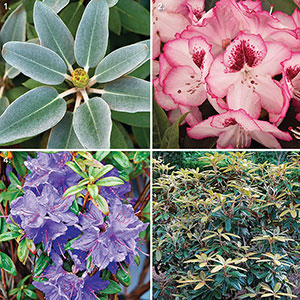 To learn more about rhododendron, view the entire collection: