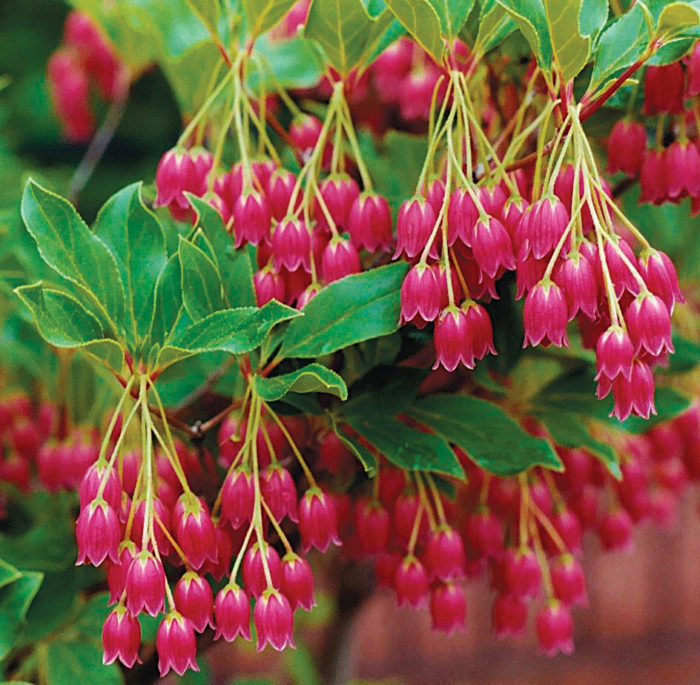 If your first few trips to the nursery can be overwhelming and chaotic, check out our plant recommendations for spring color in your region. There's no doubt that these spring flowers will cure the winter blues.
---
1. 'Roadrunner' trillium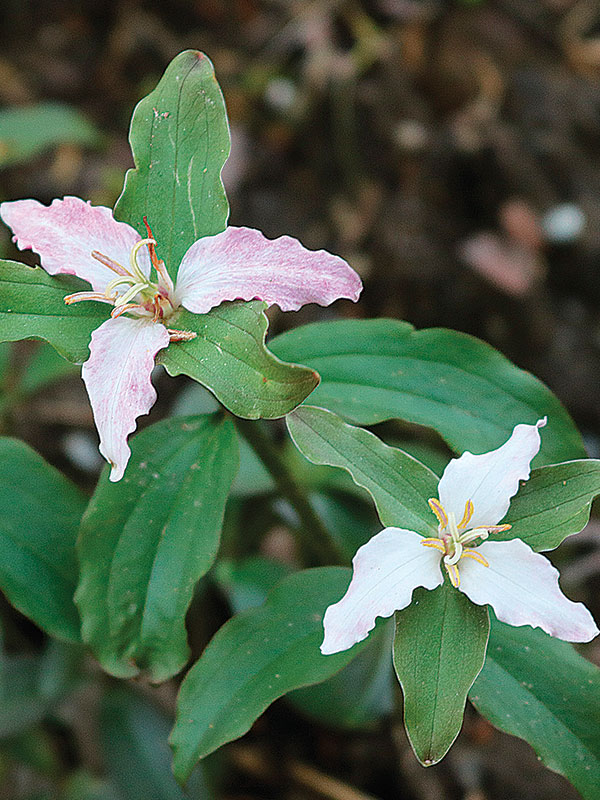 Trillium pusillum 'Roadrunner'
Zones: 5–9
Size: 8 to 12 inches tall and 24 inches wide
Conditions: Partial to full shade; acidic, moist, well-drained soil
Native range: Southeastern United States
This early bloomer is a pleasant surprise in the spring garden when its lovely white, up-facing petals unfurl atop deep greenish-purple sepals and a whorl of similarly colored leaflike bracts. Each pristine petal, backed in rose, has a wavy edge and fades to soft pink as it matures (pictured). In contrast to most other trilliums, which are usually slow to spread, this gregarious little charmer forms satisfying clumps over time, expanding by underground runners. Perhaps the best way to describe 'Roadrunner' is "Utterly charming."
2. Mount Odae iris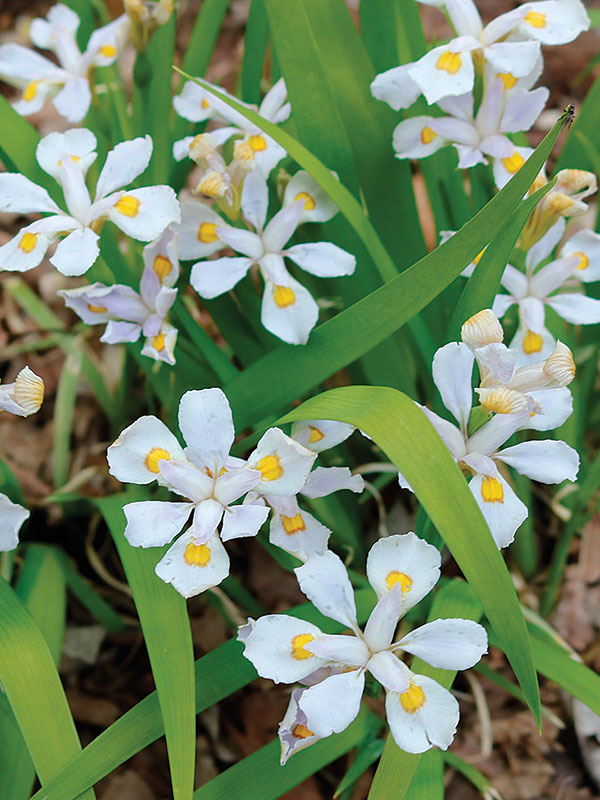 Iris odaesanensis
Zones: 5–7
Size: 5 to 8 inches tall and 2 to 4 feet wide
Conditions: Partial to full shade; rich, mildly acidic to neutral, moist soil
Native range: China, eastern Korea
Blooming in midspring, the lovely, creamy white, 1-to-2-inch-wide flowers of this small iris are borne on 3-to-5-inch stems. The leaves, grassy and green, arch elegantly and continue to lengthen after the flowers fade. It is an easily cultivated perennial, though not commonly grown, and increases in girth through underground rhizomes. This little beauty has become quite rare in its native South Korea and is now classified as endangered—all the more reason to include it in our gardens.
3. Pheasant's eye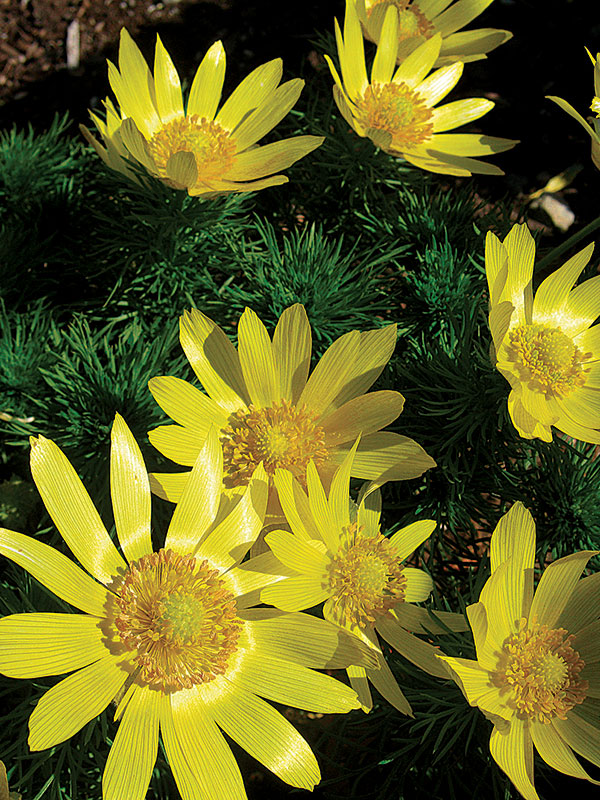 Adonis vernalis
Zones: 3–7
Size: 6 to 8 inches tall and 12 inches wide
Conditions: Full sun; well-drained soil
Native range: Europe
I don't know what I love more: the feathery, ferny foliage or the sunny flowers of this diminutive spring bloomer. It shows up (mid-April to early May in New England) as if to bring a bit of the sun down to warm the ground. Twelve to twenty gleaming yellow petals with a distinct sheen surround a central hub of stamens and pistils. The contrast of these bright flowers against the fine green foliage is lovely; the flowers, though only 2 to 3 inches wide, seem so bold and brilliant on this spring ephemeral. Like many spring gems, this beauty goes dormant in summer.
4. 'Showy Lantern' enkianthus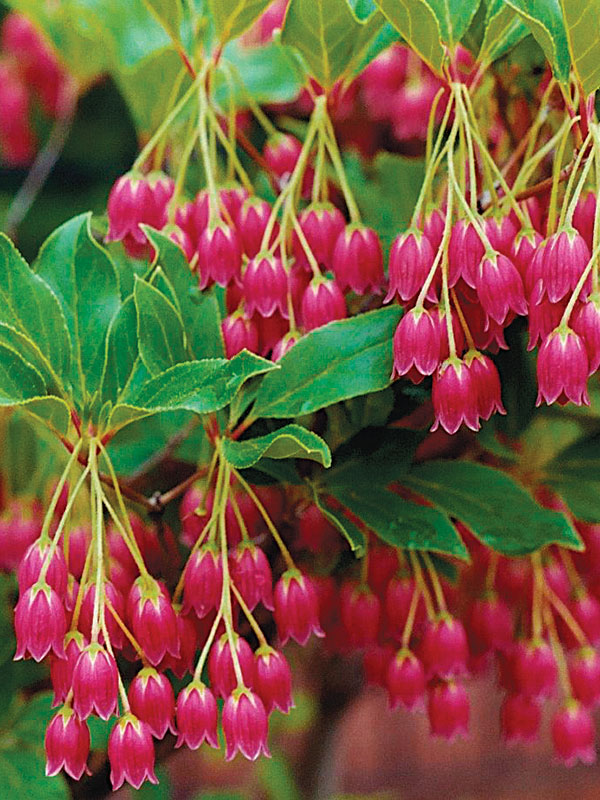 Enkianthus campanulatus 'Showy Lantern'
Zones: 4–7
Size: 8 to 10 feet tall and 6 feet wide
Conditions: Full sun to partial shade; rich, acidic soil
Native range: Japan
'Showy Lantern' enkianthus is the most dramatic cultivar of this fine specimen shrub. Related to blueberries and rhododendrons, it grows happily in the same conditions: moderately well-drained, acidic soil in full sun or partial shade. Given these conditions, 'Showy Lantern' will celebrate spring decked out in small, dangling, jewel-like ruby bells, each decoratively striated with deeper red veins and held on slender, light green stems among deep green foliage. Selected by famed plantsman Ed Mezzit of Weston Nurseries, this shrub stands out from its creamy-flowered cousins. It is awash with fiery red and orange leaves in autumn, making it one of the best shrubs for fall color.
---
Joann Vieira is the director of horticulture at The Trustees of Reservations in Massachusetts.
Photos: courtesy of Joann Vieira