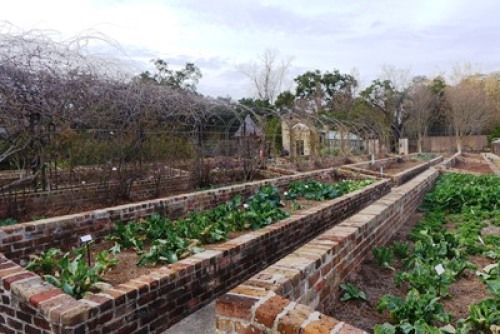 The brick cold frames at the New Orleans Botanical Garden were built years ago to grow the bedding plans for nearby City Park. These days, the Louisiana Master Gardeners use the sturdy beds as a demonstration project to trial different varieties of plants to find what will grow best. This educational program is sponsored by the Louisiana State University (LSU) AgCenter.
One goal of the LSU AgCenter is to help vegetable gardeners with research-based educational information that helps make for more successful gardening. Trialing plants in side-by-side comparisons helps gardeners see what's possible in their gardens.
In late January and early February, the beds were filled with cool-season crops including kale, cabbage, broccoli and Brussels sprouts. While other plantings looked a little weary after freezing weather, these plantings looked quite spry.
The botanical garden also has a demonstration garden for growing vegetables and fruit crops, planted with herbs and ornamentals. These beds, located in a different part of the garden, were planted with bunching onions, carrots, beets and fava beans.
Herbs included big bunches of winter savory and an unfamiliar-to-me herb called Salad Burnet. This perennial herb is said to taste like cucumbers.
The plants in other garden beds, like those in the Aromatic Garden, were waiting for warmer weather to start growing plants with culinary and medicinal properties.
The brick beds and many brick buildings, like the Stove House and the Garden Study Center, were built in the 1930s as part of the Works Progress Administration effort. The Stove House is a charming building that's home to the garden's collection of cacti and succulents
The New Orleans Botanical Garden also features the Historic New Orleans Train Garden that shows off G-scale trains that travel through a miniature version of the city with familiar landmarks.
While some vegetable gardeners are waiting for the snow to melt to get planting, it's nice to take a break to see what's green and growing in another part of the country.