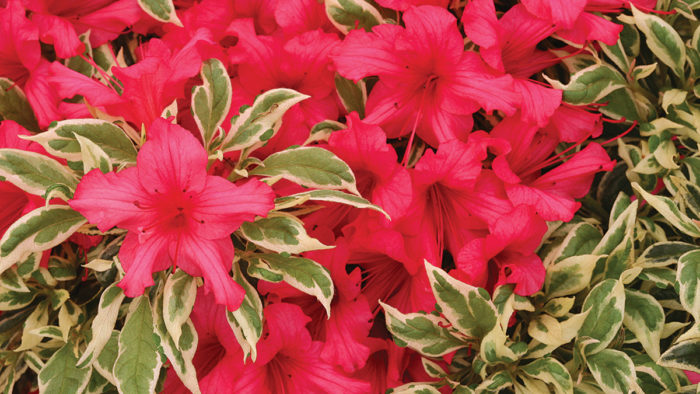 See regional picks for variegated plants for shade, and read the article by Andy Brand for even more ideas.
"While the cool, shady areas have provided me with the opportunity to grow some of my favorite genera, they also have presented me with a fair share of challenges. One of the trickiest issues is figuring out how to brighten the border growing under a dense canopy or in those dark corners. Plants with showy flowers are an obvious solution, but usually their effect is transient, and all too often flowering is diminished with too much shade. An even better option is to incorporate plants with variegated foliage and let their leaves of white, cream, gold, and green bring light to the shade." Read more in Plants That Shine in the Shade.
---
1.

'Eversheen' Japanese Sedge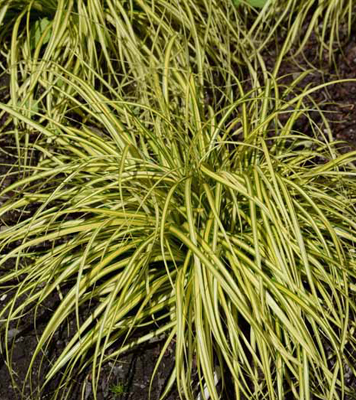 Name: Carex oshimensis 'Eversheen'
Zones: 5–9
Size: 12 to 18 inches tall and wide
Conditions: Partial to full shade; fertile, moist, well-drained soil
Native range: Japan
Part of the EverColor® Series, 'Eversheen' dazzles with slender yellow leaf blades edged in dark green. Tidy mounds of gently arching evergreen foliage bring plenty of texture to the shade garden. Perfect for massing as a ground cover or for edging flagstone paths, 'Eversheen' also performs well in containers and provides a lively accent in smaller spaces. Sedges grow best with protection from afternoon sun in hot climates, and it's a good idea to irrigate during dry spells. This sedge, like most, is also deer resistant.
2.

'Fireworks' Solomon's Seal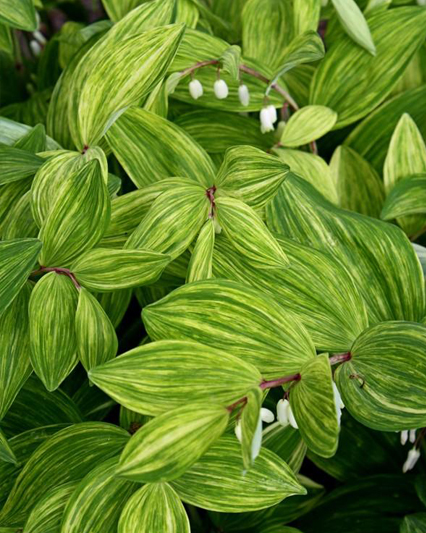 Name: Polygonatum odoratum 'Fireworks'
Zones: 4–9
Size: 18 to 24 inches tall and wide
Conditions: Partial to full shade; well-drained soil
Native range: Asia
My favorite plant for dry shade, Solomon's seal adds bold texture and graceful structure to woodland gardens and shady borders. The arching stems of 'Fireworks' boast broad, oval-shaped leaves speckled with white. As the plant ages, a creamy white border outlines the green leaves, which retain their flecking. Small white, bell-shaped blooms dangle beneath maroon stems in spring. This plant is drought tolerant and spreads slowly through rhizomes to form showy colonies. It looks especially striking when planted in mass. Solomon's seal tolerates heavy shade but grows more vigorously with a few hours of morning sun.
3.

Bollywood

®

Azalea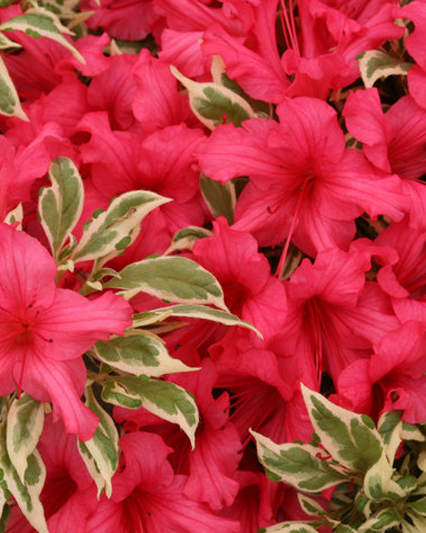 Name: Rhododendron 'Farrow'
Zones: 6–9
Size: 24 to 36 inches tall by 18 to 24 inches wide
Conditions: Partial to full shade; rich, acidic, well-drained soil
Native range: Interspecific hybrid; parent lines from Asia
With variegated foliage and vibrant spring blooms, Bollywood® azalea accents the garden all season long. Deep pink blossoms cover the plant in late spring to early summer, attracting butterflies and hummingbirds. The green and silver-white foliage is semi-evergreen and disease resistant. Dappled sun or bright shade and acidic soil provide ideal growing conditions in hot Southern states. Although this plant displays good heat tolerance, it is best to avoid afternoon sun. Protect the shallow roots with leaf mold or mulch, and keep plants watered during dry spells. Bollywood® azalea can be trimmed after flowering, though little pruning is required.
4.

'Hermann's Pride' Lamium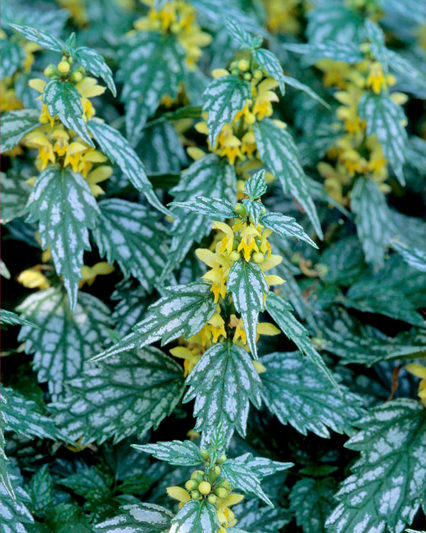 Name: Lamium galeobdolon 'Hermann's Pride'
Zones: 4–10
Size: 8 to 12 inches tall and 12 to 14 inches wide
Conditions: Partial to full shade; well-drained soil
Native range: Europe and Western Asia
Better behaved than other lamium varieties, 'Hermann's Pride' forms a tidy mound of jagged foliage marbled silver and green. Cheery yellow blooms are borne in clusters in late spring to early summer. The plants are slow to spread, especially in the harsh conditions of the Southern Plains states. 'Hermann's Pride' brightens the floor of shade gardens and provides cover in deep shade where other plants struggle. It also makes a lovely spiller in containers. This plant is drought tolerant once established and resists deer browsing. It's also a problem solver for dry, rocky soils and areas prone to erosion.
—Kimberly Toscano is a horticulturist and garden designer from Stillwater, Oklahoma.
From Fine Gardening #194