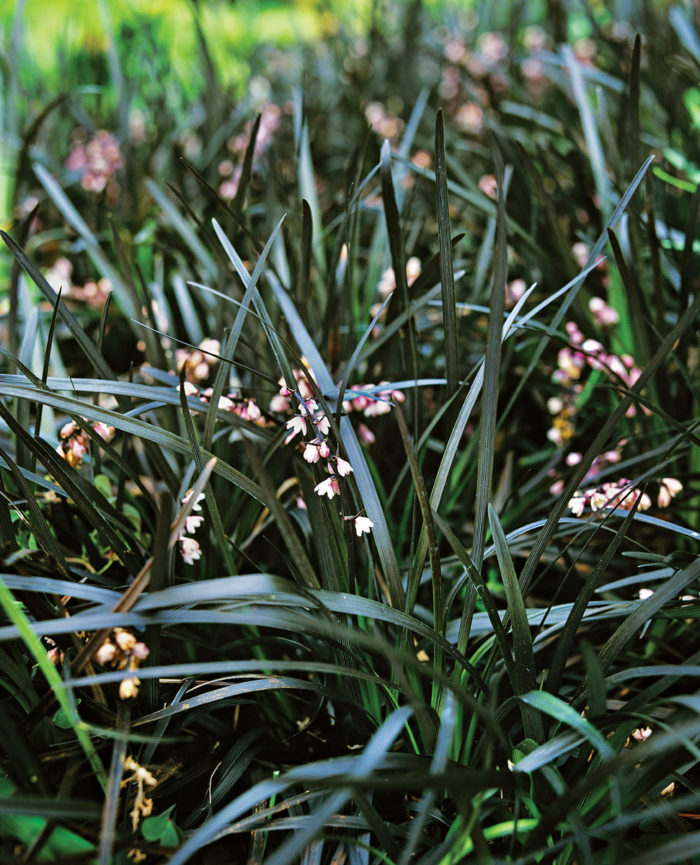 See regional picks for tough pretty plants, and read the article by Julie Lane Gray for even more ideas.
It's important to define first what I mean by a "tough" plant. To my mind, it's a plant that will thrive on its own as long as it is planted in a place that provides its basic needs and is given suitable water. It won't retreat if it has aggressive neighbors, complain if it doesn't get pruned for a year or two, and necessitate special treatment in order to look good. A pretty, tough plant is one that looks more delicate than it actually is.
Read more in Tough Yet Pretty Plants.
---
1. 'Fröhnleiten' epimedium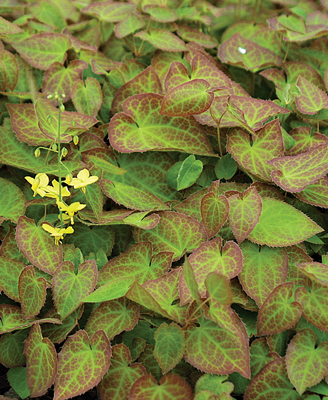 Name: Epimedium × perralchicum 'Fröhnleiten'
Zones: 5–9
Size: 12 to 15 inches tall and 8 to 10 feet wide in 10 years
Conditions: Light to partial shade; well-drained soil
Native range: Hybrid of European species
'Fröhnleiten' is an ironclad heirloom ground cover that has stood the test of time. Its heart-shaped leaflets remain fully evergreen, growing in dense, tight patches that exclude nearly every weed. Even though the leaves will look good, clip them down in late winter to make way for brassy, bright yellow, spidery flowers on short, upright stems that liven up early spring days. As the flowers fade, the new foliage emerges red with lime green veins; as it matures, it turns dark green. If grown with some sun, the winter foliage turns deep red. It is very resistant to deer browsing and is drought tolerant once established.
2. 'Grace' smokebush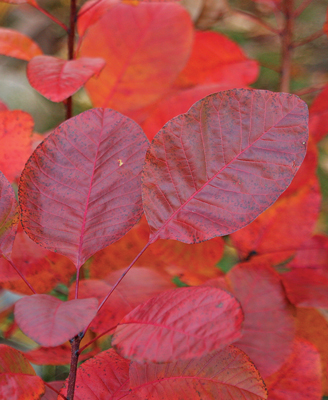 Name: Cotinus 'Grace'
Zones: 5–9
Size: 12 to 18 feet tall and 8 to 12 feet wide in 10 years
Conditions: Full sun; moist, well-drained soil
Native range: Hybrid between North American and Asian species
This robust large shrub has spectacular foliage. New leaves are reddish purple with an unusual blue-green cast. 'Grace' smokebush is the quintessential cutback shrub. Once it is established, prune it to 1 to 3 feet tall in late winter to allow vigorous stems to stretch out with lovely rounded leaves. This shrub is great for adding structure to the garden in a dramatic way. If it is allowed to grow tall, lacey smoke-like pink flowered panicles are formed in midsummer. All of this is followed by great fall color—flaming red and fiery orange. It is rarely browsed by deer and is drought tolerant once established.
3. Black mondo grass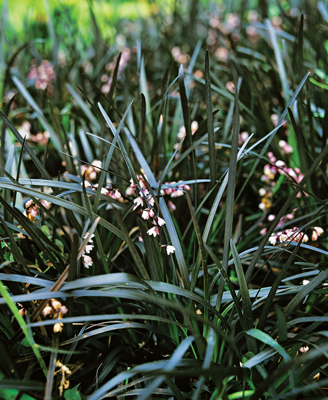 Name: Ophiopogon planiscapus 'Nigrescens'
Zones: 6–9
Size: 8 to 10 inches tall and 3 to 4 feet wide in 10 years
Conditions: Partial shade; well-drained soil with occasional watering during dry periods
Native range: Japan
This is one of those unforgettable, must-have plants because there is nothing like it. Jet black strappy leaves are the perfect contrast for almost any other plant. This slow grower will not take over, and it looks good as a small clump or a large-scale ground cover. In summer, short flower spikes are nestled into the foliage with tiny but cute lavender flowers. By autumn, the flower spikes are transformed into pea-sized fruits that resemble black pearls. An easy grower that is the height of ele­gance, black mondo grass should be protected from the intense reflective heat of late afternoon sun.
4. 'Kaleidoscope' abelia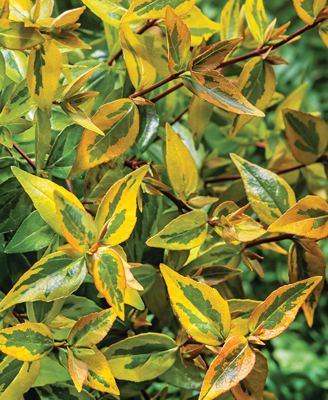 Name: Abelia × grandiflora 'Kaleidoscope'
Zones: 6–9
Size: 30 to 36 inches tall and 3 to 4 feet wide
Conditions: Full sun to open shade; fertile, well-drained soil
Native Range: Hybrid of Asian species
Flashy foliage on a long-blooming, easy-to-grow compact shrub—it sounds impossible, yet that is what 'Kaleidoscope' delivers. Bright golden foliage emerges in spring with a deep green splash in the center. As the foliage matures in summer, orange and red tones develop; these fiery colors then predominate in autumn and early winter. Pale, pinkish white flowers appear in dotted clusters over this low shrub from late spring until early fall. It naturally grows in a compact mound, but it is easy to give a light clipping to any stray branches. Occasional watering during extended dry periods will keep this shrub blooming profusely through summer.
Richie Steffen is executive director of the Elisabeth C. Miller Botanical Garden in Seattle.