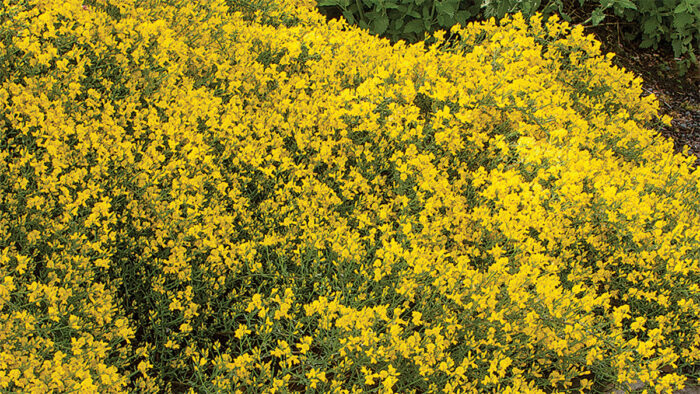 Who doesn't love buying the flashy new plant that catches everyone's eye at the nursery? Or the plant that's just outside your hardiness zone, but has always taunted you with fantastic foliage and/or out-of-this-world flowers? Gardeners aren't ones to always play it safe, but as Richie Steffen mentions in his article on tough perennials, "Planning a garden with unproven plants is risky business and not for those unwilling to take another hit to their wallet."
And that's where tough-as-nails, proven performers come in. Taking a gamble on a new plant is a little less risky when they're paired up with a cast of characters that never disappoint. In Richie's article, Tough-as-Nails Perennials, he covers the perennial plants that power through a variety of beastly conditions, but there are also countless shrubs that also play this crucial role. Below you will find some tough-as-nails shrubs for the Southern Plains.
---
1. Double Take
™
'Pink Storm' Flowering Quince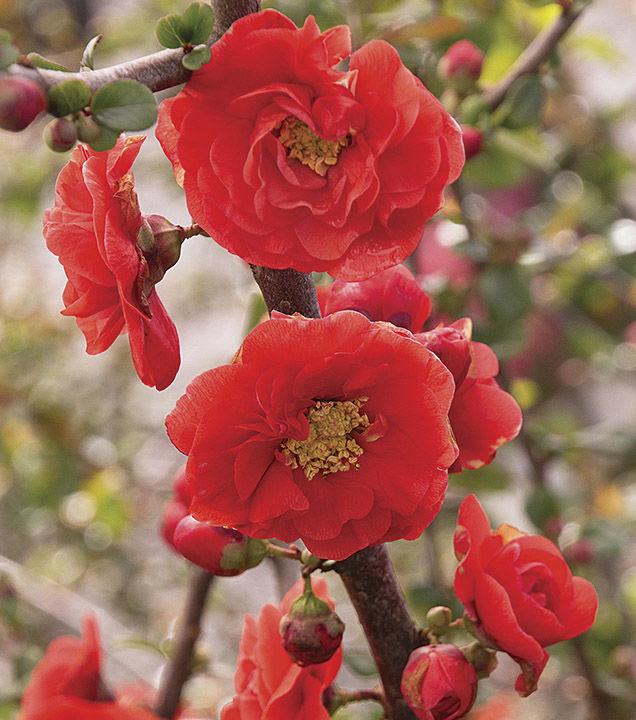 Name:
Chaenomeles speciosa
'Pink Storm'
USDA Hardiness Zones: 5 to 8
Size: 3 to 4 feet tall and wide
Conditions: Partial to full sun; average to dry soil
A modern classic, Double Take™ 'Pink Storm' flowering quince is not your grandmother's quince. A profusion of dark pink double blossoms covers the length of the stems for several weeks in early spring. The gracefully arching branches are thornless and perfect for flower arranging. Young plants also make ideal specimens in spring containers. This carefree shrub is fruit-free, deer-resistant, and heat- and drought-tolerant. 'Pink Storm' blooms on old wood; if needed, wait until after flowering to prune.
2. 'Gro-Low' Sumac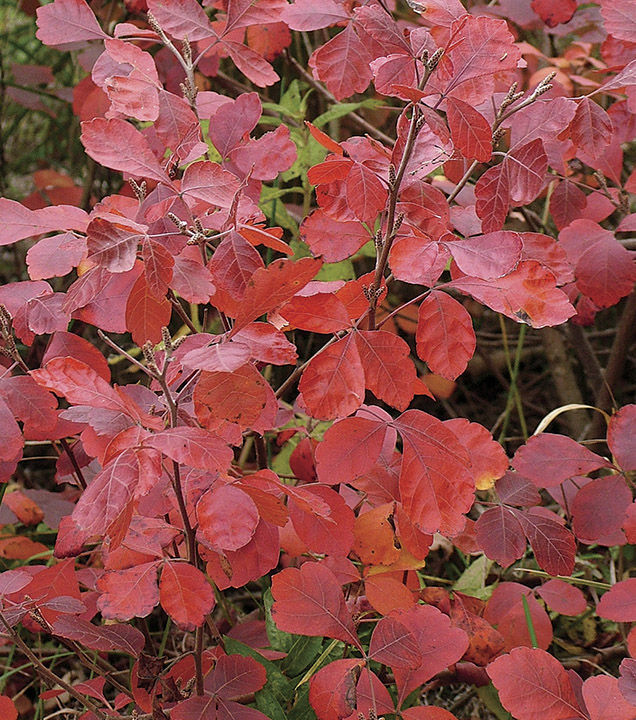 Name:
Rhus aromatica
'Gro-Low'
Zones: 4 to 9
Size: 2 feet tall and 6 to 8 feet wide
Conditions: Full sun to partial shade; dry to medium, well-drained soil
This hardy shrub takes on the toughest growing conditions with gusto. Rambling to form a dense ground cover, 'Gro-Low' fragrant sumac tolerates a range of soil conditions from rocky embankments to heavy clay, provided drainage is adequate. Perfect for naturalizing and stabilizing slopes, 'Gro-Low' does not trade good looks for grit. When it is grown in full sun, its foliage turns stunning shades of red and orange in autumn. Tiny yellow flowers attract butterflies and give way to clusters of hairy, red berries. Fast-growing and drought-tolerant, 'Gro-Low' is the answer for areas of the garden where nothing seems to grow.
3. Silver Lining
™
Pyracantha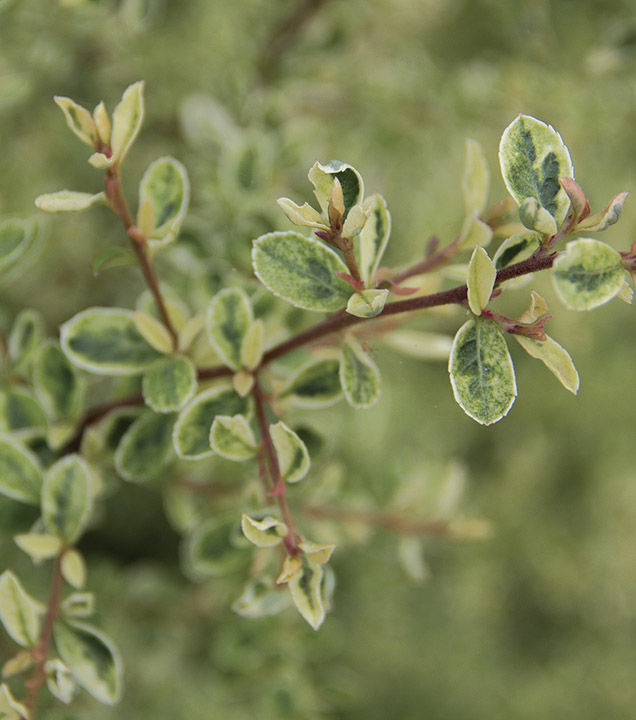 Name:
Pyracantha
'Cadvar'
Zones: 6 to 10
Size:3 feet tall and 3 to 5 feet wide
Conditions:Full sun; average soil
An exceptionally heat-tolerant variety, Silver Lining™ pyracantha offers dramatic foliage color that won't fade or burn out in the sun. Silver and white variegation turns a vibrant bronze-pink in autumn and carries that color through the winter. An abundance of white spring flowers attract butterflies and bees, while sparse fall berries entice songbirds. This low-growing, rounded shrub is a good selection for fire-wise and xeriscape landscaping. Plants tolerate heavy pruning, if desired, to reduce size.
4. Bangle
®
Dyers Greenwood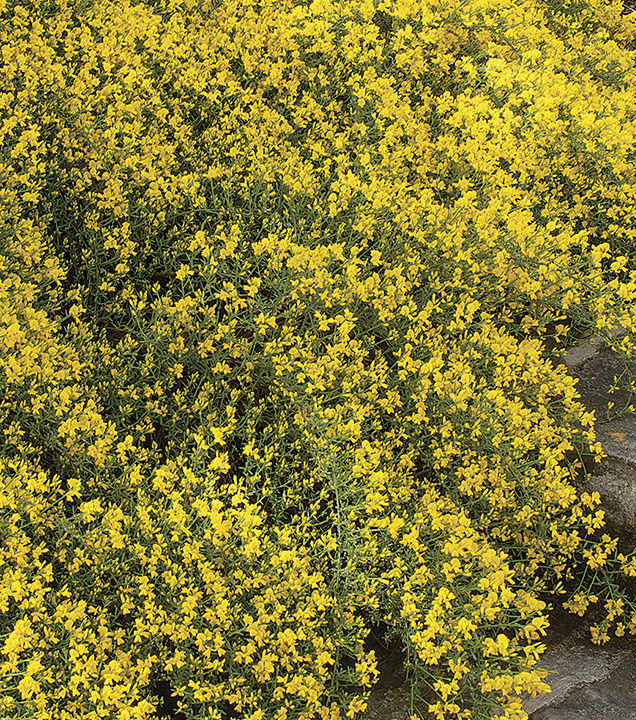 Name:
Genista lydia
'Select'
Zones: 4 to 9
Size: 1 to 2 feet tall and wide
Conditions: Full sun; dry to medium soil
Add alluring color and texture to any garden space with this little fireball. Bangle® greenwood explodes into color in spring with drifts of electric yellow flowers. When not in bloom, nearly leafless branches provide fantastic year-round texture. The low-growing habit and excellent branching make Bangle® greenwood ideal for mass planting or use as a ground cover. It also looks luxuriant spilling out of containers or draped over walls. Plants have excellent heat and drought tolerance and are resistant to deer browsing.
---
Kimberly Toscano of Stillwater, Oklahoma, blends her formal training in horticulture with her passion for design to educate and inspire gardeners. She shares her love of gardening, culture, design, and the natural world through guided travel experiences.