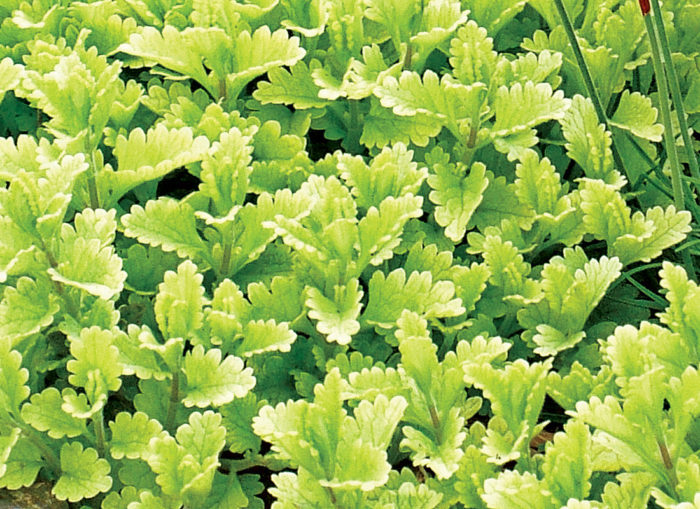 See regional picks for short plants, and read the article by Steve Aitken for even more ideas.
"As I began amassing countless short varieties, only some of which worked in my front bed, I started planting shorter plants all over my garden. I would take notice of them, too, in all the gardens I visited, residential and botanical. I made mental notes of how others used small plants: the roles they could play and how essential they are to completing the look of a garden, a bed, or a vignette." Read more in 10 Small Plants to Grow Now
---
1. 'Streib's Findling' Bearberry Cotoneaster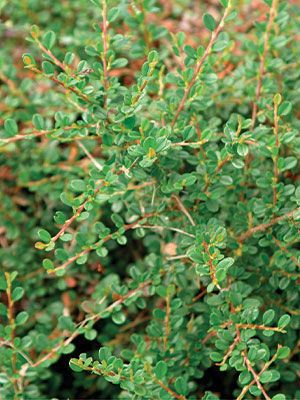 Name: Cotoneaster dammeri 'Streib's Findling'
Zones: 6–8
Size: Up to 1 foot tall and 4 to 8 feet wide
Conditions: Full sun to partial shade; adaptable to a range of soils and moisture levels
Native range: Central China
Bearberry cotoneaster rises to the occasion in the toughest environments, yet it is too beastly for many gardens, overreaching growth estimates by miles. 'Streib's Findling', however, is an exceedingly prostrate and polite cultivar. It is endlessly useful as a large-scale, deer-resistant ground cover, spilling over retaining walls or accenting boulders. It even lends itself toward bonsai culture, with a quirky, twisting habit and seasonal interest. 'Streib's Findling' has fishbone-patterned branches tipped with red new growth and clothed in small, leathery evergreen leaves. In midspring, ivory green pearl-like buds explode into multitudes of tiny white flowers, attracting a buzz of bee activity. Red berries ripen in early fall, supporting wildlife into the cold season.
2. Nodding Chocolate Flower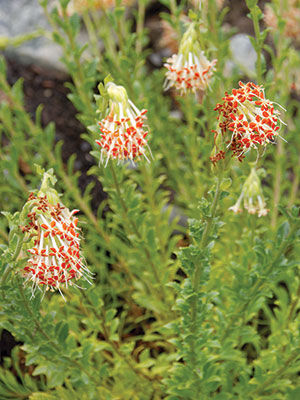 Name: Glumicalyx goseloides
Zones: 6–10
Size: 12 to 18 inches tall and 24 to 36 inches wide
Conditions: Full sun to partial shade; dry to average, well-drained soil
Native range: South Africa
Everything about this semi-evergreen subshrub is surprising and unique. Its lightly serrated, waxy leaves wind around sinuous stems in a rosette pattern. Atop the arching stems are fat, drooping clusters of white tubular flowers that open to reveal deep burnt orange faces and slender white stamens. With a bit of deadheading, you will be rewarded with these blooms from late spring through summer. When it comes to fragrance, nodding chocolate flower boldly lives up to its name. Both foliage and flower emit an unmistakably earthy chocolate aroma, which is magnified when brushed. This alpine oddity is right at home in shallow rocky soils and also performs well in containers.
3. 'Purple Haze' Catmint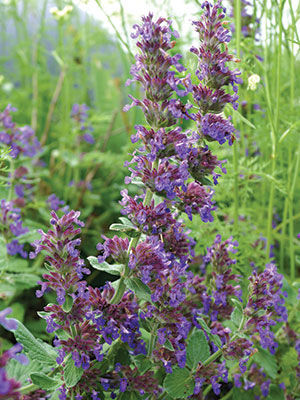 Name: Nepeta × faassenii 'Purple Haze'
Zones: 6–10
Size: 12 inches tall and 30 to 36 inches wide
Conditions: Full sun; adaptable to a range of soils and moisture levels
Native range: Caucasus, northern Iran, Iraq, Turkey
'Purple Haze' is a seriously beefed-up hybrid catmint with an amazing ability to perform despite deer, heat, and drought. Stout gray-green foliage smothers the ground in an aromatic mass, while densely packed, plump lavender flower spikes draw bees and butterflies all season long. This versatile edger and spiller looks equally fabulous among soft pastels or sizzling magentas and reds, bursting to life and providing color when many plants are just waking up. If it seems a bit splayed out, or if the leaves start to yellow, you're probably overwatering. Just cut it back 4 to 6 inches from the crown, toss in a pinch of mild fertilizer, and watch the spectacle resume with gusto.
4. 'Summer Sunshine' Germander
Name: Teucrium chamaedrys 'Summer Sunshine'
Zones: 5–9
Size: 6 to 12 inches tall and 12 to 18 inches wide
Conditions: Full sun to partial shade; lean to average, well-drained soil
Native range: Mediterranean, northern Africa to western Asia
Germander has long been a trusted staple in hot and dry gardens frequented by deer, and for foliar contrast in these harsh locations, 'Summer Sunshine' truly shines. With a smaller footprint and shorter stature than the straight species, this golden Canadian selection slowly forms an easily managed patch with underground rhizomes. It also adapts to shadier conditions, where its tough countenance is of great value. Its minute, scalloped leaves soften to chartreuse by midseason, leaning even more toward light green in partial sun. Come midsummer, petite spikes of saturated mauve flowers adored by pollinators provide further contrast. A light shear after bloom is all the maintenance required to keep this semi-evergreen plant tidy.
---
Bonni Criswell is a landscape designer in southern Oregon.
Photos: Jennifer Benner (1); Doreen Wynja (2); Nancy J. Ondra (3, 4)