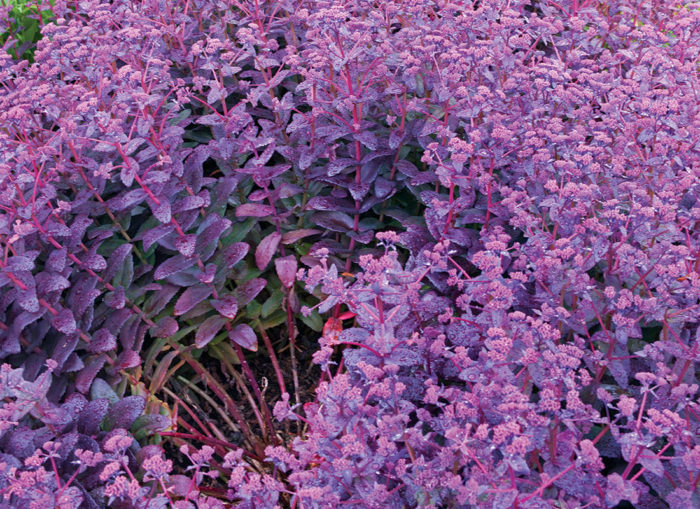 See regional picks for short plants, and read the article by Steve Aitken for even more ideas.
"As I began amassing countless short varieties, only some of which worked in my front bed, I started planting shorter plants all over my garden. I would take notice of them, too, in all the gardens I visited, residential and botanical. I made mental notes of how others used small plants: the roles they could play and how essential they are to completing the look of a garden, a bed, or a vignette." Read more in 10 Small Plants to Grow Now
---
1. Firewitch Dianthus
Name: Dianthus gratianapolitanus 'Feuerhexe'
Zones: 3–9
Size: 10 to 12 inches tall and 12 to 18 inches wide
Conditions: Full sun; dry to average, sandy soil
Native range: Western and Central Europe
This reliably hardy perennial forms a medium-size mat of thin, mint green foliage that remains semievergreen, an attractive winter feature that makes it ideal as a base layer or edging plant near the front of your planting bed. It also works really well in rock gardens, since it doesn't prefer wet feet in heavy clay soils. Starting in May and continuing intermittently throughout the summer, this dianthus produces single magenta pink blooms with a light scent. Blooming can be encouraged and prolonged with deadheading. Deer-resistant Firewitch may be used as a single specimen, but it also looks fantastic in masses.
2. Calgary Carpet® Juniper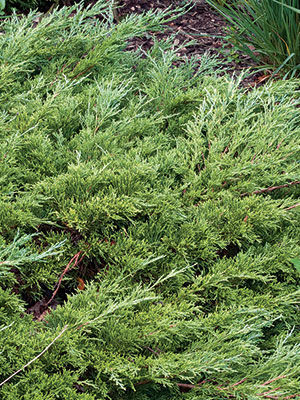 Name: Juniperus sabina 'Monna'
Zones: 3–7
Size: 9 to 12 inches tall and 5 to 10 feet wide
Conditions: Full sun; tolerates clay soil and varying moisture conditions
Native range: Central and Southern Europe
This nearly zero-maintenance, spreading evergreen shrub is an excellent choice for the forefront of your landscape. It can provide much-needed structure and winter interest as well as great erosion control. Its long, feathery, low-arching branches provide a soft, natural, bright green look. Most junipers can handle quite a bit of heat and are semi-tolerant of drought, and Calgary Carpet® is no exception. There's no need to trim this gentle giant; it prefers a much looser maintenance approach and can be allowed to sprawl gracefully. It looks fantastic paired with unique boulders on a slope or draped over the edge of a retaining wall.
3. 'Purple Emperor' Sedum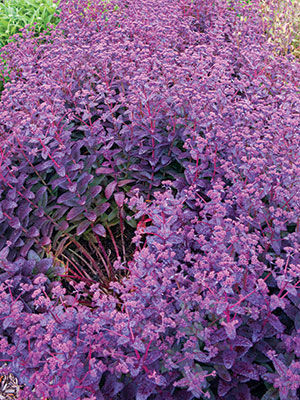 Name: Sedum 'Purple Emperor'
Zones: 3–9
Size: 12 to 18 inches tall and wide
Conditions: Full sun; average to dry soil
Native range: Hybrid
Grown primarily for its clean, dark purple, fleshy foliage displayed all season long, this compact and tidy perennial is a real workhorse. When the rest of your garden is winding down after a long summer, this sedum is ready to take over, with its long flowering period from August to September. Its tiny, starlike, dusky pink flowers bloom in large flattened heads and attract masses of butterflies and bees. Use this small perennial in the sunny portions of your yard to add a bright spot to your end-of-season plant palette. 'Purple Emperor' works well paired with ornamental grasses and other fall bloomers. Leave the dried flower heads standing all winter for an interesting look.
4. 'Blue Zinger' Sedge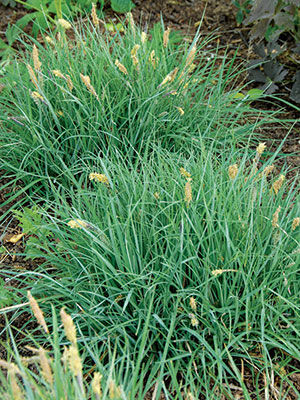 Name: Carex flacca 'Blue Zinger'
Zones: 5–9
Size: 12 to 18 inches tall and wide
Conditions: Full to partial shade; average to wet soil
Native range: Europe
This dense, clump-forming, grasslike perennial boasts attractive blue-green foliage and is more upright than the straight species. Insignificant seed heads (pictured) appear in summer, and its foliage color is retained fairly well in areas with a milder winter. It will do fine in full sun, but it does appreciate some shelter from the hot afternoon sun. Sedges are one of the few grasslike plants that can excel in full shade. They are very effective as an erosion control plant in sloping areas, especially in locations with many trees and heavy shade.
---
Meg Steen is the lead designer for FineLine Design in Kansas City, Missouri.
Photos: Steve Aitken (1); millettephotomedia.com (2); Andrea Jones (3); courtesy of North Creek Nurseries (4)