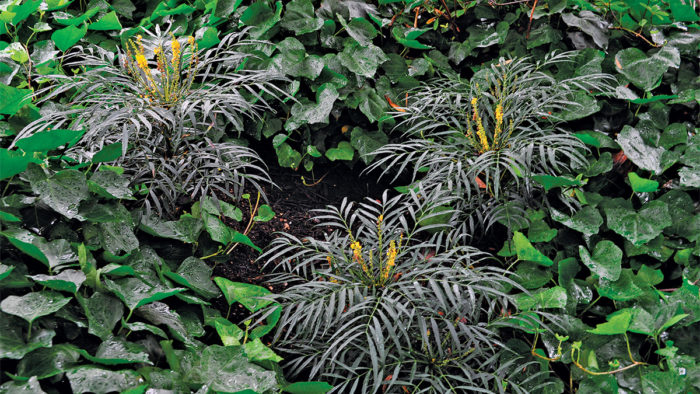 ---
1. 'HGC Pink Frost' Hellebore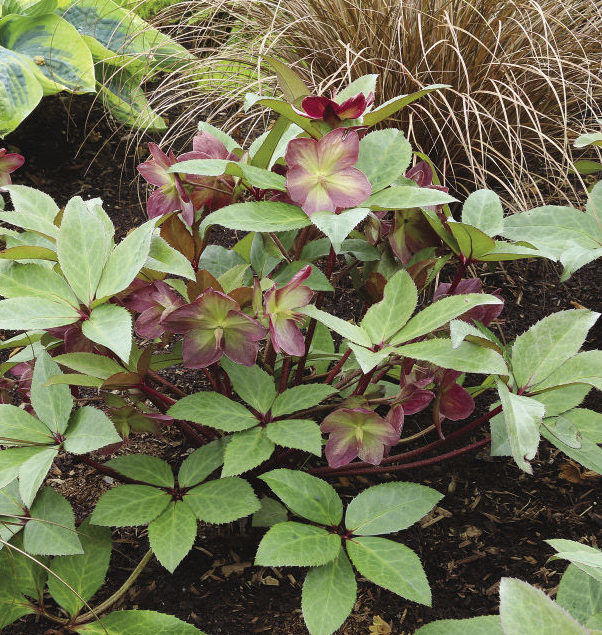 Name:

Helleborus

ballardiae

'HGC Pink Frost'

USDA Hardiness Zones: 5 to 9

Size: 12 to 15 inches tall; 24 inches wide

Conditions: Full to partial shade; well-drained soil; drought tolerant once established

Nothing beats the winter blues like a hellebore in bloom. With a spectrum of colors from burgundy and white buds to soft pink blooms, 'HGC Pink Frost' hellebore adds cheer to the garden from mid-January through March. Standing atop lovely, silver-green foliage, blooms face up and outward rather than nodding to the ground as in old-fashioned varieties, allowing their natural beauty to shine. 'HGC Pink Frost' is perfect for winter containers, adding color when little else is blooming. These long-lived perennials are deer resistant and make an excellent evergreen ground cover in shade.
2. Cardinal Candy™ Linden Viburnum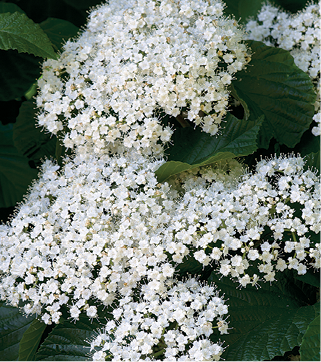 Name:

Viburnum dilatatum

'Henneke'

Zones: 5 to 8

Size: 4 to 5 feet tall and wide

Conditions: Full sun to partial shade; medium well-drained soil; tolerates range of soil conditions

Cardinal Candy™ viburnum is at its best in the off-season. Though deciduous, this hardy shrub delights gardeners throughout the winter months with bright red fruits (drupes), which cling to branches from fall through spring and which attract songbirds. Plant it against a dark evergreen backdrop to give the berries an extra pop. Of course, there is plenty to admire during the growing season. Spring brings a flush of creamy white flowers, held in large rounded clusters above deep green, wrinkled foliage.
3. 'Snow Sprite' Deodar Cedar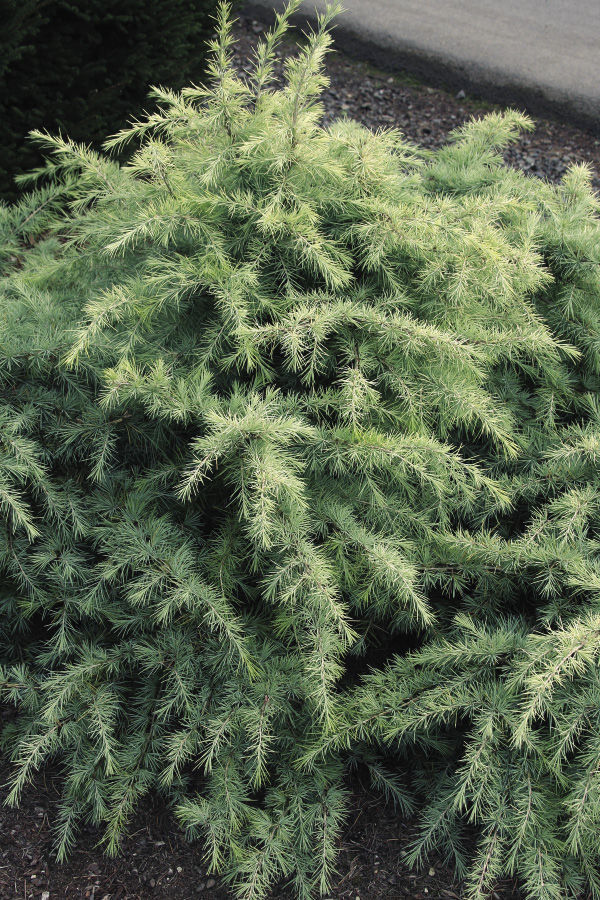 Name:

Cedrus deodara

'Snow Sprite'

Zones: 7 to 9

Size: 4 feet tall and wide

Conditions: Full sun to partial shade; average to dry, well-drained soils

A graceful dwarf evergreen with remarkable color, 'Snow Sprite' is the perfect specimen for even the smallest gardens. Shining year-round with silver-green foliage, this dwarf deodar cedar grows slowly in an irregular mound. As plants age, a leader may develop, which can be pruned to maintain the mounding habit or left in place to slowly carry the plant skyward. New growth is near white, turning a creamy yellow color. 'Snow Sprite' is tolerant of full sun in milder regions but needs partial shade in the hot South to prevent tip burn. 'Snow Sprite' lights up shady corners of the garden.
4. 'Soft Caress' Mahonia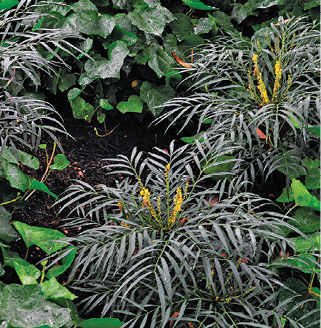 Name:

Mahonia eurybracteata

'Soft Caress'

Zones: 7 to 9

Size: 3 feet tall and 3½ feet wide

Conditions: Partial sun to shade; moist, well-drained soil, tolerates clay

Few plants are as graceful as 'Soft Caress' mahonia. This evergreen shrub bears magnificent, fine-textured foliage that provides the delicate look of bamboo without the maintenance headaches. Colorful blossoms and fruit enrich the winter landscape with slender inflorescences of bright yellow flowers followed by unique silver-blue berries that draw songbirds to the garden. Despite its delicate appearance, 'Soft Caress' is a tough plant and is versatile in application. It can be planted in a mass, used as an accent, and it even works well in large containers.
---
Kimberly Toscano of Stillwater, Oklahoma, blends her formal training in horticulture with her passion for design to educate and inspire gardeners.
Photo: (1), Steve Aitken; (2), millettephotomedia.com; (3), Bill Johnson; (4), Pam Penick