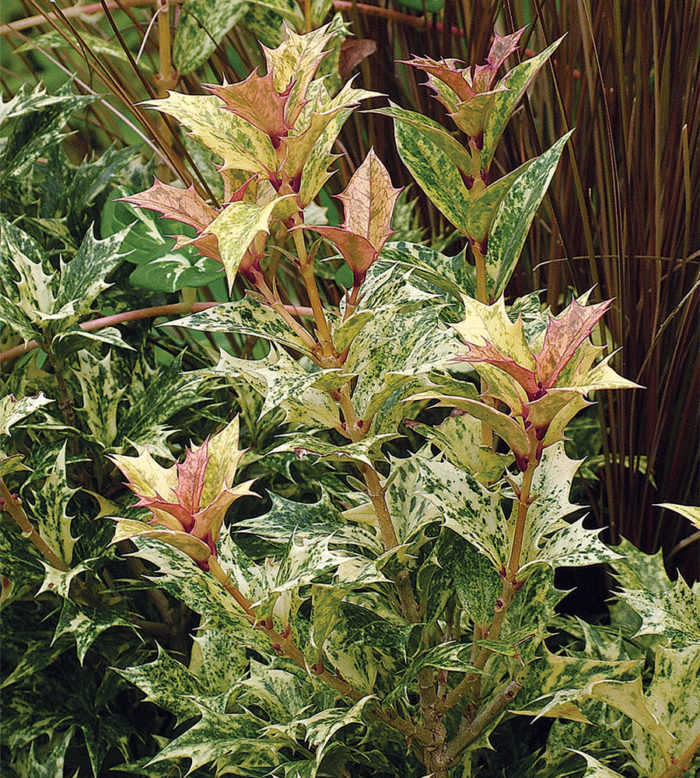 ---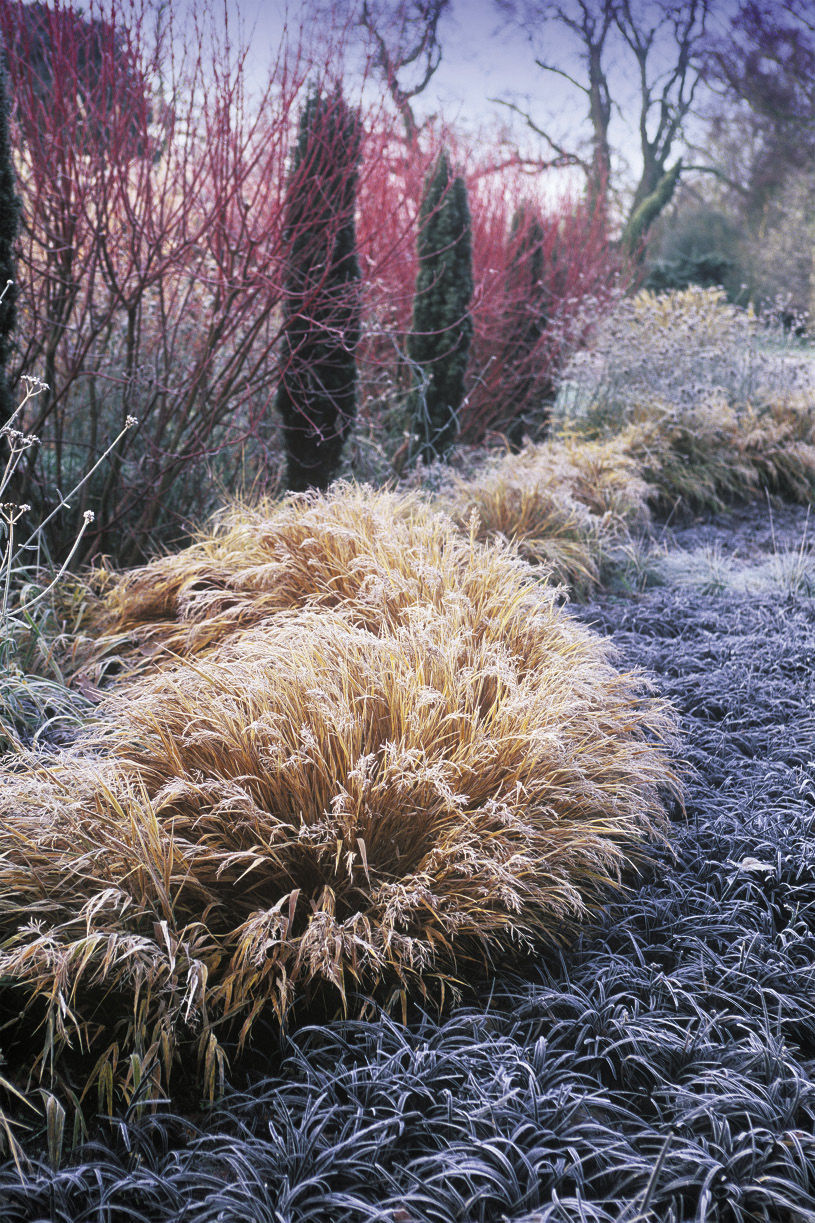 Name:

Hakonechloa macra

and cvs.

USDA Hardiness Zones: 5 to 9

Size: 12 to 18 inches tall and wide

Conditions: Partial shade; consistently moist, humus-rich soil

This beautiful, low-growing grass is available in many foliage colors, including green, chartreuse, and variegated. It will turn a solid tan for the winter and remain tidy, full, and weather resistant until you chop it to the ground in late February. Japanese forest grass is elegant and impressive in massive sweeps and may be used effectively as an accent. It also works well in containers and thrives for years if well watered; no extra winter protection is needed when growing it in a pot. This grass holds up well in our hot and humid climate. Deer have not (yet) eaten it, but rabbits will nibble it a little.
2. Heritage
®
River Birch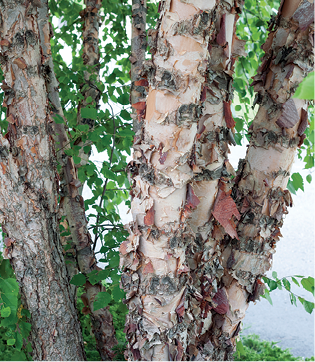 Name:

Betula nigra

'Cully'

Zones: 3 to 9

Size: 40 feet tall and 25 feet wide

Conditions: Full sun to partial shade; consistently moist soil

Heritage®, a cultivar of our native river birch, is an excellent, often multistem tree for soils that are consistently moist. This small tree is famous for its exfoliating cinnamon- to cream-colored bark. It is amazingly fast growing when happy and has only a few issues of concern to the gardener: It likes soil that is moist, not soggy, it does not appreciate prolonged drought, and it drops twigs every day. Limb up the lower branches to reveal more of that wonderful winter bark. Site the tree where the dropping twigs are of no consequence, and you will be delighted with your winter scene.
3. 'Goshiki' False Holly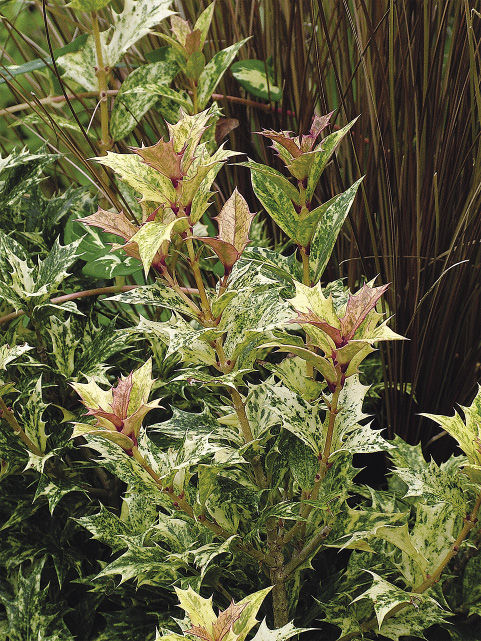 Name:

Osmanthus heterophyllus

'Goshiki'

Zones: 6 to 9

Size: 4 to 10 feet tall and wide

Conditions: Full sun to partial shade; average soil

'Goshiki' is slow growing and, therefore, astonishingly expensive but worth every penny. It grows into a dense, handsome shrub and is best sited where it can be admired up close. The hollylike leaves are not too prickly and are clearly but subtly variegated with cream, pale yellow, and green swirls. Goshiki has a neat winter presence, providing an essential evergreen accent to punctuate gardens filled with dormant grasses and perennials. I love its small stature and that it requires almost no maintenance—just a clip or two each year to remove a winter-damaged twig. It is deer-proof, drought tolerant, and has no pests. The cut foliage is great for use indoors during the winter season.
4. Sugar Tyme
™
Crabapple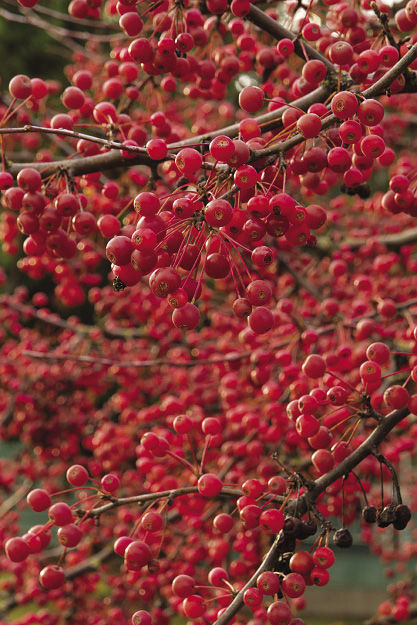 Name:

Malus

'Sutyzam'

Zones: 4 to 8

Size: 18 feet tall and 12 to 15 feet wide

Conditions: Full sun; well-drained soil

This flowering crabapple is a delight, with four months of winter fruit and a spectacular spring display of plump pink buds opening to cushions of white flowers. The bright red apples fade slowly to a dark brown as winter progresses, and some will linger until pushed from the twigs by early spring buds. Birds and squirrels enjoy them as winter forage. In our neighborhood, even during snowy winters, the trees are never stripped bare. I find that I must prune suckers from the base of the trunk about three times each summer and I watch for tent caterpillars in spring and remove any nests with pole pruners. Otherwise, this is an excellent low-maintenance tree for winter beauty and for attracting wildlife.
---
Tom Mannion owns Tom Mannion Landscape Design, a design/build firm in Northern Virginia.
Photos: (1), Adrian Bloom/gapphotos.com; (2), millettephotomedia.com; (3), Nancy J. Ondra; (4), Doreen Wynja