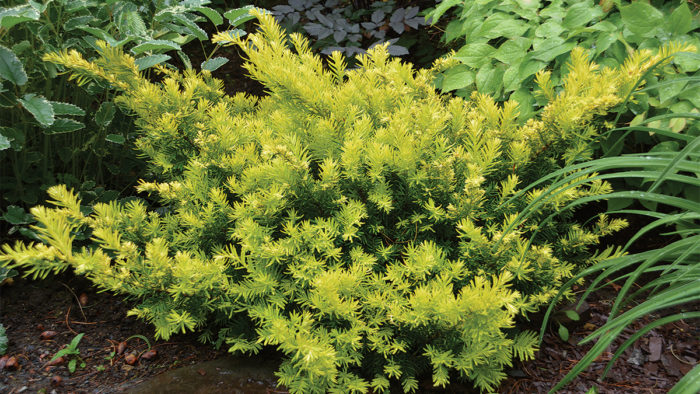 See regional picks for conifers, and read the article by Andrew Brand for even more ideas.
"Evergreen conifers provide the bones for any landscape. They offer a variety of colors, textures and habits all year long. While conifers are sometimes relegated to the rear or boundary of a property where they politely screen out nosy neighbors or unkempt yards, these plants can make wonderful additions to all parts of a garden." Read more Conifers for Any Size Landscape.
---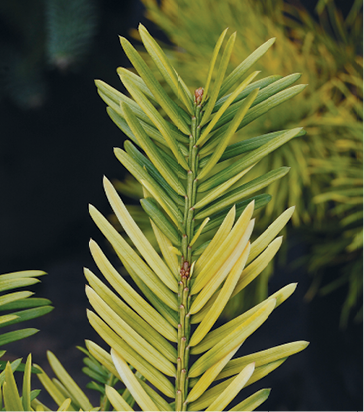 1.
Golden Dwarf Japanese Yew
Name:
Taxus cuspidata
'Nana Aurescens'
Zones: 4 to 7
Size: 2 to 3 feet tall and 3 to 6 feet wide
Conditions: Full sun to partial shade; well-drained, loamy soil
This plant, a spreading selection of Japanese yew, is a stunner all year and much loved for its compact growth habit, rounded form, and finely textured foliage. However, 'Nana Aurescens' is a particular standout in early spring, when its fresh new growth emerges in vibrant hues of bright chartreuse, contrasting beautifully with the rich, glossy green of the more mature foliage. This low-maintenance, slow-growing, highly adaptable conifer is an excellent choice for a mixed border in either sun or shade or as a foundation planting candidate or a rock garden specimen. Be sure to protect it from deer, who find it tasty. It can be shaped or sheared but is lovely when left in its natural form.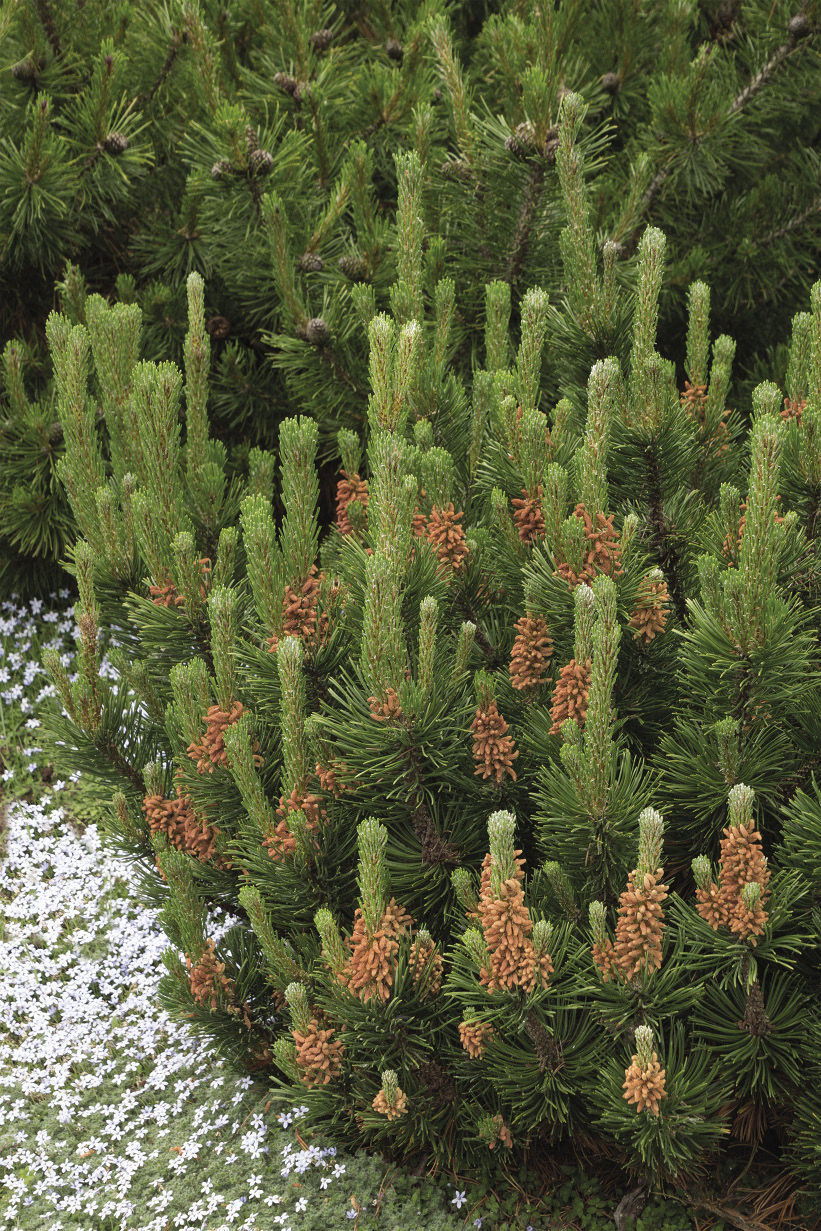 2.
'Slowmound' Mugo Pine
Name:
Pinus mugo
'Slowmound'
Zones: 2 to 8
Size: 4 feet tall and 6 feet wide
Conditions: Full sun to partial shade; well-drained soil
This slow-growing mugo pine is an outstanding year-round performer, with fine-textured, deep-green foliage forming a dense, pincushion mound of rugged evergreen beauty. 'Slowmound' is particularly showy in spring, when abundant upright buds appear uniformly all over, adding an extra boost to its value in the landscape. This handsome specimen is easy to grow, needing no shearing or shaping, and is very slow to achieve its full height and width, so it works equally well in either the garden or a container. Because of its stiff needles and resinous oils in the leaves, this is as close to deer resistant as you can get.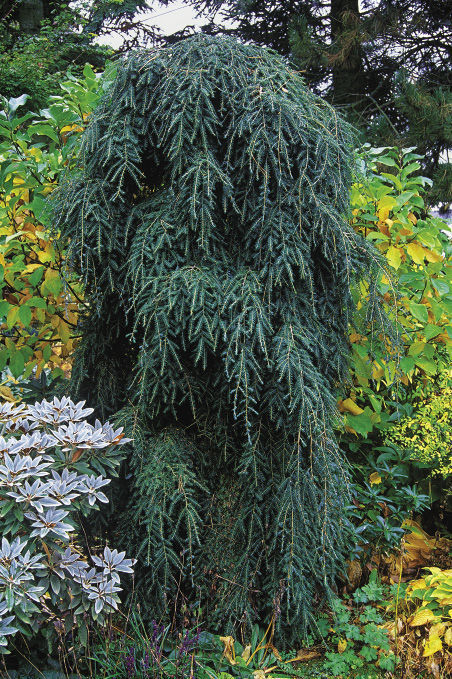 3.
'Cole's Prostrate' Canadian Hemlock
Name:
Tsuga
canadensis
'Cole's Prostrate'
Zones: 3 to 7
Size: 2 to 4 feet tall and 4 to 6 feet wide
Conditions: Partial shade; fertile, moist, well-drained soil
The sturdy, silver-barked main branches of this hemlock give it a truly fascinating habit. The branches grow upward, reaching 12 to 18 inches high before bending dramatically downward, then fanning out, allowing the dark-green, flat, fine-textured foliage to drape in a graceful, gnarly fashion around or over whatever is close by. Over time, the bare branches will become exposed, and the tree then takes on even more character. 'Cole's Prostrate' appreciates regular watering and does not do well in a drought situation, so be sure to mulch this beauty well and give it some afternoon shade. Also, be sure to shelter it from harsh, drying winds. Its new growth may be susceptible to deer.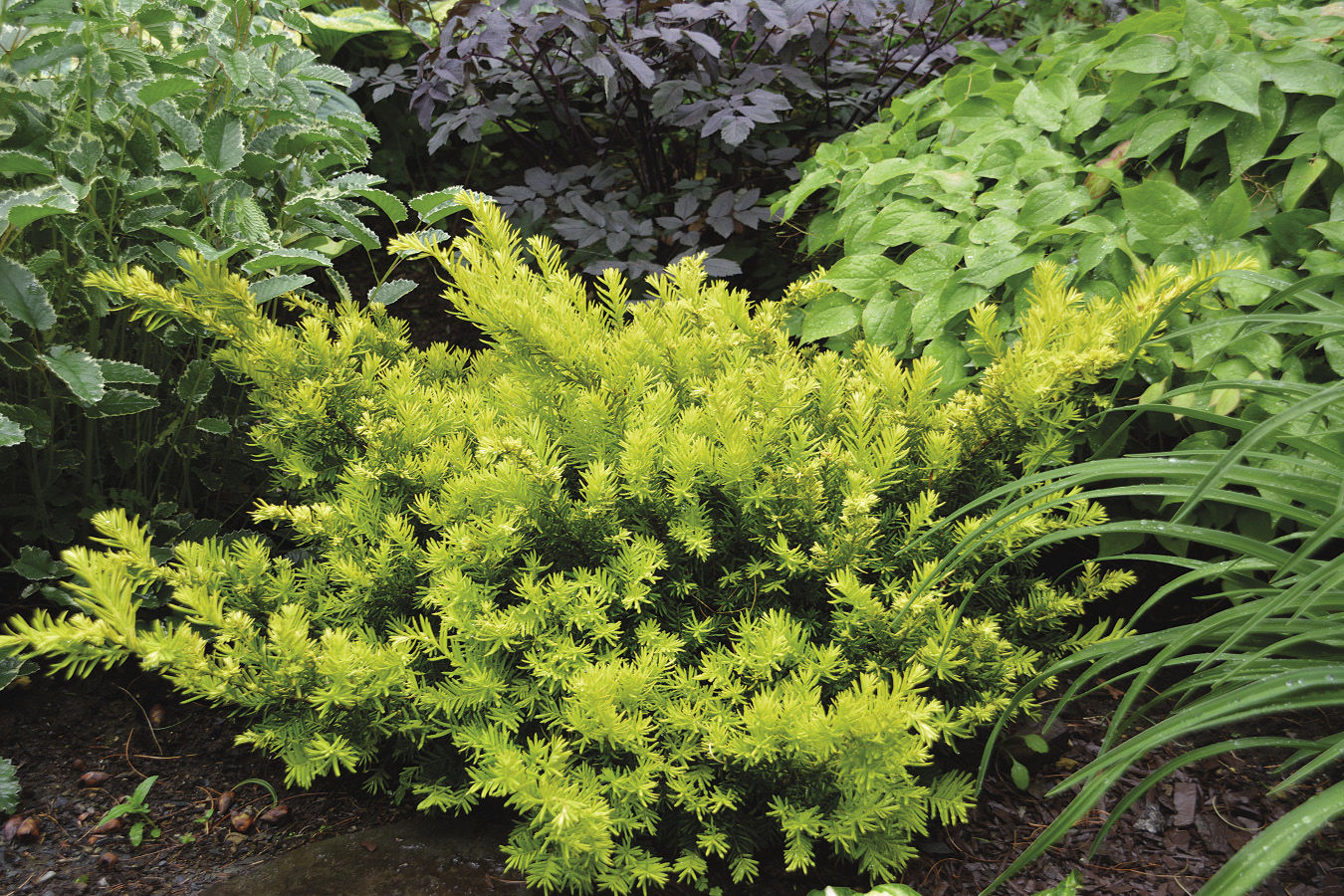 4.
'Gold Splash' Japanese Plum Yew
Name:
Cephalotaxus harringtonia
'Gold Splash'
Zones: 6 to 9
Size: 2 feet tall and 4 feet wide
Conditions: Partial to full shade; fertile, moist, well-drained soil
'Gold Splash' is a particularly lovely member of the plum yew family with a low-growing, horizontal branching framework. Each branch is tipped with large, bright chartreuse needles that contrast beautifully with the more mature lime-green leaves. Its growth is more wide than tall, so it can be used as a ground cover for any shaded area, and it's a stunning understory choice for your favorite burgundy-leaved Japanese maple. This slow-growing, deer-resistant beauty needs no shearing or shaping and is very low maintenance once its water and shade-loving needs are met.
---
Fionuala Campion is the nursery manager of Cottage Gardens of Petaluma in Northern California.