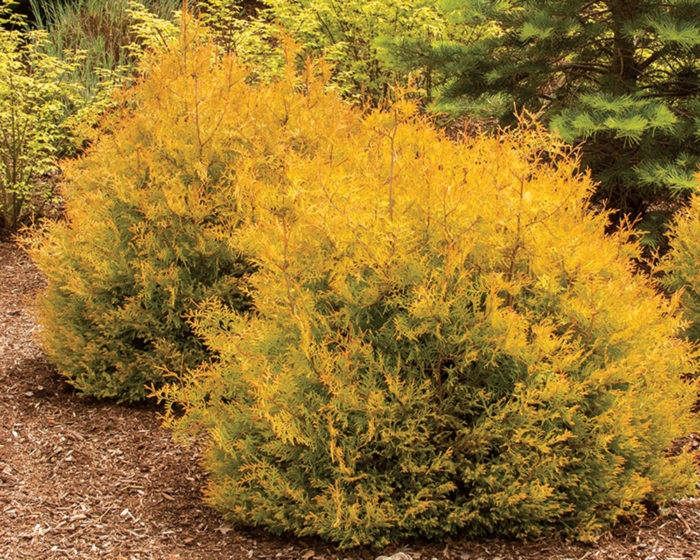 See regional picks for conifers, and read the article by Andrew Brand for even more ideas.
"Evergreen conifers provide the bones for any landscape. They offer a variety of colors, textures and habits all year long. While conifers are sometimes relegated to the rear or boundary of a property where they politely screen out nosy neighbors or unkempt yards, these plants can make wonderful additions to all parts of a garden." Read more Conifers for Any Size Landscape.
---
1.
'Secrest' Dwarf Bald Cypress
Name:
Taxodium distichum
'Secrest'
Zones: 4 to 10
Size: 2 to 3 feet high and 3 to 4 feet wide
Conditions:Full sun; moist, well-drained soil
If you are looking to grow a bald cypress but don't have the space for its typical 50-foot height and width, 'Secrest' is a space-conscious alternative. This wide, dense shrub has the same cultural needs as the straight species but without the girth. It grows best in acidic, moist, well-drained soil but can also hold its own in wet and poorly drained spots. Whether used it in a conifer collection, a mixed border, or a container, this plant adds a unique texture to any garden. In fall, it turns a beautiful copper-orange color before dropping its needles. As a bonus, deer leave it alone.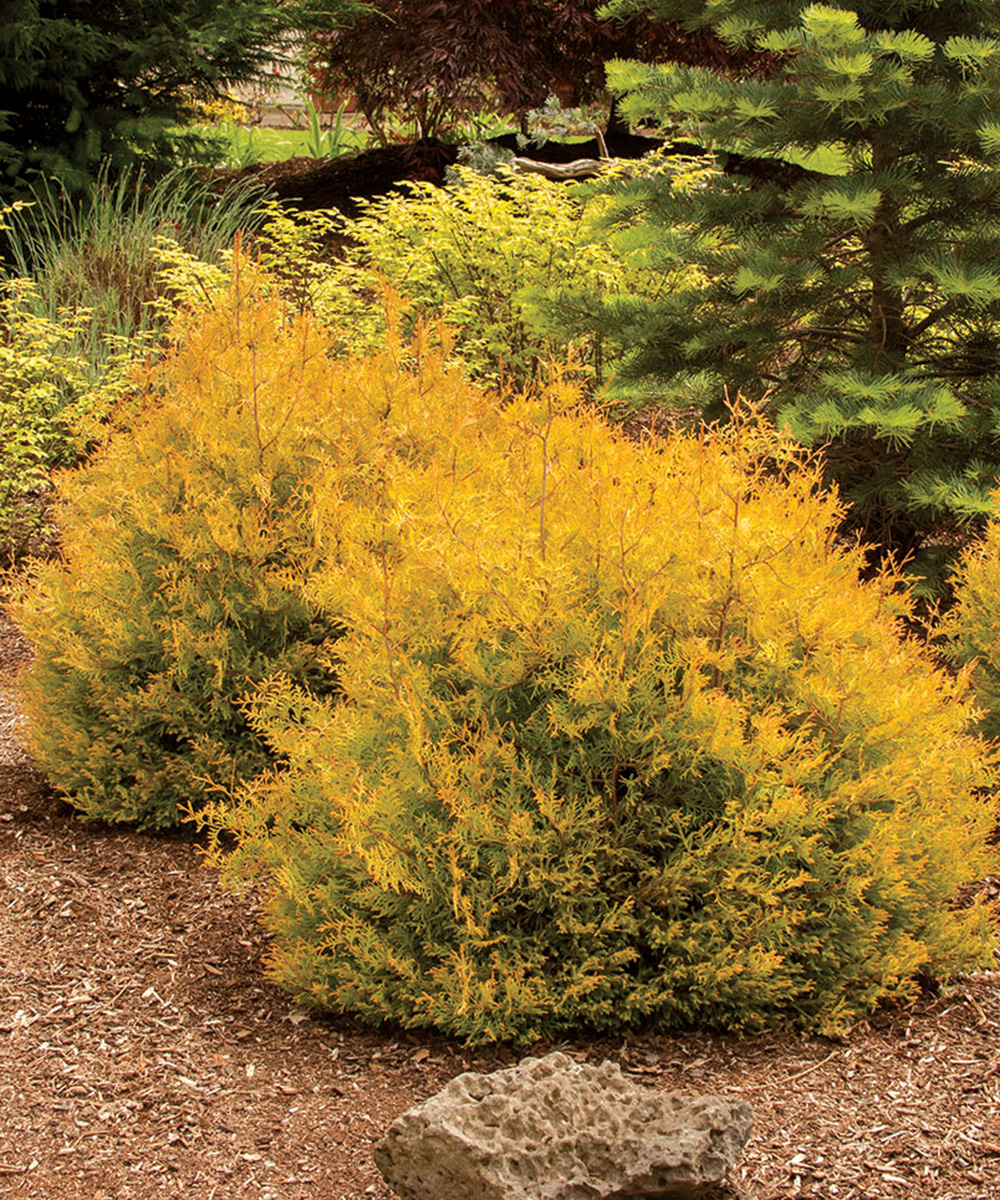 2.
'Rheingold' Western Arborvitae
Name:
Thuja occidentalis
'Rheingold'
Zones: 2 to 7
Size: 3 to 5 feet tall and wide
Conditions: Full sun to partial shade; well-drained soil
The dynamic foliage color of 'Rheingold' throughout the year is what sets this shrub apart. Brilliant chartreuse foliage in spring gradually becomes a little darker throughout summer before finally changing to copper in fall and winter. This small and versatile native shrub can be tucked into the garden as a foundation plant or even included in a container planting. If used in a hedge or group planting, be sure it is kept away from winter winds. 'Rheingold' can tolerate some shade but may not be as dense.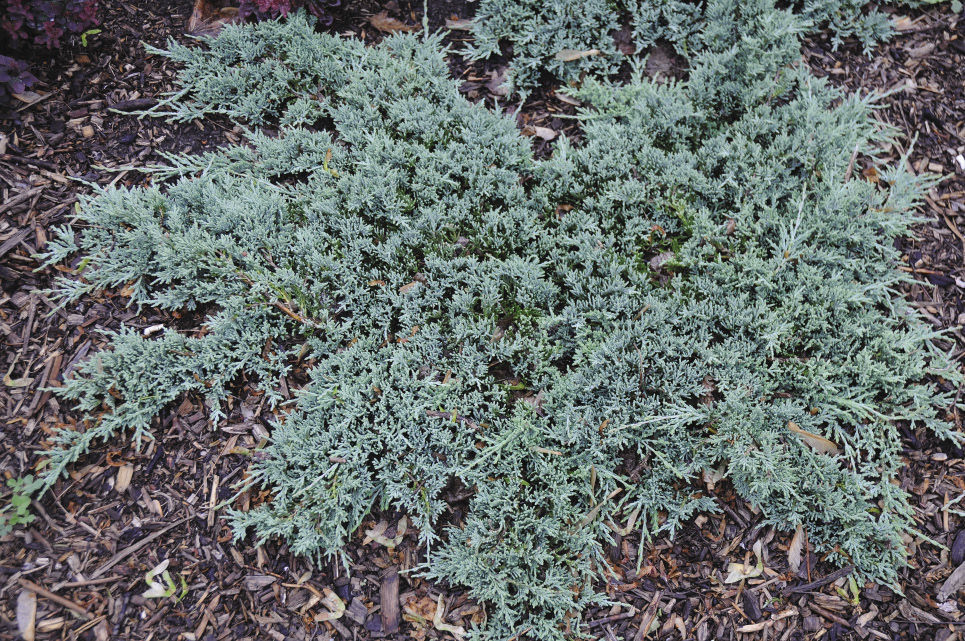 3.
Icee Blue
®
Creeping Juniper
Name:
Juniperus horizontalis
'Monber'
Zones: 4 to 9
Size: 4 to 6 inches tall and up to 8 feet wide
Conditions: Full sun; well-drained soil
This tough juniper is a great choice for almost any garden. Although it only grows about 4 inches tall, it will spread out considerably in a short amount of time, so be sure to give it some space. It tolerates a variety of soil types but prefers rocky, dry soils like its native habitat, the cliffs, dunes, and riverbank edges of the northern United States. So be sure to plant Icee Blue® in a sunny, dry spot; too much water can cause root rot. Deer tend to leave it alone, thankfully. The cool blue foliage color makes this plant an excellent accent for the rock garden or spilling over a stone wall, and it's most colorful when planted in a full-sun location.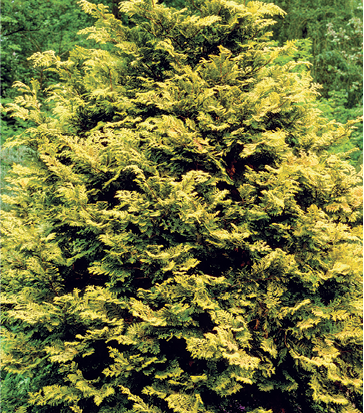 4.
Golden Hinoki False Cypress
Name:
Chamaecyparis obtusa
'Crip
p
sii'
Zones: 4 to 8
Size:8 to 10 feet tall and 3 to 5 feet wide
Conditions: Full sun to partial shade; moist, well-drained soil
The beautiful, yellow-tipped foliage of golden hinoki cypress makes quite a statement. When planted in a sunny location, the brilliant, bright foliage is at its best. It also looks wonderful in part shade but will be lime green instead. This relatively small, pyramidal evergreen tree makes an elegant backdrop to a border garden; when planted by itself in the yard, it creates a point of interest. It loves moist soil, so be sure to water frequently during hot summers when it's first planted, and perhaps sporadically after as well.
---
Michele Christiano is the garden horticulturist at Winterthur Museum, Garden, and Library in Wilmington, Delaware.