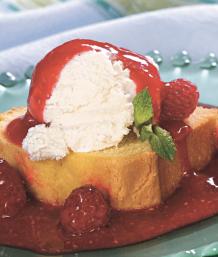 Makes about 2 cups
This quick prepare-ahead sauce has a surprise ingredient—white pepper—and is guaranteed to bring compliments from your guests.
3 cups fresh raspberries
1/3 cup sugar
1/8 tsp. white pepper
Juice of half a lemon (about 3 Tbs.)
1/2 cup water
Grated zest of 1 lemon (about 4 tsp.)
Mint leaves for garnish
Purée 1 1/2 cups of the fresh raspberries in a small blender. Add the sugar, white pepper, lemon juice, and water. Remove the seeds by stirring and pressing the mixture through a strainer into a bowl. Add 2 tsp. of the lemon zest.
At serving time, heat the sauce slowly to boiling, then remove it from the heat. Stir in the remaining 1 1/2 cups fresh berries. Serve immediately over individual rice puddings or ice cream. arnish the top of each with the remaining lemon zest and the mint leaves.
15 cal, 0g fat, 0mg sodium, 1g fiber; per Tbs.