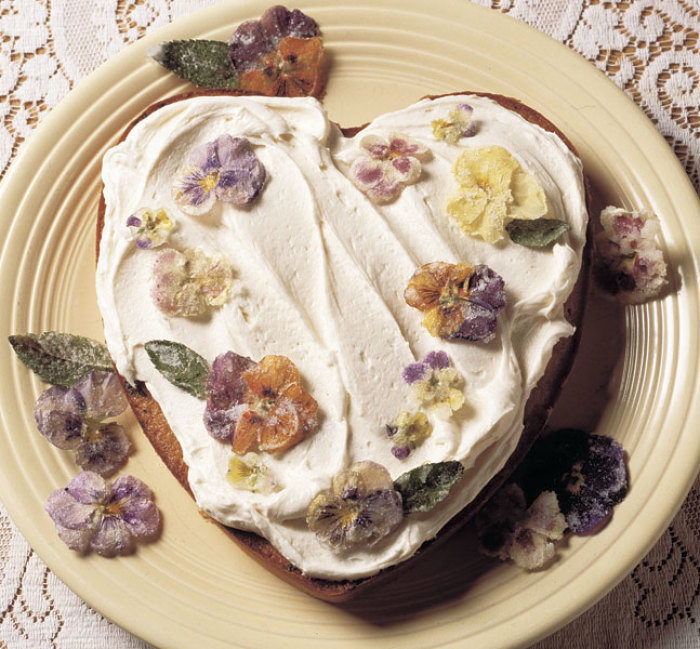 Ingredients:
Cake:
8 Tbs. unsalted butter
3 extra-large eggs
1 egg yolk
3/4 cup sugar
1 cup and 2 Tbs. unbleached flour
1/4 tsp. salt
1 tsp. pure vanilla extract
Grated zest of 1 lemon
Vanilla buttercream icing:
4 Tbs. unsalted butter, softened
2 cups confectioners' sugar
3/4 tsp. pure vanilla extract
1 to 2 Tbs. milk
1 tsp. light corn syrup
Candied flowers (see link below)
One 8-inch layer, 8 servings
Preheat the oven to 375°F. Butter and flour an 8-inch round or square cake pan.
In a small pan, melt the butter over a low flame and set aside to cool.
In a mixing bowl, beat the eggs and egg yolk with the sugar until the mixture becomes pale yellow, thick, and fluffy, about 5 minutes. Into another bowl, sift the flour three times with the salt. Very slowly, fold the flour, one-third at a time, into the egg mixture. Carefully fold in the melted butter, one-third at a time. When the batter is thoroughly blended, fold in the vanilla and lemon zest.
Pour the batter into the prepared pan, spreading it evenly. Bake for 20 minutes. The cake is done when the top is pale golden brown, the edges pull away slightly, and a cake tester comes out clean. Cool on a rack to room temperature before turning the cake out of the pan.
To make the icing, cream the butter in a mixing bowl. Add about a third of the confectioners' sugar and beat well. Beat in the vanilla and another third of the sugar. The frosting will be thick, so add some of the milk, to make it creamy. Add the rest of the sugar and a few more drops of milk, stopping to scrape down the sides of the bowl. The frosting should be creamy, but slightly stiff. Add a little more milk if necessary. Add the corn syrup, which will give the frosting a nice sheen and loosen it just a bit, and beat for 1 minute.
Frost the cooled cake and decorate it with the candied flowers.