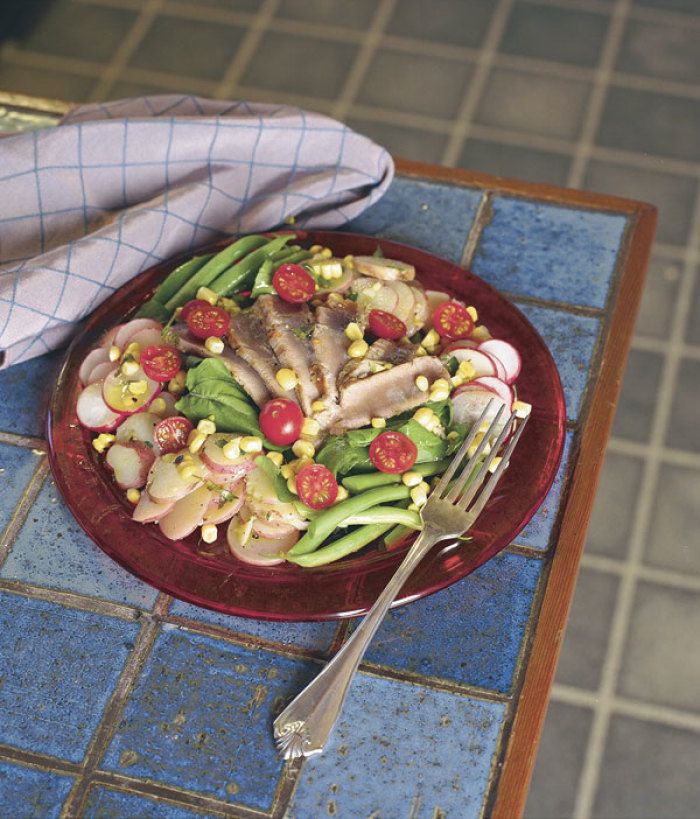 Ingredients:
1 lb. tuna steaks
2 tbsp. extra-virgin olive oil
1 tsp. minced lemon zest
1 tbsp. lemon juice
Kosher salt and freshly ground black pepper
1 lb. small new potatoes, scrubbed clean and sliced thin
2 ears corn, cleaned
1/3 lb. (2 cups) green beans, trimmed
1/4 lb. (heaping 4 cups) young arugula, cleaned
1 bunch (about 10 to 12) small to medium radishes, sliced
1 cup Lemon Dressing (see link below)
1 cup halved cherry tomatoes
4 servings
Heat your grill until it's medium-hot.
Place the tuna in a small dish. In a separate bowl, mix together the olive oil, lemon zest, and lemon juice. Drizzle over the tuna. Turn the tuna once or twice so that both sides are coated with the olive-oil mixture. Season with salt and pepper, and set aside. (Do not leave the tuna unrefrigerated for longer than 30 min.)
Boil the potatoes over medium-high heat until they are just tender, about 5 min. Drain immediately and set aside.
Grill the corn until just tender, 5 to 8 min. When it's cool enough to handle, cut the corn from the cob and set aside.
Blanch the green beans in boiling water until just tender, about 2 min. Drain, rinse in ice water, and drain again.
Grill the tuna. I like to leave it rare in the middle. For a 1-1/4-in. thick tuna steak, this will take about 5 min. on each side. Let it cool and cut it into 1/4-in. thick slices.
To assemble the salad, place a fourth of the arugula in the center of each of four plates. Toss the potatoes with 2 tbsp. of the dressing. Place two small mounds of potatoes opposite each other on the edge of each plate. Place a few green beans next to each mound of potatoes; add the sliced radishes on the other side of the potatoes. Next, arrange slices of tuna on top of the arugula and then scatter the corn over the surface of the salad. Spoon some Lemon Dressing over each salad and garnish with cherry tomatoes. Serve immediately.
Recipe by Michele Anna Jordan
August 1996
from issue #4