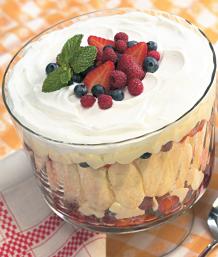 Berry Trifle
10 generous servings, or 16 smaller ones
This summer party dessert looks spectacular in a traditional 12-cup trifle bowl. You can also make it with just raspberries.
Custard:
2 cups milk
3/4 cup sugar
1/2 cup flour
2 egg yolks
1 Tbs. butter
2 tsp. vanilla
2 cups whipping cream
Fruit:
1 pint raspberries
1 pint blueberries
1 pint strawberries
2 Tbs. confectioner's sugar
2 Tbs. sherry or orange juice
Cake:
3 oz. package lady fingers
Half a 9 oz. angelfood cake
1/4 cup sherry or orange juice
To make the custard: Scald the milk in a heavy pot. Mix the sugar and flour together, and place in the top of a double boiler over hot water. Whisk in the scalded milk, then quickly whisk in the egg yolks. Cook, stirring, until the mixture becomes thick enough to coat the back of a spoon. Remove from the heat and whisk in the butter and vanilla. Pour the custard into a bowl and cover with plastic wrap or waxed paper to prevent a skin from forming on top. Refrigerate until cool.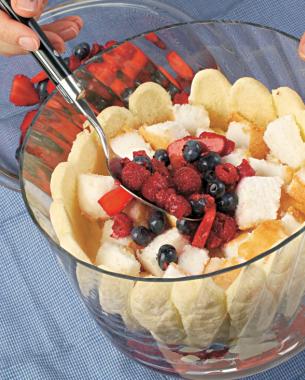 Reserve a few whole berries to decorate the top. Place the rest of the raspberries and blueberries in a bowl. Slice the strawberries and add them to the bowl. Add the sugar and the 2 Tbs. sherry. Let the mixture steep 30 to 45 minutes to allow some of the fruit juices to be drawn out.
Whip the cream and mix a third of it into the custard; reserve the rest.
To assemble the trifle: Place 1 cup of the fruit mixture in the bottom of a 12-cup glass trifle bowl. Arrange the ladyfingers around the outer sides of the bowl. Top the ladyfingers with berries. Spoon half the custard mixture into the center of the bowl. Cut a couple of slices of angelfood cake into pieces and scatter them on top of the custard, then drizzle half the sherry on it, and top with the remaining fruit. Cover the fruit with slices of angelfood cake and drizzle it with the remaining sherry. Add the remaining custard to the dish, then spread the rest of the whipped cream evenly over the top.
Garnish the trifle with the reserved berries and mint or other edible leaves. Cover lightly with plastic wrap and refrigerate for several hours to allow the flavors to meld.
260 cal, 14g fat, 100mg sodium, 2g fiber; small serving