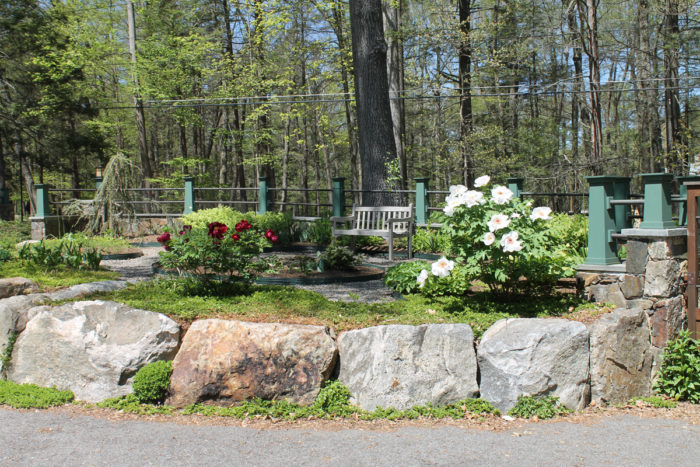 I've always been intrigued, and at the same time wary of, tree peonies. They are no doubt drop-dead gorgeous, and I want one in my garden so badly, but they're super expensive, and have a reputation for being a tad touchy. Hence, I steer clear, since my gardening method is to plant things, step back, and see what lives without any input from me. Hey–I'm just a humble garden editor–I make no claim of being an expert gardener or designer!
The other day, I got a surprise email from Taunton's very own guru of consumer marketing, Nancy Hallberg, who lives in Waccabuc, New York. Nancy's pretty new at Taunton, so we haven't had a chance to meet yet, but it turns out that she's an avid gardener, and her tree peonies are amazing!
Nancy says, "I am an avid, if imperfect, gardener.  My husband and I do both ornamentals and vegetables, and have gotten quite carried away with landscaping, terraces, etc.  This spring we've had an awesome display in some of our early gardens, with tree peonies, bleeding hearts, and deadnettle going crazy, among other plants."
I'm so jealous, Nancy. They're spectacular! Check out the captions on the photos for more info.
Anybody got any insider tips on how to succeed with tree peonies? What do they need beyond the basics? Is it just a matter of luck to have the perfect conditions for them? I must know! 😉
****ATTENTION!! FREE STUFF ALERT!!**** (In case you didn't see it yesterday, and the day before)
Hey all, I have a TON of gardening books (mostly on veggie gardening, Hot Topic #1 these days) laying around my office, sent to us from publishers hoping for reviews in the magazine. They're all great, but we only have a tiny bit of room, and only once in a while, for reviews in the mag. While talking to my editor about it last week, we decided to spread the wealth. Sooooo…I'll be randomly choosing two people each day from all of the people who to send me photos of their gardens (or their gardening travels) for the rest of this week to get a free book (my choice)! Email photos to me at [email protected]. No guarantee that I'll post your photos on the blog (I explain why HERE (way down at the bottom)), but you'll get a package in the mail in a couple of weeks. When you send in your photos, be sure to include your full contact info (and your username) and a description of the photos you've sent. Woohoo! Exciting, yes? I'll announce all the winners sometime next week, since I'm out of the office most of this week. Now go dig out some photos, or drag your camera outside!