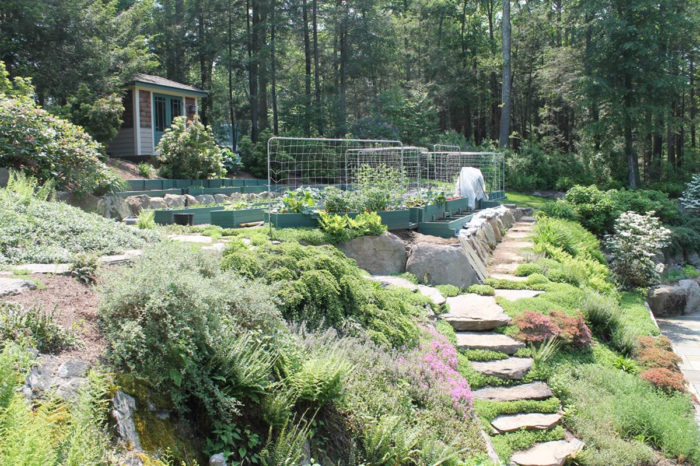 Today's photos are from Nancy Hallberg in Waccabuc, New York. Nancy is Taunton's marketing guru, and we're so glad to have a serious gardener in her position! We last saw Nancy's garden back in May of 2012 (refresh your memory HERE), when we oohed and aahed over her tree peonies. Today she's back with her veggies! 
She discussed her garden with our web producer, Antonio, so he gives us commentary today: Today, Taunton's very own Nancy Hallberg shares her vegetable garden with you. Nancy and her husband Garth carved their growing spaces out of a steep and rocky slope in their backyard. After years of work, they're enjoying a veggie-filled plateau all growing season long.
Nancy says, "All the raised beds are made of engineered plastic 'wood' which never decomposes (and is made of recycled material). The trellises are our own design, and can be moved from bed to bed quickly and easily – made inexpensively from netting and a couple of pieces of aluminum tubing, they're now in their 4th season of service. The new asparagus bed is on the far right, just above the stone wall."
Nancy and Garth also relish in outsmarting outdoor temperatures to make sure they get the crops they want. "Lettuce grows happily even when it starts to get hot in the shallow beds against the back wall. They don't get the searing late summer sun because they're shaded by Andromeda and the rising terrace behind them."
The two also love their homegrown tomatoes, and so use tomato automators and Reemay to facilitate growth despite brisk temperatures in early spring. Great garden Nancy and Garth! I hope you have lots of veggie-loving friends to share your harvest with, because there's bound to be a lot of it.
And thanks to you, Antonio, for guest-posting. Nancy–now that we've seen the framework in spring, send us photos of everything in full swing later in the summer, too!
Want us to feature YOUR garden in the Garden Photo of the Day? CLICK HERE!
Want to see every post ever published? CLICK HERE!
Want to search the GPOD by STATE? CLICK HERE!
Check out the GPOD Pinterest page! CLICK HERE!