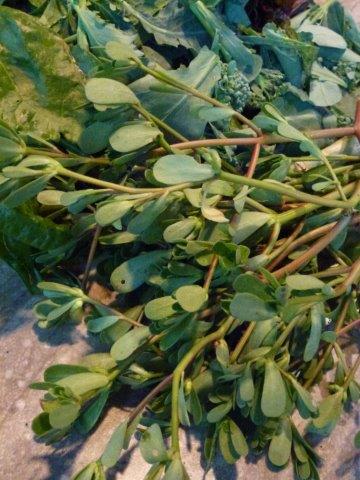 Last week, I wrote about purslane and the benefit of having it in one's garden. For those of you new to Portulaca oleracea, here are a few easy recipe ideas using purslane.
Remember when harvesting purslane that it is a succulent and the leaves wilt rather quickly after cutting. Try keeping them out of direct sunlight after cutting and get them into the kitchen as soon as possible. Rinse the purslane in cold water and spin dry, use immediately or store in refrigerator to maintain crispness.
Wilting greens is one of my favorite ways to eat gardens greens and potherbs. Here is an easy recipe–just add about 1 to 2 cups of rough chopped purslane leaves and stems to it and cook them along with the rest of the greens–the purslane wilts down quickly. /item/7103/wilted-greens-with-garlic
Also try adding a cup or two of chopped leaves and stems to your summer ratatouille–it cooks down nicely with the squash and eggplant and tomatoes and thickens the pan juices just slightly.
Although I like purslane leaves in a salad of lettuce, tomato, onions, cucumber and maybe some feta, dressed with a simple vinaigrette; perhaps my favorite way to eat purslane raw is in tzatziki–try the recipe below.
Tzatziki with Purslane
This is a national dip of Greece-it is on every table and goes with just about any dish- and there are probably as many variations as there are cooks. If it is being served as a dip, the yogurt needs to be drained as do the cucumbers. If you are making a soup, you do not need to drain the liquid. Some variations use red or white wine vinegar, while others use lemon juice; dill is popular, however occasionally mint is added instead; olive oil is added in some recipes. In Turkey, this is served as a cold soup called Cacik, thinned with a little water or ice cubes. It is common to eat purslane as a salad in the Mediterranean; here we will add this wild weed to our summer soup.
Makes about 3 cups
2 cups Greek yogurt
1 large cucumber, peeled and grated or chopped fine
3 large cloves garlic, pressed or minced
About 2 tablespoons chopped fresh dill or spearmint, or a combination thereof, optional
2 handfuls purslane leaves
About 1 tablespoon lemon juice or red wine vinegar
Salt and freshly ground pepper
In a bowl combine the yogurt, cucumbers, garlic, dill and/or spearmint, purslane and lemon juice or vinegar. Season lightly with salt and pepper. Combine well and taste for seasoning. Refrigerate for about an hour before serving; will hold in the fridge for about 48 hours.