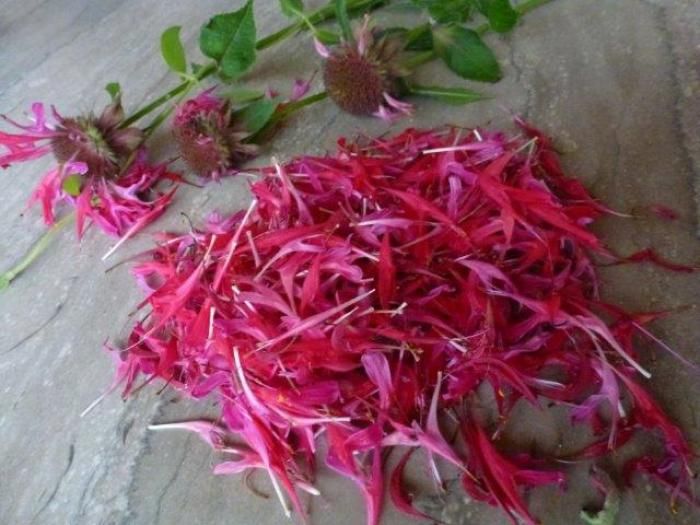 Last week I posted a blog about the glorious beebalm blooming in my garden. I've had a few requests as to how to cook with it, so here are some of my favorite recipes.
Might I remind you here, that the red-flowered monarda, Monarda didyma, has a tea-like aroma and flavor with a hint of citrus, which is delightful in beverages, with fruits and in desserts from cakes to custards and ice cream. With the exception of Monarda citriodora (lemon monarda), all of the other monardas with blooms in lavendar, white, pink, purple and fuschia contain carvacrol, which gives them a flavor similar to a spicy oregano–these should not be used in the following recipes. If you are not certain–smell and taste your monarda–and you will know.
I must say that I love bergamot with peaches and nectarines and I create many variations on that theme. I like them simply macerated together, plain or with yogurt. And I often put them on shortcakes (baked with the red flowers in the dough) with whipping cream. I make a peach and plum cake and macerate the flowers and leaves with the fruit and also chop them and put them in the cake batter. And I use them in all sorts of combinations with other seasonal fruits and make simple fruit salads like the following one.
Here is one of my favorite recipes for monarda–Summer Fruit Salad with Monarda–it is so simple and so delicious: /item/4782/summer-fruit-salad-with-monarda
Try something as simple as rubbing a beebalm leaf around the rim of your iced tea or lemonade glass, pour your beverage over ice and float a few of the scarlet blooms on top.
Right now, I have some of the bright scarlet flowers infusing in vodka, which might just remain a tincture, or it could turn into a cordial. I also have some of the blooms fermenting in a water kefir; I've made them with other herbs like lemon balm, lemon verbena and mint, however the bergamot is a new creation/experiment.
The following recipe is great for picnics and potlucks, since they can be made ahead and travel well. They are popular because they are different from the normal cookie-bar selection. I often refer to them as "Bergamot Bars".
Blondies with Monarda and Apricots
For the best flavor, these bars should be made with unsalted butter for a good butterscotch taste. Use the flowers and/or leaves of the red-flowered Monarda didyma for this recipe–they have a citrusy, tea-like flavor–many of the others taste more like oregano. Orange mint, Mentha aquatica 'Citrata' is a good alternative to the monarda.
Makes 32 bars
1 cup (2 sticks) unsalted butter
1 1/3 cups packed, light brown sugar or demerara sugar
2/3 cup organic cane sugar
About 1 cup dried apricots
About 1/2 cup monarda flowers and/or leaves or orange mint leaves, loosely packed
2 cups unbleached flour
1./2 cup whole-wheat flour
2 teaspoons baking powder
1 teaspoon salt
3 extra-large eggs
1 1/2 teaspoons pure vanilla extract
Preheat oven to 350 F. Butter a 13 x 9 x 2-inch pan.
In a heavy-bottomed saucepan, melt the butter over medium-low heat. When melted, add the brown sugar and stir. Cook over medium-low heat, stirring, until the brown sugar is thick and syrupy, for about 4 minutes. Stir in the cane sugar until it is dissolved and remove the pan from the heat to cool.
Thinly slice the apricots crosswise. Wash, dry, and coarsely chop the monarda or orange mint leaves, there should be about 3 tablespoons of chopped herb; leave flower blossoms whole.
Combine the flour, baking powder, and salt in a bowl and stir to blend. Sprinkle 1 tablespoon of the flour mixture over the apricots and toss to coat them lightly.
Beat the eggs into the warm brown sugar and butter mixture (it should not be hot) to blend thoroughly. Add the vanilla and stir well.
Pour the liquid ingredients into the flour and stir until it is just blended. Add the apricots and monarda and stir until they are just mixed in. Pour the batter into the prepared pan and bake in a preheated oven for 35 minutes, until the top is a deep golden brown. Allow to cool completely on a baking rack before cutting into bars.
This recipe is excerpted from not just desserts-sweet herbal recipes by Susan Belsinger, herbspirit, 2005 available at www.susanbelsinger.com.