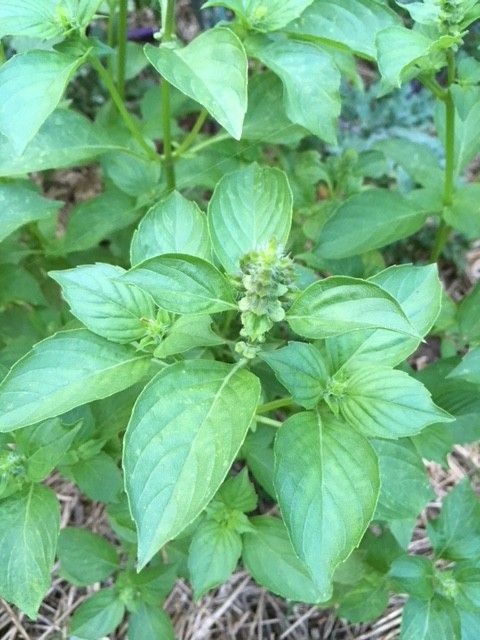 Basil is to tomatoes what lemon basil is to peaches. Of course, this delightful lemon-flavored herb is wonderful with other seasonal foods, however it just complements a peach like nothing else. And right now is the peak season for both lemon basil and peaches–so go for this winning combo. If you haven't experienced this flavor combination, then just go for basics. Peel a dead-ripe peach and slice it onto a plate. Take a few lemon basil leaves and cut them into chiffonade (crosswise into thin ribbons) and scatter them over the peach slices; toss if you want. Enjoy, inhale the fragrance and then savor each bite.
While a medley of fresh summer fruits will be greatly enhanced by a handful of lemon basil leaves, it is also wonderful when cooked. Add lemon basil, whole leaves or chopped to crisps, crumbles, cobblers and pies. It works well with all of the stone fruits of summer–peaches, nectarines, plums, apricots and cherries–as well as berries. Lemon basil leaves are a great addition to jams and jellies.
Some other culinary ideas are: Lemon basils are delightful in everyday beverages like lemonade and iced tea, as well as libations; make a great mayonnaise or vinaigrette; compliment summer vegetables, chicken and fish; and are good in any baked good from cookies, pies and cakes to puddings and Susan's favorite ice cream.
If you don't have time to make ice cream, try infusing a handful of lemon basil leaves in a pint of whipping cream for a few hours or overnight. Strain the leaves from the cream, squeezing them to extract their essence and whip the cream with just a little sugar or maple syrup for sweetening. This is wicked good (right out of the bowl) on any dessert, be it shortcake, scone, fruit, cake, pie, cobbler… you get the idea.
I've been enjoying lemon basil in many seasonal recipes throughout the summer as well as drying it, making aromatic herbal paste, lemon basil herb syrup and lemon basil cordial. Dried leaves can be used for tea or infused for syrups or in cream during cold weather. Herbal pastes capture the green essence of herbs and when stored in the freezer, they can be brought out any time to be used as you would the fresh herb in baked goods, marinades and sauces. Below is a simple recipe for lemon basil syrup.
Lemon Basil Syrup
This syrup is sublime in lemonade, iced tea, cocktails, cordials, fruit salad and all sorts of desserts. Once you make it and taste it, you will think of all kinds of things to drizzle it upon. Simple syrups use equal amounts of sugar to water; if you want it less sweet, use just 3/4 to 1 cup of sugar.
Makes about 2 cups

1 1/2 cups water
1 1/2 cups organic sugar
Large handful of lemon basil leaves (about 6 sprigs about 6-to 8-inches long)
Bring the water to a boil in a covered, non-reactive saucepan. Stir in the sugar to dissolve. Remove from heat, add the lemon basil and let stand until cooled to room temperature. Use, or store in a labeled jar in the refrigerator for a week to 10 days.
The syrup freezes for about a year (until the next growing season)–be sure to leave at least 1-inch of headspace. Thaw overnight in the fridge or if you just need a small amount, place the jar in a bowl of warm water (not hot) and let it partially thaw; pour off what you need and put it back in the freezer.
Note: To whet your appetitie and perhaps lure you to attend–the last photo here is of an Old-Fashioned Buttermilk Pie with a Pecan Crust–made new by infusing lemon basil and a few mace blades in the buttermilk overnight. The Skillet Restaurant will be using my recipe to make this pie for two upcoming events:
The International Herb Association Banquet on September 22, 2018 (www.iherb.org)
and the Herb Harvest Fall Festival Southern-Style Feast on Thursday, October 4, 2018 (www.https://arkansasstateparks.com/events/herb-harvest-festival).
Hope to see you for some herbal fun and good food!