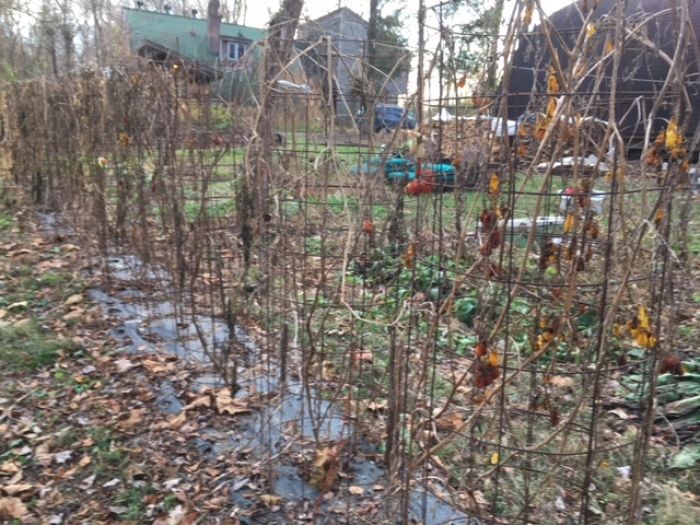 We have had a mild autumn/winter season thus far in my zone 7 Maryland garden. Still able to do chores in the garden and bring in bounty to create warming seasonal dishes. Time for harvesting whatever is still available, cleaning up the garden, last-minute planting, getting ready for the holidays and wood chores.
The latter warms us more than once. From felling to sawing, loading and splitting, stacking and hauling and feeding the stove and keeping it stoked day and night in the cold weather, it occupies a lot of time and energy.
The garden always seems desolate to me this time of year with withered tomato vines, dying pepper plants and greens, flowers and herbs that have wilted from freezing temps at night. However, I've gathered seeds to dry and am still harvesting wild greens like dandelion, chickweed and a last flush of leaves from the nettle patch. Soup, wilted greens, spanakopita or pie?
There is still life out there! Though I didn't get the garlic in until late November, it is putting out shoots under the earth that is nestled beneath a thick layer of wheat straw mulch. I am always delighted to get my box of organic garlic for planting from Filaree Farm. (www.filareefarm.com) It seems expensive; you get what you pay for and their selection and quality of garlic is choice. It is challenging to choose just a few: artichoke, tuban or hardneck, white, purple or red, marbled or striped? I am enjoying this year's harvest–I use garlic daily to fend off cooties (not just vampires)–and I love roasting the whole bulbs until soft and creamy to smear on toast, scatter on top of pizza or focaccia or toss with pasta. I also like it just popped from its skin into my mouth!
I love all of the orange vegetables and they are so good for us; their color is indicative of carotenoids, which are so good for us. Not just carrots; both sweet potatoes and winter squash are regularly on the menu here. From oven-roasted to mashed, in soups and stews and combined with risotto, grains, pasta and as a pizza topping.
Now, with the holidays upon us (how did it get to be December already?), I am thinking of gifts that I can create with garden-grown bounty for the cook, gardener, friends and family… more on that in the next blog!