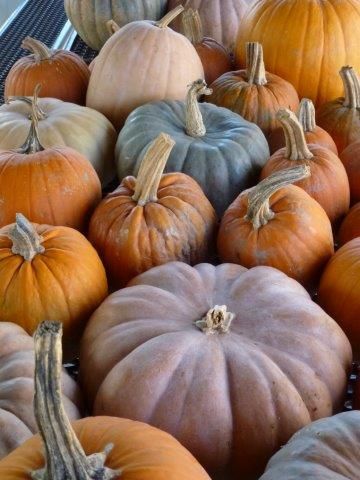 It's that time of year again–Happy Halloween! Don't toss the pumpkins and winter squash that you have been using to decorate your front stoop–bring them into the kitchen and use them in some seasonal recipes–here's a tasty treat for you to try: Pumpkin Scones with Thyme!
While we love pumpkins for fall decorating and Halloween, they are even better in the kitchen–so don't let them go to waste. Bring them indoors, peel them and cut them into chunks. Roast or steam them, make them into soup, or puree them and freeze them in 2-cup quantities.
I've written blogs on the curcurbit family before; if you click on this link you will find instructions for handling and preparing pumpkins and winter squash to use in recipes. /item/7628/the-hardy-cucurbits-the-wonderful-world-of-winter-squash-and-pumpkin There are also two other tasty recipes for pumpkin–one for soup–and the other fro oven-roasted squash. These scones are a great seasonal recipe and delightfully different.
 
Pumpkin Thyme Scones
These scones are both sweet and savory, and need no adornment. They are best served warm with a pot of your favorite tea or a good, strong cup of joe. Optional ingredient is 1/2 cup fresh cranberries or 1/2 cup dried cranberries or dried cherries, rough chopped. Also for a healthier version, I substitute half wholewheat flour for half of the unbleached flour.
Makes 8 to 12 scones
2 cups unbleached flour
1 tablespoon baking powder
1/2 teaspoon salt
1/2 teaspoon ginger
1/2 teaspoon cinnamon
1/4 teaspoon freshly grated nutmeg
3 tablespoons plus 1 teaspoon sugar
4 tablespoons unsalted butter, cut into pieces
1/2 cup 2% milk or whole milk
1/2 cup unsweetened pumpkin puree
1 tablespoon plus 1 teaspoon fresh minced thyme leaves, or 1 teaspoon dried thyme     leaves, crumbled
Preheat oven to 400 F.  In a mixing bowl, combine the flour, baking powder, salt, ginger, cinnamon, nutmeg, and 3 tablespoons of the sugar and stir to blend.  Cut the butter into the dry ingredients until it is in pea-sized pieces.
Combine the milk with the pumpkin puree and thyme and blend well.  Stir the milk and pumpkin mixture into the dry ingredients along with the cranberries if using them, until the dough starts to come together.  Turn the dough out onto a lightly floured surface, gather it together, and knead lightly.  Do not overwork the dough. 
Flatten or roll the dough into a round about 1-inch thick.  Cut the dough into 8 to 12 pie-shaped wedges.  Sprinkle them lightly with the remaining teaspoon of sugar.  Place the scones on a baking sheet and place in the center of a preheated oven.  Bake until the scones are golden on top; about 18 minutes.  Cool on a baking rack for a few minutes and serve warm.
The scones can be wrapped in foil and gently reheated at 300 F for about 10 minutes.