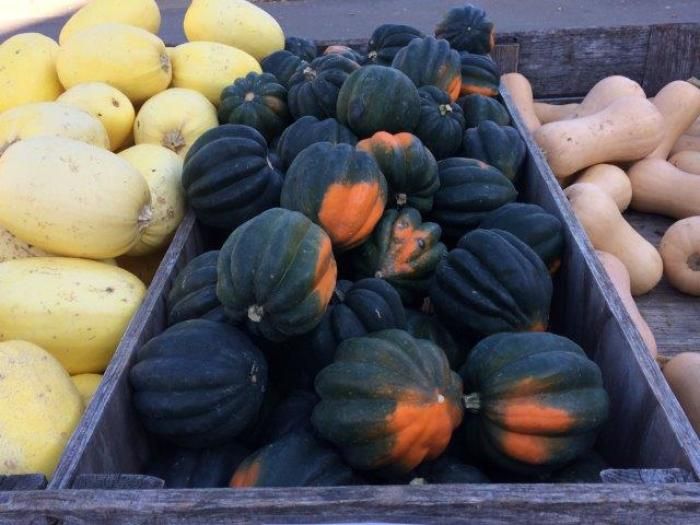 One of the best things about fall and winter seasons is that we get to eat seasonal foods–root vegetables, winter squash and pumpkins, brassicas, cool-weather greens, apples, pears, pomegranates, persimmons, all sorts of nuts and more. Most of these foods store well, so we are able to enjoy them during the cold weather. I especially like winter squash and pumpkin; their bright orange and yellow flesh brightens our meals and nourishes us. Here, pictured in the photos, are a few that I have grown, or are easy to get at your farmers' markets, local farm stands, organic markets and even the grocery store. 
Pumpkins, both summer and winter squash, as well as gourds are all member of the Cucurbitaceae. These vegetables, if cured in a well-ventilated spot for a few weeks which toughens their skin, will store fairly well if kept in a basement or coldroom at a temperature of about 50 to 60 degrees F. If you've left your pumpkins or squash out on the porch, and they've been exposed to very cold or freezing temps, their tissue has been damaged, so don't try to store them.
Personally, I prefer the flavor and texture of the winter squashes over pumpkin… even for pie. The most challenging thing about cooking the cucurbits is peeling them since their skins are tough and hard. I find that cutting the squash or pumpkin into smaller pieces first and then peeling with a sharp vegetable peeler is the easiest and safest way to go. Often cooks simply halve or quarter squashes or pumpkins, remove their seeds and stringy seed cavity and then transfer them to a baking sheet and roast them in the oven. This is easy and gives the vegetable a nice roasted taste–the flesh becomes soft and it can easily be peeled or scraped from the skin–and eaten as is or used in a recipe. This article has more detailed instructions and photos for preparing the squash: /item/7628/the-hardy-cucurbits-the-wonderful-world-of-winter-squash-and-pumpkin
My favorite way to prepare winter squash is to peel and cut it into large, bite-sized cubes, place it on a baking sheet or roasting pan, drizzle it generously with olive oil and season with sea salt and freshly ground pepper. Place it in a hot 400 degree F oven and roast for about 20 minutes. Remove it from the oven, add a handful of fresh sage leaves and about 10 to 12 peeled garlic cloves and toss well. Reduce oven heat to 350 degrees F and roast for another 20 minutes or so, until squash is tender and garlic is cooked. Serve hot.
If there are any leftovers from the above recipe, they can be added to soup, mashies, beans, stew–tossed with pasta or as a filling, used on focaccia or white pizza–whatever. It can be mashed and mixed with softened butter and it makes a wonderful spread for rolls or homemade bread. I use roasted and mashed squash or pumpkin in scones, biscuits, muffins, breads, puddings and custards, pie fillings, cookies, cakes and ice cream.
Besides being good to eat, the cucurbitas are good for us. The orange color of winter squash and pumpkin indicates the presence of carotenoids, which help prevent cancer and encourage healthy skin. These succulent veggies contain antioxidants, vitamins A and C, as well as potassium, manganese, folate, and omega-3 fatty acids.
Here are a few tasty recipes from past blogs:
/item/7630/oven-roasted-winter-squash-with-garlic-and-sage
/item/7629/winter-squash-soup-with-black-beans-and-corn
The Compleat Squash: A Passionate Grower's Guide to Pumpkins, Squashes, and Gourds is the most beautiful book that I have ever seen on the subject of any single vegetable family. Author Amy Goldman is indeed passionate about this subject and has spent many years researching and growing the cucurbits. The photographs by Victor Schrager are exquisite. Growing, harvesting and saving seeds, mouthwatering recipes and list of seed sources included.
Take advantage of this wonderful vegetable family while it is in season–you'll be glad that you did!