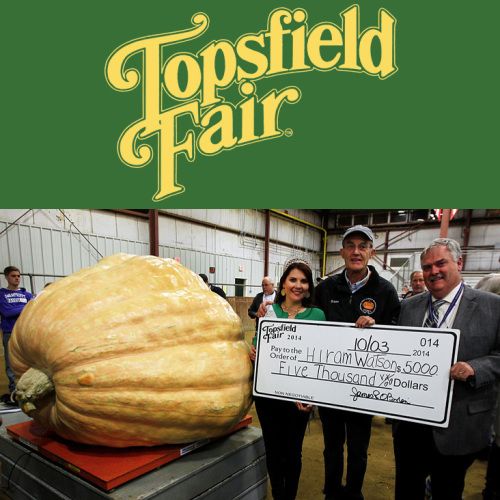 One of the items on my gardening "bucket list" is to successfully grow a massive pumpkin. Although I doubt I will ever grow a record-breaker, events like the New England Giant Pumpkin Weigh-Off at the Topsfield Fair will certainly inspire me. The fair was held earlier this month, with Hiram Watson of Farmington, New Hampshire taking the first place prize of $5,000 for his massive 1,900 pound pumpkin.
The Weigh-Off
The New England Giant Pumpkin Weigh-Off began at Topsfield Fair in 1984, as an off-shoot of the Family Garden Largest Cucurbit Contest. That year, Wayne Hackney of New Milford, CT grew the winning pumpkin, which weighed a mere 433 pounds. The Family Garden Largest Curcurbit Contest is still held today. In 1989, Hackney, along with Hugh Wiberg and Tom Cone, formed the New England Pumpkin Growers Association (NEGPGA). Topsfield Fair became the official weigh-off site for the association.
Through the years, the contest has gotten so popular that a minimum weight had to be established. The participating pumpkins must weigh at least 350 pounds and meet other rules to be eligible. The competition awards more than $10,000 in cash prizes, which includes prizes for the prettiest, ugliest, and (of course) largest pumpkins grown in New England. The winning pumpkins remain on display during the duration of the fair for visitors to view.
Record Breakers
The giant pumpkin growing craze began when Howard Dill of Nova Scotia set a world record in 1979, with a 438 pound pumpkin. The famous Dill's Atlantic Giant pumpkin seeds have become popular and can probably be found in your local garden center's seed display.
In 2002, NEGPGA and Topsfield gained international recognition when Charlie Houghton of New Boston, NH's 1,337.6 pound pumpkin was deemed the largest ever grown in the world, and was officially entered into the Guinness World Book of Records. He was awarded $5,000 by the fair that year and his pumpkin was carved into the world's largest Jack O'Lantern.
The 2012 Giant Pumpkin Weigh-Off held at Topsfield fair was the most exciting and record-breaking contest to date. At the fair, the world's first one-ton pumpkin, grown by Ron Wallace from Greene, RI, weighed in at an unbelievable 2,009 pounds.
The Official Winners for 2014 Are:
1st – Hiram Watson, Farmington, NH – 1,900 pounds
2nd – Gary Vincent, Plainville, CT – 1,751.5 pounds
3rd – Mark Breznick, Pittsford, VT – 1,710 pounds
For more information about the Topsfield Fair, visit www.topsfieldfair.org. You can also see a photo gallery of the contest here.