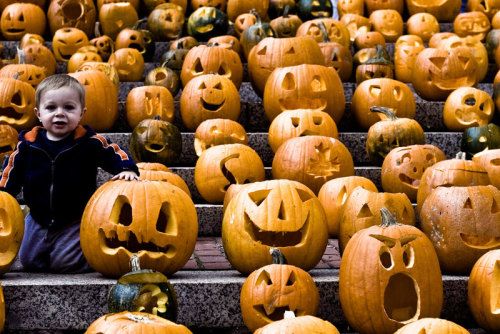 In October, pumpkins are everywhere. Along with witches, bats, and trick or treating, the jack-o-lantern has long been a symbol of Halloween. You can carve pumpkins, of course, but you can also eat them. And grow your own.
A pumpkin for every purpose
Pumpkins range in size from miniature used mainly for festive decorations (Jack Be Little) to giants weighing several hundred pounds (Atlant Giant). In the middle range are common varieties used mainly for pies (Small Sugar, New England Pie) and somewhat larger ones that are good for carving (Howden, Connecticut Field). You'll also find other oddities, such as white pumpkins (Lumina), pumpkins grown mainly for edible seeds (Lady Godiva), and heirlooms (Rouge Vif d'Etampes).
Growing pumpkins isn't difficult
Like squash, pumpkins are a vine crop, so they need a lot of space. They are typically planted in hills, after danger of frost, and they need a fairly long growing season. You can also find bush and semi-bush varieties.
• For more, see How to Grow Pumpkins.
Pumpkins as food
Pumpkins are thought to have originated in the New World and were used by indigenous cultures for food. It's a shame that pumpkins aren't sold in groceries except around Halloween. Their flesh is rich in vitamins and delicious in pies, soups, and stews. Pumpkins last well into winter if stored in a cool, dry location. Alternatively, you can roast the flesh, scoop it out of the rind, and freeze it for use later on. Toasted pumpkin seeds make a good snack.
• Three pumpkin recipes to try
• Pumpkin recipes from FineCooking.com
• Pumpkins: Beyond Halloween
Jack-o-lanterns
Most sources trace the origin of pumpkin carving to the ancient Celtic festival of Samhain, which celebrated the end of summer, the end of the year, and the dead. On the night of October 31, jack-o-lanterns carved from turnips or gourds were set in windows to ward off evil spirits and welcome the spirits of the dead. Irish immigrants brought the custom to the New World, where pumpkins replaced turnips as the carving medium of choice.
You can have quite a laugh surfing the Web for jack-o-lanterns. One of the most outrageous sites is www.extremepumpkins.com. You'll find more conventional designs, along with carving instructions and Halloween lore, at Pumpkin Carving 101. If quantity is what you're after, the city of Boston takes top honors, breaking the world record in 2006 by lighting 30,128 carved pumpkins at one time. Watch the video and see for yourself.
Happy Halloween to all!