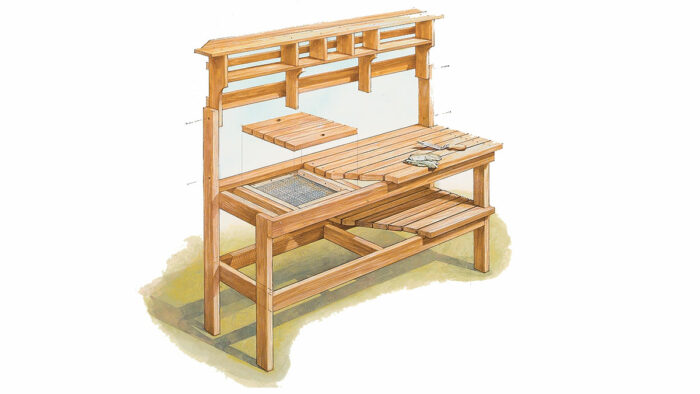 The overall directions for this potting bench are simple, and you can modify the design according to your needs or style. For example, I added boards to the back of the top shelves to keep things from falling off, but that's optional. I also cut the lower supports and ends of the top shelf on an angle to break up all the straight lines.
Click here for photos and more about materials, making the frames, assembling the bench, cutting the hatch, and fitting the top shelf unit.
Tools needed to build this bench:
Materials list
• Handsaw
Quantity
Item
• Jigsaw
11
12-ft. 2x4s
• Drill
1
12-ft. 2×3
• 3/8-in. Forstner bit
1
8-ft. 1×6
• Tin snips
2
6-ft. 1x6s
• Hammer
2
8-ft. 2x2s
• Utility knife
3
6-ft. 1x4s
• Flush-cutting peg saw
2-ft. by 2-ft. x 1/2-in.
hardware cloth
1 box (100)
1-5/8-in. galvanized
deck screws
1 bottle
Exterior-grade glue
3/8-in. by 3/8-in. by 2-ft.
piece of teak
—Bill Myles builds everything from raised beds to raised ranches in southern California.
From Kitchen Gardening #12
---
Need woodworking advice or help learning about the tools used in this project? Visit FineWoodworking.com and research how to use and buy the right tools for all of your projects.