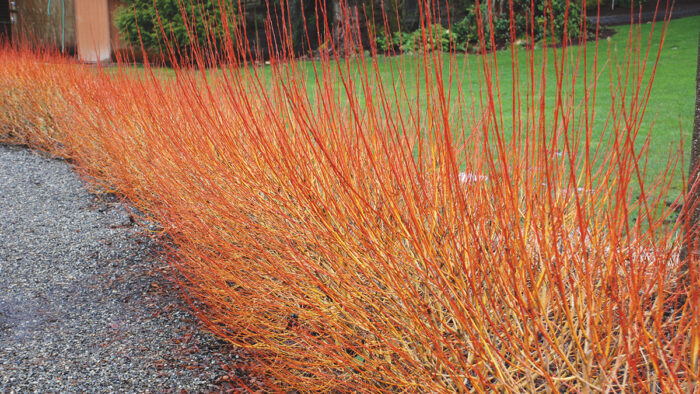 Richie Steffen, executive director of the Elisabeth C. Miller Garden in Seattle and a leading expert on plants, discusses the often-undervalued appeal of winter gardens:
"What many see as a dark and inhospitable season of dull dormancy, however, I view as a chillier continuation of my gardening season. There are many reliable plants that will tolerate, even look their best, during the frosty days of winter. While winter gardens may run short of blooms, especially in cold climates, there is a wonderful selection of evergreen foliage, interesting bark, and richly colored twigs that can make anyone's winter brighter."
To give winter even more of the love it deserves, we asked some regional experts to pick their favorite plants that peak in winter. Find fantastic plants for winter interest in the Southeast below, and discover even more plants that peak in winter in Richie's article, Winter Interest From the Ground Up.
---
1. 'Flame' willow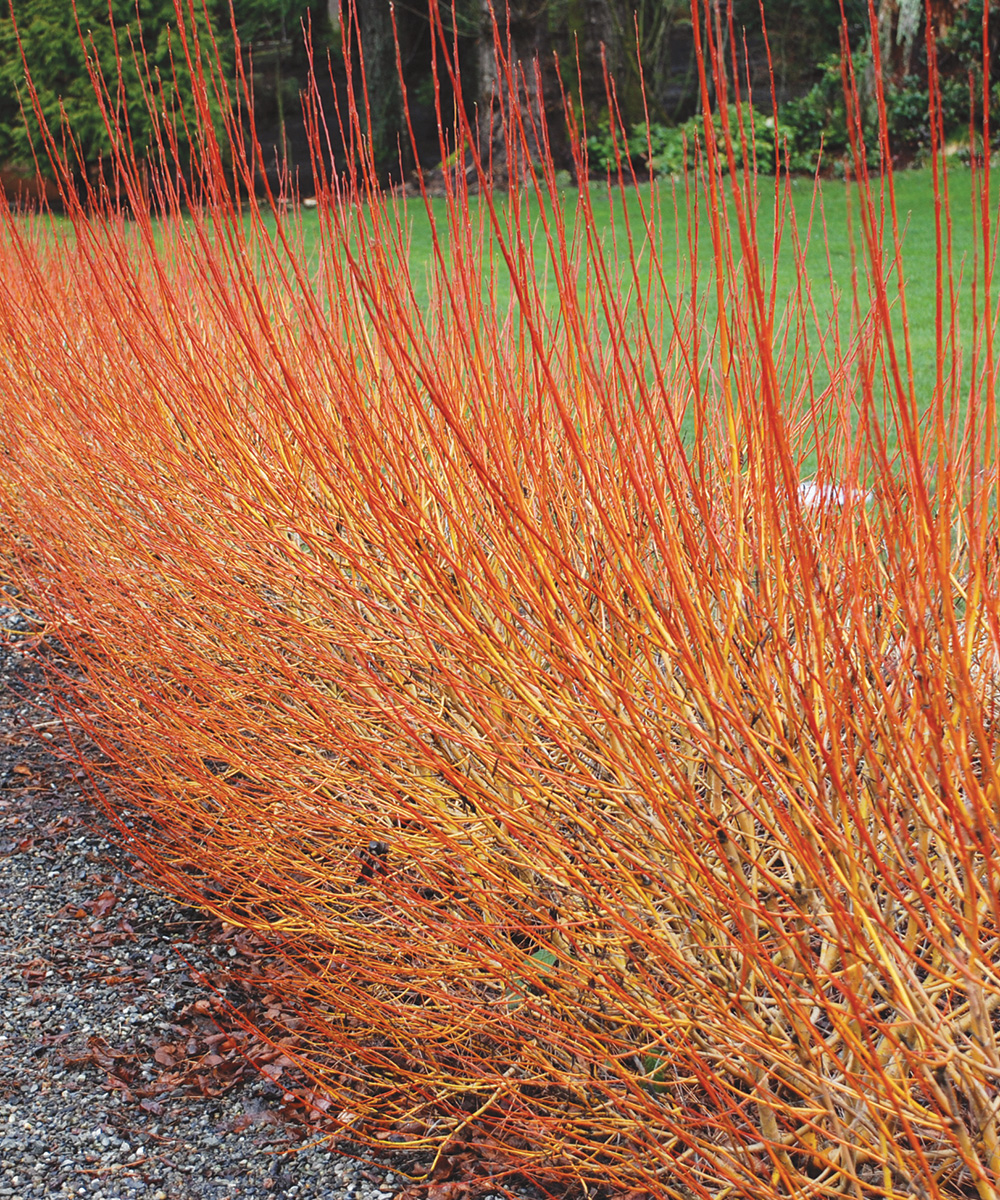 Name: Salix 'Flame'
Zones: 4–8
Size: 15 to 20 feet tall and 15 feet wide
Conditions: Full sun; average to wet soil
Native range: Garden origin
'Flame' is a shrubby willow with green summer foliage that turns yellow before falling off, fully exposing its glowing orange-red winter stem color. Cut branches are beautiful additions to indoor displays or outdoor winter evergreen arrangements. The pliable stems are also good for weaving into fences and baskets. The bark color is best on younger stems grown in full sun. Plants can be cut back near the ground in late winter or early spring to force fresh new growth. This is also a way to manage its size if space is limited. 'Flame' is adaptable, tolerating dry conditions and even short-term standing water, and it can be useful in rain gardens. For the most enjoyment, plant where it can be seen from a window.
2. 'Florida Sunshine' small anise Tree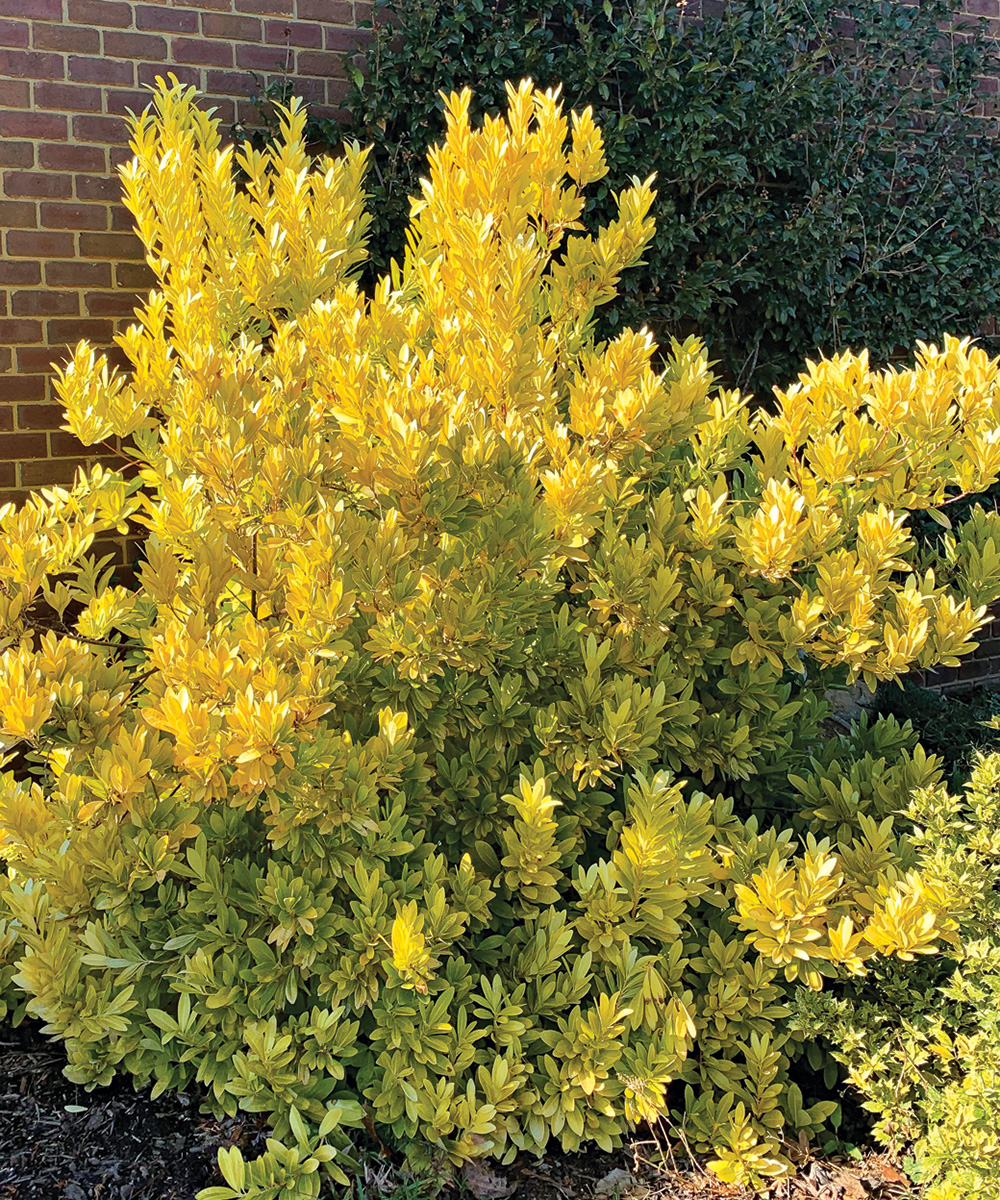 Name: Illicium parviflorum 'Florida Sunshine'
Zones: 6–9
Size: 5 to 6 feet tall and wide
Conditions: Full sun to partial shade; average to moist, well-drained soil
Native range: Southeastern United States
This evergreen, deer-resistant shrub's chartreuse foliage will brighten any garden. In winter its upper stems take on a red cast that contrasts brilliantly with the luminescent leaves. Even though it will grow in full sun or shade, its best performance is in morning sun and afternoon shade. I grow mine near my driveway in high shade. It makes me smile when I arrive home after a long, hard day. Cut stems are good in arrangements, and the leaves smell of sweet licorice when crushed. For smaller spaces, the compact selection BananAppeal® (I. parviflorum 'PIIIP-I', Zones 7–9) has more of a mounding form.
3. Fox Valley® River Birch
Name: Betula nigra 'Little King'
Zones: 3–9
Size: 10 feet tall and wide
Conditions: Full sun; average to wet soil
Native range: Central and eastern United States
Award-winning and easy to grow, Fox Valley® is grown for its compact size and handsome peeling bark. More like a large shrub than a tree, it has a dense, broad, rounded habit. Its growth rate depends on soil and available moisture, averaging between 6 to 12 inches per year in its youth. Adaptable to heavy clay soil, it grows in a wide range of situations, from semi-aquatic to dry, but it performs best in moist, slightly acidic soil. Plants can be multistemmed or have a single trunk, and they can be limbed up to show off the bark. Avoid pruning in spring when the sap is flowing.
4. Early stachyurus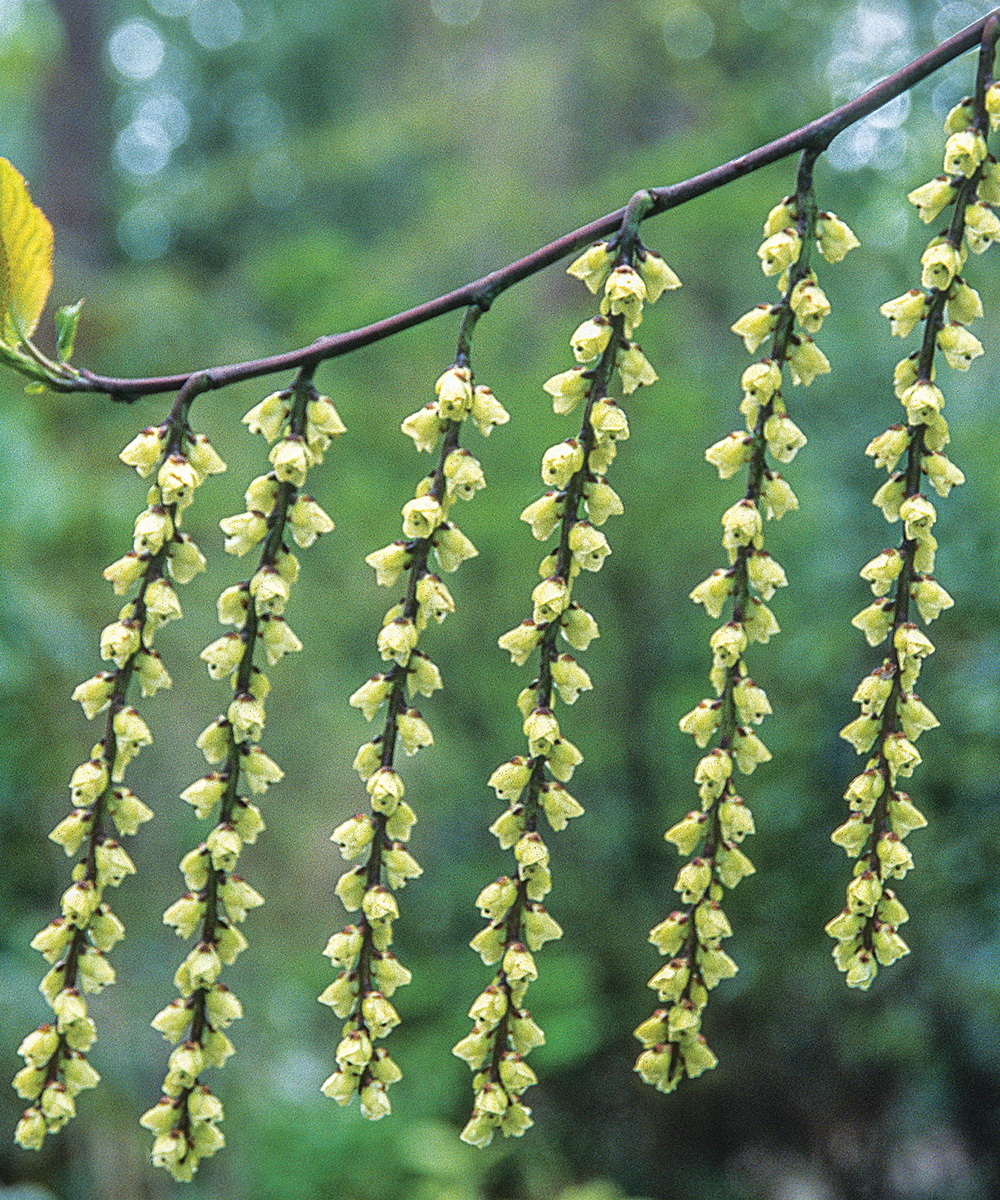 Name: Stachyurus praecox
Zones: 6–8
Size: 5 feet tall and wide
Conditions: Full sun to partial shade; moist, acidic, well-drained soil
Native range: Japan
This deciduous shrub has an upright arching habit with ovate, often sparsely spaced leaves. Foliage may turn rosy red and yellow in fall, but this plant is most notable for its unique flowers. The first time I saw it in full bud on a cold January day, I knew immediately that we would become friends. Flower buds form in the fall and hang gracefully from the leaf axils in catkin-like racemes. The small bell-shaped yellow-green flowers open in late winter before the foliage emerges. Although early stachyurus will grow in full sun, it prefers some shade in the South.
---
Jason Reeves is curator of the University of Tennessee Gardens in Jackson. Follow him on Facebook at Jason Reeves—in the Garden.