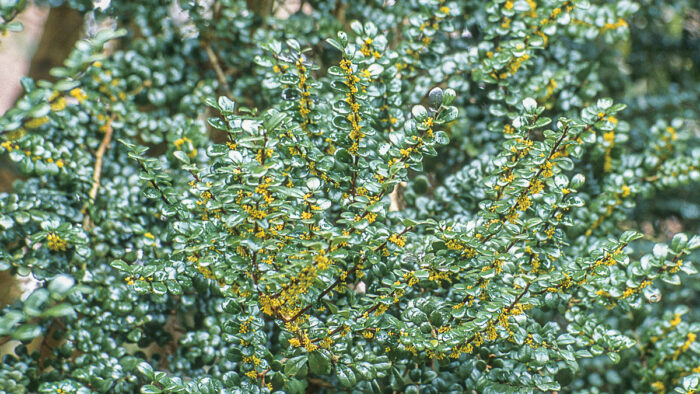 Richie Steffen, executive director of the Elisabeth C. Miller Garden in Seattle and a leading expert on plants, discusses the often-undervalued appeal of winter gardens:
"What many see as a dark and inhospitable season of dull dormancy, however, I view as a chillier continuation of my gardening season. There are many reliable plants that will tolerate, even look their best, during the frosty days of winter. While winter gardens may run short of blooms, especially in cold climates, there is a wonderful selection of evergreen foliage, interesting bark, and richly colored twigs that can make anyone's winter brighter."
To give winter even more of the love it deserves, we asked some regional experts to pick their favorite plants that peak in winter. Find fantastic plants for winter interest in the Northwest below, and discover even more plants that peak in winter in Richie's article, Winter Interest From the Ground Up.
---
1. Dyce's holly fern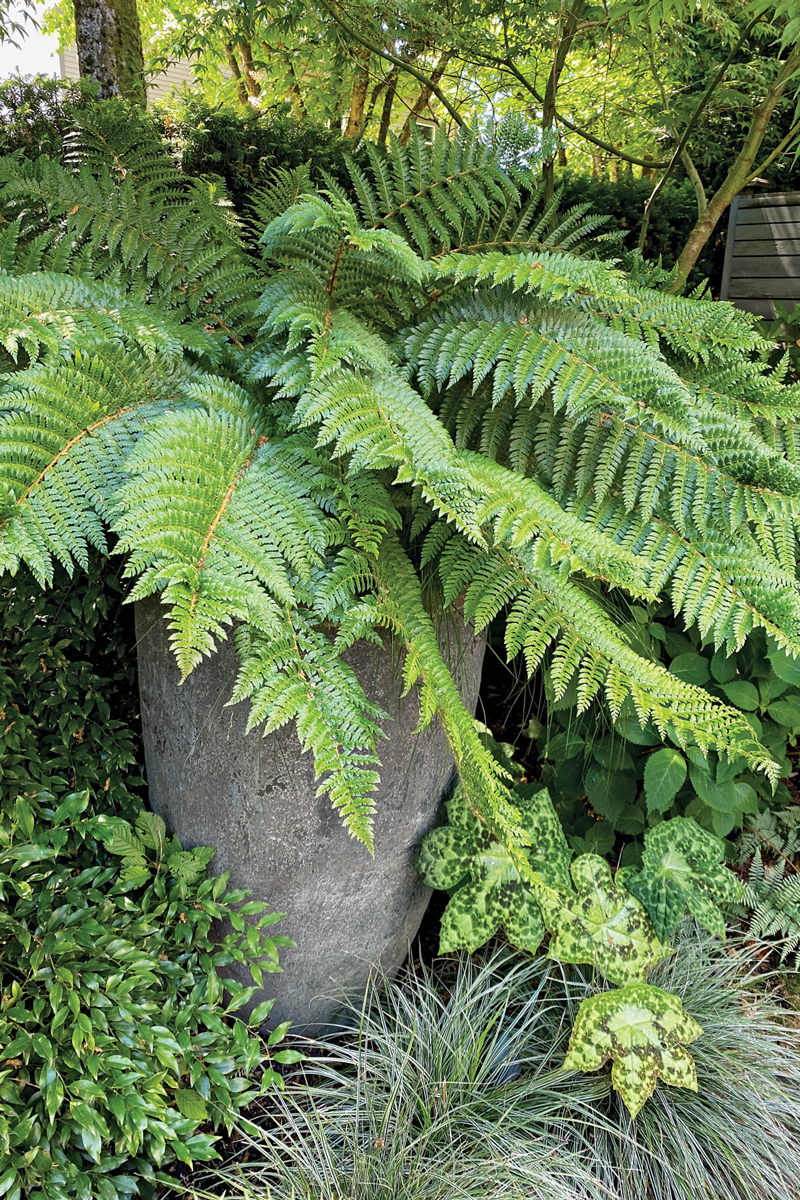 Name: Polystichum × dycei
Zones: 6–8
Size: 2 feet tall and 3 feet wide
Conditions: Full to partial shade; average to moist, well-drained soil
Native range: Hybrid
This fern is the fruit of a laboratory encounter between an Australian endemic and a northern hemisphere species. It has all the attributes worthy of primetime in any shade garden or year-round planter. This most remarkable evergreen fern deploys a perfectly symmetrical mop of dark green fronds, elegantly arched yet strong enough to resist a good layer of snow. Dyce's holly fern shows the increased vigor typical of good hybrids and may gradually bulk up into a clump that would put a large hosta to shame. It is content with the approximated care of the novice gardener, but it also meets the high standards of the most serious fern collector.
2. 'Quicksilver' Chinese wild ginger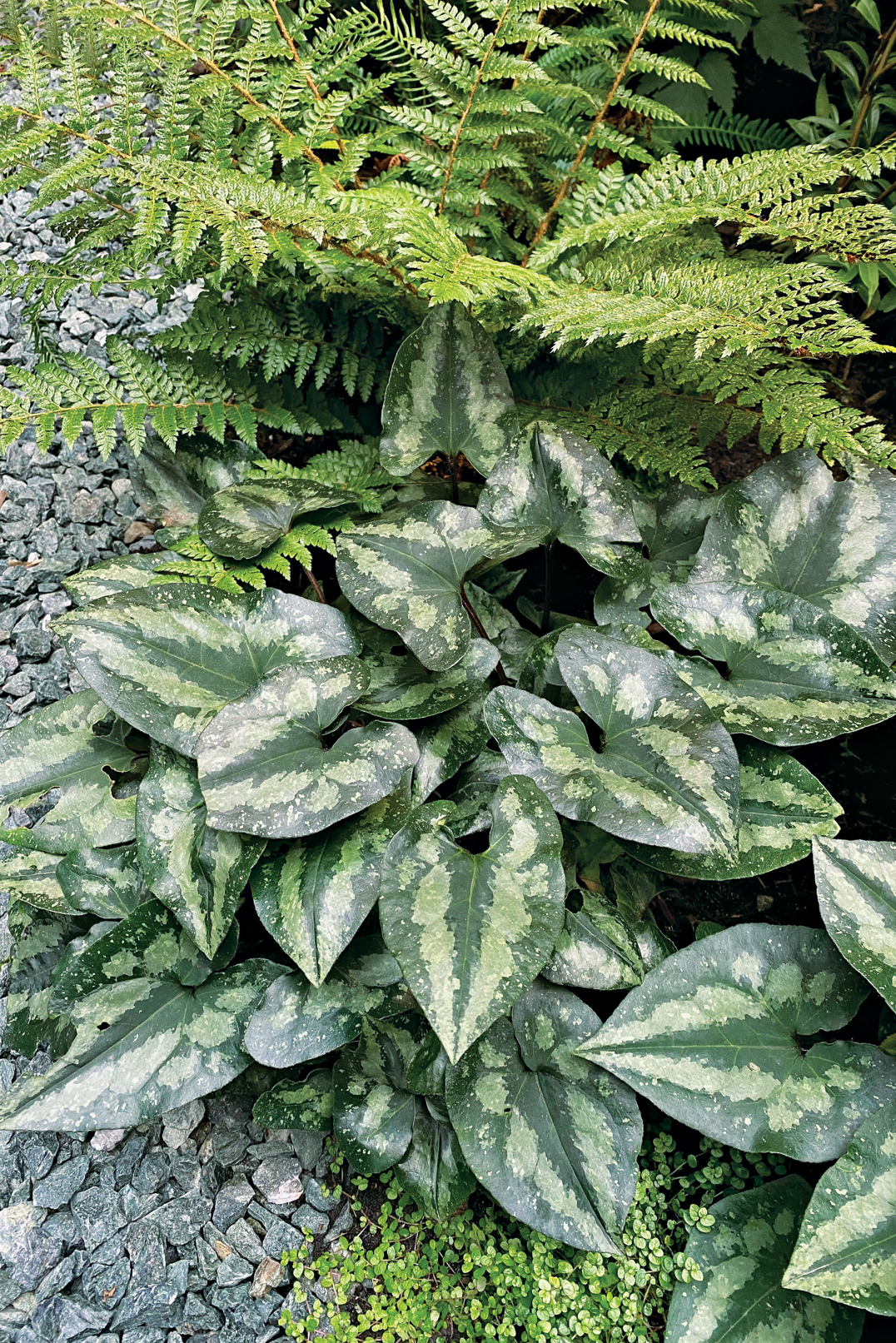 Name: Asarum splendens 'Quicksilver'
Zones: 5–9
Size: 8 inches tall and 12 inches wide
Conditions: Full to partial shade; average to moist soil
Native range: South central China
A splendid woodlander, 'Quicksilver' Chinese wild ginger is as suitable for commercial plantings as it is for the choicest private courtyards. It is mostly evergreen and is seldom bothered by slugs. West Coast gardeners traumatized by the outrageous vigor of our native wild ginger (Asarum caudatum, Zones 7–9) will be enchanted by the steady yet manageable growth of this Chinese cousin. Its spring flowers are "insignificant," neatly tucked away at ground level. Yet one only needs to brush that foliage aside to discover purplish maroon blooms reminiscent of the mouths of the giant sandworms in David Lynch's Dune movie. This wild ginger may not turn your eyes blue, but it will certainly turn everyone's heads.
3. Boxleaf azara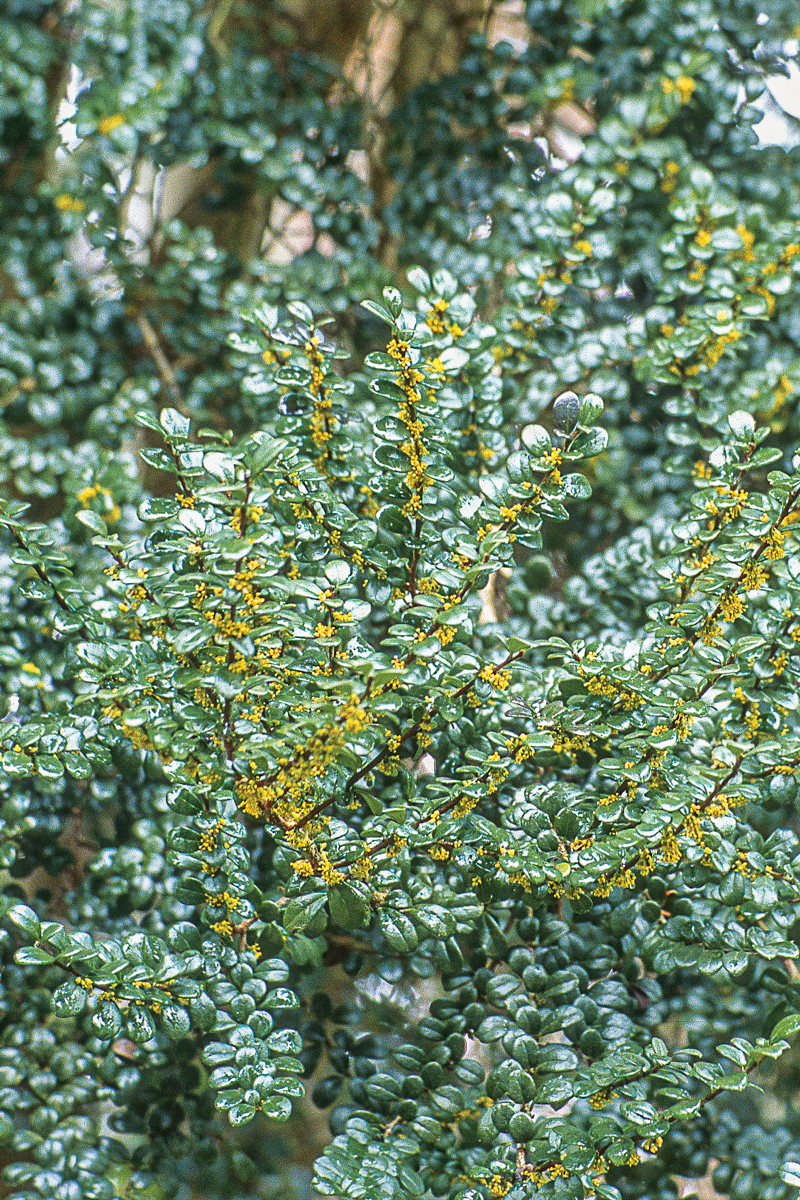 Name: Azara microphylla
Zones: 7–10
Size: 15 feet tall and 6 feet wide
Conditions: Full sun to partial shade; average to moist, well-drained soil
Native range: Chile and Argentina
Boxleaf azara has an unmistakable silhouette, a girthy pillar packed with the smallest dark green leaves that, albeit abundant, never add up to an opaque canopy. Hence, some of its vertical branching is able to shine through. Such delicate and textured evergreen foliage is of great help to a garden design and makes the perfect backbone for finer-grained plantings in small spaces. In late winter, tiny yellow flowers make up for their underwhelming size with a powerful fragrance of vanilla (some say chocolate) that would have a passerby believe a baker, not an avid gardener, lives there.
4. Taiwanese schefflera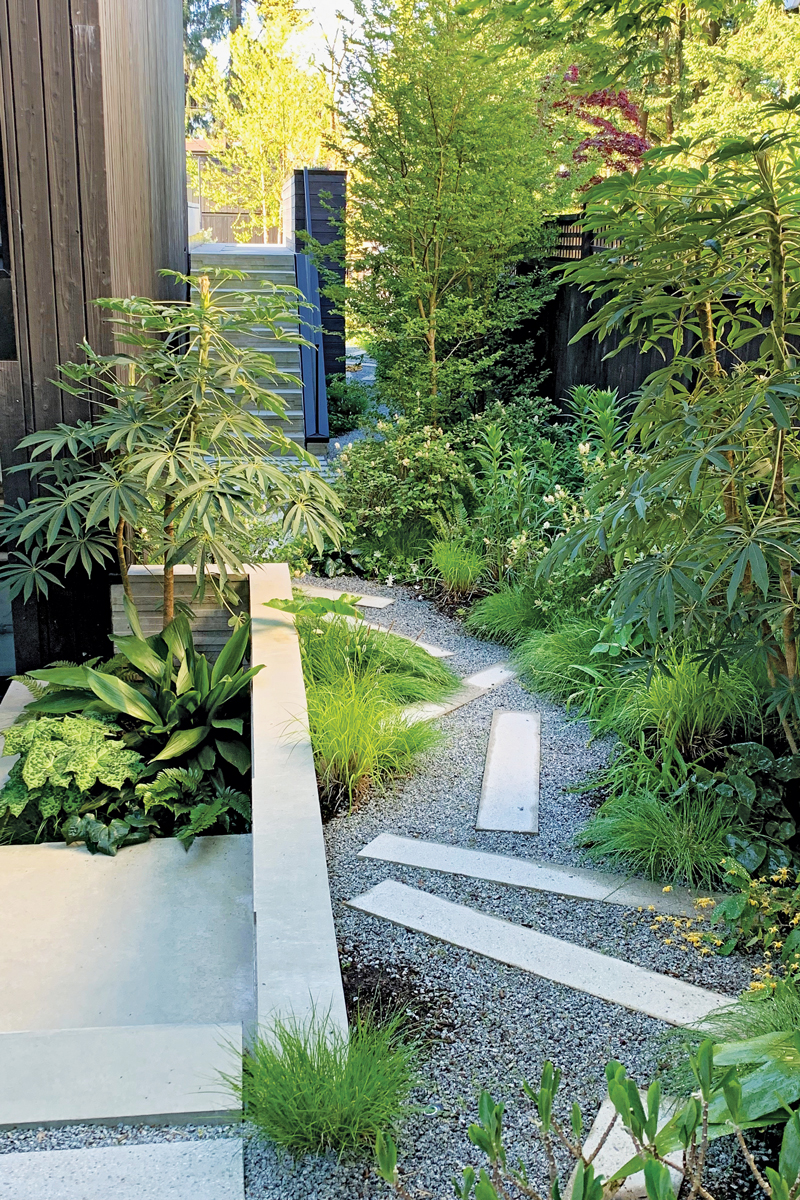 Name: Schefflera taiwaniana
Zones: 7–10
Size: 15 feet tall and 6 feet wide
Conditions: Full sun to partial shade; average to moist soil
Native range: Mountains of Taiwan
I have become obsessed with hardy scheffies, and a select few are finally becoming fairly easy to find in the trade. Of them all, this Taiwan native holds the most promise. Most often multistem, this species grows into a strongly upright shrub displaying palmate foliage with slender, finger-like leaflets. As it matures, its barely divided "trunks" skyrocket upward with subtle directional indecisiveness—a most compelling spectacle. The hottest summer sun may scorch the top part of its fully evergreen foliage, and the coldest winter night may bruise it. Therefore, a hint of afternoon shade and protection from gusty winds may be beneficial. 
---
Dave Demers is a plant hunter, horticulturist, and landscape designer based in Vancouver, British Columbia.